The heavy drizzle and gusty winds in downtown Frederiksted on Saturday afternoon gave way to blue skies in perfect timing for the opening of "Spirit, Artistry, and Craft of Moko Jumbies" at the Caribbean Museum Center for the Arts.
As attendees took their seats and enjoyed the light refreshments, Eugene "Doc" Petersen entertained with his lyrics and guitar. Singer Tony Romano shared the stage with his original tunes.
The sold-out, standing-room-only performance began with Crucian-born Brian Bishop bringing patrons to attention with the blowing of the conch shell, a craft he learned as a youngster growing up on St. Croix. Ghanian Mary Lewis invoked the presence of the ancestors with the libation ceremony that brought a quiet hush over the courtyard.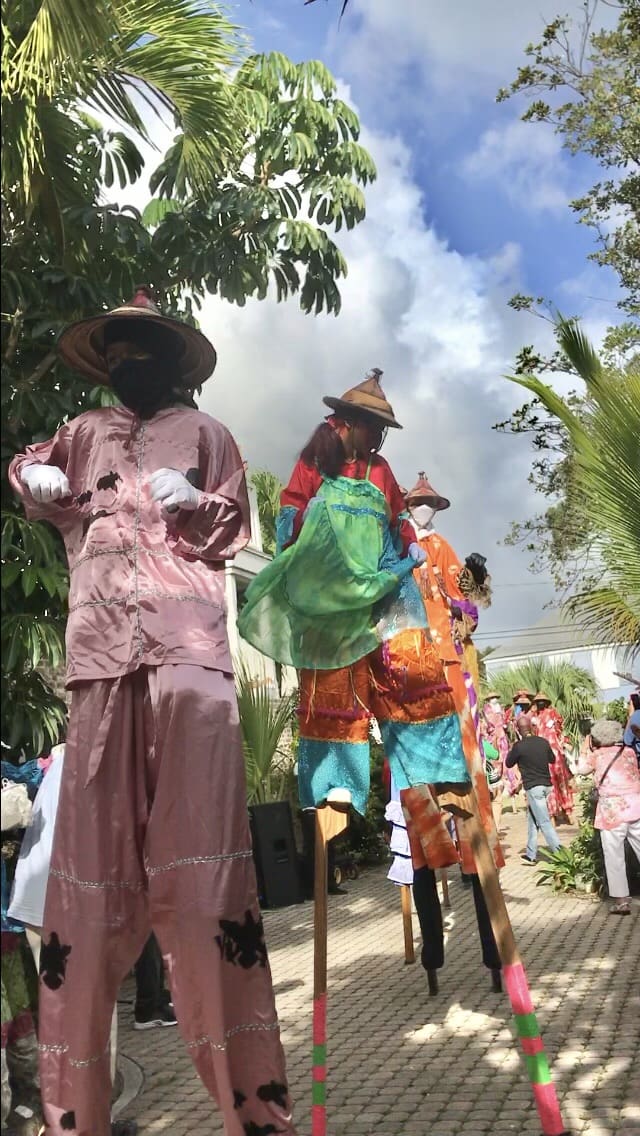 Founder/Director of the Guardians of Culture Moko Jumbies Willard John opened the festivities with his narration of "Mokolution," the evolution of the stilt dancers. He shared the beginnings in Ghana and other African countries that found their way to the Caribbean in the 1930s and continues to this day. After each phase of John's journey of the moko jumbie through the spoken word, the dancers traveled the museum courtyard with their high-energy offerings almost as a call and response connecting the audience to their dancing and the music and the audience reciprocating through their applause and shouts of appreciation.
The dancers brought the culture of the moko jumbie afternoon to a close, with the full entourage of the Guardians of Culture Moko Jumbies moving back and forth throughout the courtyard amongst the attendees in preparation for the next phase of the program.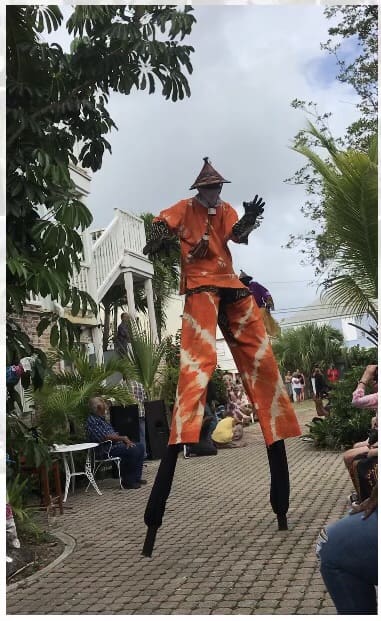 Delegate to Congress Stacey Plaskett performed the ribbon-cutting ceremony at the stairway to the upstairs gallery. The crowd followed to view the artwork hanging in all of the rooms, with one room dedicated to the children's art.
"Spirit, Artistry, and Craft of Moko Jumbies" exhibition can be seen in the upstairs gallery Tuesdays through Saturdays, 10 a.m. to 4 p.m. until March 26. For more information: www.cmcarts.org