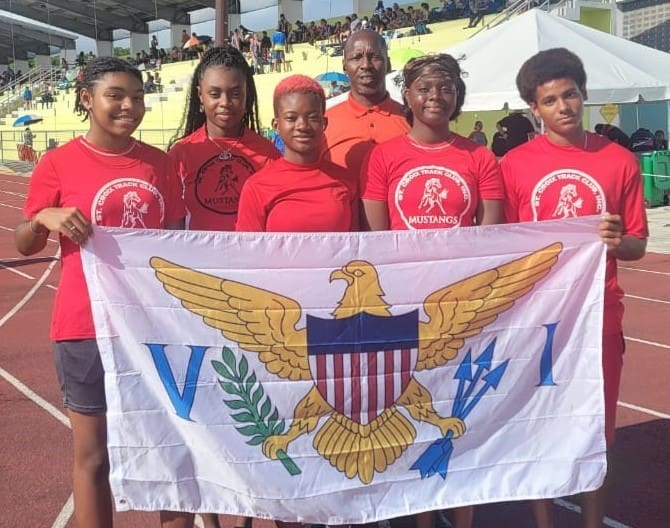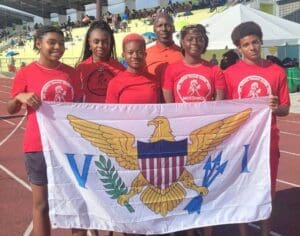 On May 13, the St. Croix Track Club Mustangs attended the Finals of the Association of Youth/Junior Athletics (AAJI) Track & Field Championships in Carolina, Puerto Rico, for the Over-13 age groups.  The Mustangs qualified five athletes who made the cut from over 1,200 athletes from all of Puerto Rico and the Virgin Islands.
The top three places were awarded gold, silver or bronze medals. Congratulations go to St. Croix Mustangs on their impressive performance! Points accumulated from the team's four female Mustangs place them 15th out of 35 teams. Athletes and their places were:
**Davina Browne— Silver-Shot Put-9.03m (PR) and Silver in Javelin –25.25m(PR)
Akyra Joseph— 4th- Shot Put-8.82m (PR) and 4th – Javelin –18.65m
Wilfrado Concepcion—4th Shot Put -9.89m(PR), Javelin -7th-33.80m(PR)
Jeniqua Weeks—4th -400m—64.47sec
Mandisa Casey— Javelin-5th – 11.40m,  9th —Shot Put (PR)
(PR)—Personal Record
The St. Croix Track Club thanks its supporters for partnering with it to assist youths in developing their talents. Full results are at  FinalLapTiming | AAJI
For questions or support, contact Keith A. Smith Sr. at 277-1123 or email stcroixtrackclub@gmail.com.