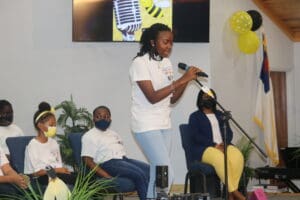 Shadya Coureur, an eighth-grader at the Free Will Baptist Christian School who stepped onto the competitive spelling scene for the first time this school year, emerged as the winner of the 49th Virgin Islands Territorial Spelling Bee after correctly spelling the word "bumptious" in round 18 of the annual spelling contest, held March 24 at the Free Will Baptist Christian School on St. Croix.
Following the elimination of the nine other spellers, Coureur went head-to-head with Micah Dominique, a seventh-grade student at the New Testament Academy Inc. on St. Thomas, until he misspelled the word "colic" and she followed with the correct spelling of the adjective that means "presumptuously, obtusely, and often noisily self-assertive: obtrusive."
"I'm honestly surprised [that I won]," she said. "I didn't know I won until they said, 'Congratulations'."
Although Coureur is one of the newest Spelling Bee participants and winners in the U.S. Virgin Islands, she welcomes the opportunity to represent the USVI on a national scale.
"I am nervous and excited, but most of all, I'm ready to take on whatever comes my way," she said.
Coureur pointed out that there are many ways to approach preparing for the Bee, noting that preparation involves more than memorizing words. She said knowing the definitions of homonyms, as well as the Latin and Italian origins of words, have been key strategies to her spelling successes over the last year.
Her success is also tied to a supportive family, she said.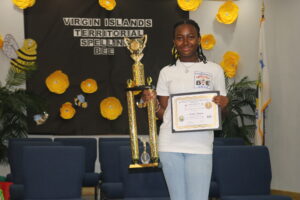 "My mom has been with me a hundred percent of the way. My aunt has been coaching me a little bit, and they are very, very supportive of me," she said. "I want to thank them so much because all thanks to them that I'm here now."
Deputy Education Commissioner Rene Charleswell, speaking on behalf of Education Commissioner Racquel Berry-Benjamin, said, "I stand proud and excited to be in your presence, students. You are first, fearless, and formidable. You are winners. Thank you for being Virgin Islands ambassadors. Your hard work and commitment have gotten you to the winners' circle and each of you will leave here a winner."
Virgin Islands Daily News Executive Editor Eunice Bedminster offered encouraging words to the spellers while referencing the current U.S. Supreme Court confirmation hearings of Ketanji Brown Jackson, the first African American woman to be nominated to sit on the U.S. high court.
"On this day, we can all agree, and years after you are an adult and probably going through a confirmation for U.S. Supreme Court, you will remember that in 2022, you were eleven of the Virgin Islands' top spellers," she said. "If you leave with one message today, it is that you are already winners."
In presenting closing remarks at the end of the two-hour program, which will be available for public viewing on Government Access Channel 27 at a later date, Lt. Gov. Tregenza Roach praised the students for their commitment and discipline.
"I would like to personally congratulate each of the students," he said. "The courage that it takes to come forward, and their investment of their time in studying the words is commendable. We are grateful for you to set an example to other students in your school, to take a chance on yourself, and to invest in yourself and your knowledge base by investing so much time in preparing for the Spelling Bee. I commend the coaches and the parents who invested so much time in helping the students prepare. We are grateful for each and every one of you."
The Virgin Islands Daily News will sponsor Coureur and guests to attend the Scripps National Spelling Bee in Washington, D.C., in June.
All Bee participants were awarded certificates and gifts. Gift sponsors included Virgin Islands Department of Education, Houghton Mifflin Harcourt, Scholastic, Achieve 3000, Anna's Sweet Tooth Bakery, Mall of St. Croix – Hatim Yusuf, Plaza Extra East, The Market, Crucian Gold, Rhea Abramson, and IB Designs.
Julie Deterville, program assistant in the State Office of Curriculum and Instruction, is the Territorial Spelling Bee coordinator.