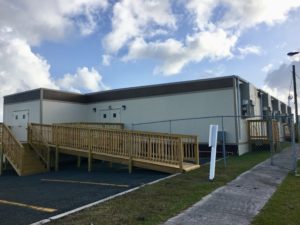 Sunday may be a day off for most people, but not for the staff at the Myrah Keating Smith Community Health Clinic on St. John.
In response to the growing number of cases of COVID-19 on St. John, the clinic staff scheduled two rounds of testing for the Department of Health on Sunday, according to staff physician Dr. Joseph DeJames.
As of Saturday, the Department of Health has confirmed 12 cases of COVID-19 on St. John. Although this number may seem small in comparison to the 195 cases on St. Croix or the 90 cases on St. Thomas, it is triple the number of cases documented on July 7, when only four people on St. John tested positive for the virus.
In response to the surge in cases, clinic staff on St. John ramped up testing this week, administering tests to 20 people on Tuesday and 28 on Thursday.
On Sunday, 39 more people were tested, DeJames said. The tests are being sent to the Schneider Regional Medical Center on St. Thomas for analysis, and results should be available within 48 hours.
DeJames said he expects that additional tests will be scheduled for Tuesday and Thursday this coming week. "It is not testing for diagnosing sick patients," he said. "This is for people who may have had exposure."
DeJames said people on St. John who think they may have been exposed to the virus or are showing symptoms still need to contact the Department of Health at 340-776-1519 to schedule an appointment for a test. There is also a Health hotline number, 340-712-6299. No walk-in patients will be seen at the clinic. Travelers who need to be tested also need to schedule an appointment with DOH.