The STJ Angels – Long Term Recovery Team (LTRT) will hold its monthly St. John CommUNITY update meeting at 5:30 p.m. on Thursday, September 27, 2018, at the National Park Visitor Center in Cruz Bay. Held on the fourth Thursday of each month, the public is encouraged to attend to learn about and participate in St. John hurricane recovery progress and disaster resiliency efforts. 
The STJ Angels – LTRT, an initiative of the St. John Community Foundation (SJCF), is made up of ten work groups and task forces driven nearly entirely by volunteer and donor support. Guided by FEMA LTRT models, volunteers and SJCF staff members meet regularly to organize and mobilize projects and programs in the areas of construction and housing, community health and wellbeing, disaster case management, environmental sustainability, economic development, infrastructure and communications, youth development, donations and resources management, cultural arts, and volunteer management.
Formed as a result of the destruction caused by Hurricanes Irma and Maria last fall, STJ Angels – LTRT boasts a myriad of accomplishments over the last year as well as ongoing projects to drive St. John's recovery and enhance community life. Among the chief achievements, the STJ Angels – LTRT Construction and Housing Work Group has reconstructed the homes of three elderly St. John residents. With over 50 more homes in queue and now partnered with the non-profit organizations, Love City Strong, Inc. and All Hands and Hearts – Smart Response to launch the Resilient Housing Initiative (RHI), the Housing and Construction Work Group is dedicated to a long-term rebuilding program in support of St. John residents who do not have the required resources to repair their hurricane-damaged homes. 
Other notable STJ Angels – LTRT accomplishments include, but are not limited to, assisting St. John residents with FEMA applications and appeals, a hurricane preparedness fair, the launch of a crisis safety check program to account for the safety and wellbeing of all individuals on-Island following a disaster, backpack and school supply giveaways for Island youth, redeveloping the Junior Firefighters mentorship program, a revolving fund for prescription medication, an affordable counseling program, renewable energy projects geared toward achieving energy independence, and the production of a soon-to-be-published book, St. John Recovery.
At the September 27, 2018 STJ Angels – LTRT CommUNITY meeting, updates will be given on the St. John Recovery Strategic Plan, which details projects and plans to rebuild and strengthen key infrastructure components and to repair storm-damaged facilities, homes, and services. Meeting topics also include recovery projects focused on rebuilding the Island's public school and health clinic, strengthening St. John's communications infrastructure, improved mental health services, workforce development, recycling programs, affordable housing, improving walkability, and other community development projects.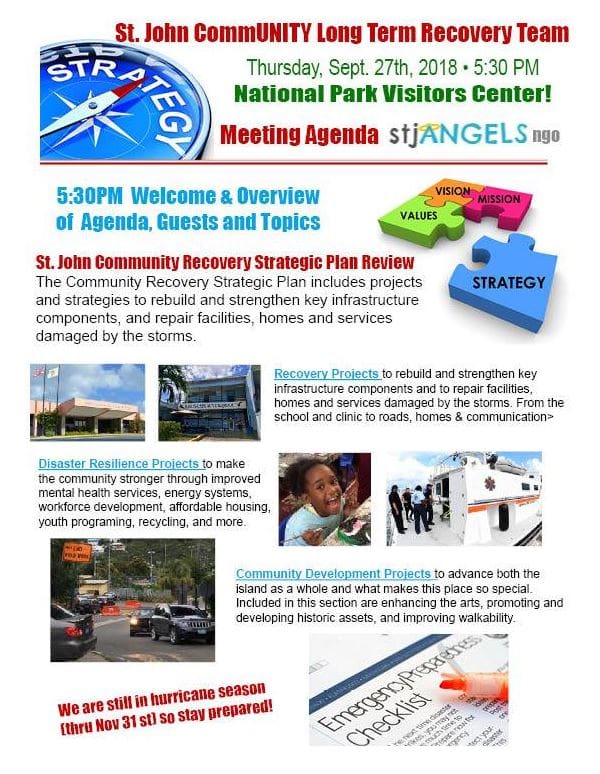 [adrotate group="6"]