The beauty and serenity of St. John is no longer a secret, especially not when it comes to the destination wedding industry.
Business has been booming for local wedding planners, and the popular wedding date of July 7, 2007, only served to keep wedding coordinators busier than usual. One local wedding planner was even filmed on the day for the program "Married Away" on the Style Network.
"It's not every day that all the planets align, so we were really busy, as were most of the wedding planners in America," said Stacy Mulcare of Ceremonies of St. John. "The Style Network came into town for the weekend for a story on a couple who had planned a destination wedding, and I was contacted to assist. I did an in-depth interview right before the rehearsal dinner about wedding planning on St. John."
The national publicity put St. John on the map as a destination wedding spot, explained Mulcare.
"It was a huge thing for a major national network to come to the island of St. John and really promote the wedding business for all of us," said Mulcare, whose interview is scheduled to appear on Married Away, which airs every Tuesday at 9 p.m., sometime in October. "I think everybody benefitted. It once again puts St. John on the map as one of the top destination spots in the world for wedding ceremonies."
Not that St. John needs the help. For the past several years, the island's destination wedding business has continued to increase in popularity.
St. John's own "Barefoot Minister," Anne Marie Porter enjoys steady business year-round, she explained.
"I do a wedding every day," said Porter. "I don't really have an off-season."
Porter even braves the peak of hurricane season, performing ceremonies throughout the month of September.
"I look at every month as a wedding month," said Porter. "When I talk to brides, I treat them with the intention that whenever you can come here to get married is the right time for you. I've been very blessed that people are supporting me."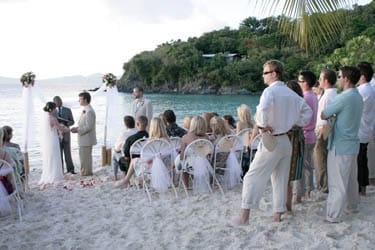 7-7-07 Busy for Local Planners
July 7 was the busiest day Porter, who has been marrying people on St. John for 10 years, has ever had, she explained.
"I was amazingly busy," said Porter. "I had requests for 12 ceremonies, but I turned five of them over to other officiants, so I topped out at seven. I figured that if 7-7-07 is so meaningful to so many people, I better honor that number."
Mary Castle Bartolucci, owner of Island Style Weddings, is enjoying her best season yet, and stayed busy with three weddings on July 7, she explained.
"Everything's gone without a hitch, and it's been really good," said Bartolucci. "I've been in business for six years now, and for me it's a personal thing of having everything run smoothly. I'm not one to keep track of how many weddings I do each year, but as far as any glitches, it's been really smooth this season."
Captain Phil Chalker, who officiates at weddings in addition to running his charter business on the Wayward Sailor, has enjoyed a fun and busy season as well.
Weddings Inspire New Businesses
"Everything's going just wonderful," said Chalker. "I'm enjoying it and having a lot of fun doing it."
Chalker, who has been an officiant for the past 16 years, officiated at 70 weddings last year and has 50 weddings scheduled for this year. The booming wedding business on island has inspired Chalker to expand his officiating business, he explained.
"I used to do just three or four weddings a year, and I advertised on my Web site and started to build my business," said Chalker. "I will soon have another Web site dedicated to weddings, but in the meantime, www.waywardsailor.net covers the wedding portion of my business as well as my charter. The destination wedding business is definitely on the increase, and I'm going to pursue it a little heavier next year."
ation weddings on St. John has inspired Chalker to expand his officiating business, it has created entirely new businesses as well, explained Mulcare.
"You'll begin to notice more and more and more people getting involved with the wedding industry," she said. "We now have two different limousine companies to select from, when we never had limos before. People are even setting up their villas as boutique hotels to be able to take care of wedding parties."
Another trend in the destination wedding business is an expanded season, explained Porter.
"July is going to be just as busy as June," she said. "The season is extending — it's usually April, May and June, but this month I have just as many weddings as I did in June. It really empowers every aspect of St. John's economy — the car rentals, restaurants, boutiques, villas and hotels."
More Guests Attending
Bartolucci has also noticed the wedding season on St. John expanding, she explained.
"I'm finding that January, February and March, which have been quieter in the past, are getting busier now," said Bartolucci.
In addition to the number of destination weddings on St. John increasing, more and more guests are attending weddings on the island, according to Bartolucci.
"One thing I do find different is more people are getting more attendees to come," she said. "The good thing about it is you get not only a wedding, but you have a vacation and a family reunion, and by the time they've done the welcome parties, day sails, rehearsal dinner and spa days, they've really bonded. Being able to create a couple's vision for them and to get to know them and their families is a great experience."
The destination wedding industry on St. John has changed dramatically for Mulcare, who got into the business on island 14 years ago and currently does around 200 weddings a year.
"When I got here in 1994 I went around and started talking to different business owners letting them know what my plans were, and many people told me it was never going to work," said Mulcare. "They said, 'people get married in their hometown, no one will come in to get married on island.' Here we are, 13 years later, and it's a huge industry for all of the Virgin Islands, but especially St. John."
It's no surprise that the destination wedding business has become so popular on St. John, as the island is the perfect place to get married, explained Porter.
"It's really easy to get married here," she said. "There's no blood test or residency requirement, and it's the U.S. so everybody can rest assured it's a legal marriage. More importantly, it's always summer, so whatever month they can come down is a great month for a wedding."