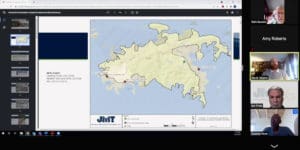 Road crews can begin repairs to five sites on St. John roadways that were impacted by landslides and storm surge from Hurricanes Irma and Maria following approval Thursday by the St. John Committee of Coastal Zone Management of plans to repair three sites considered for Federal Highway Administration funding.
The projects could impact the Coastal Zone Management Area, necessitating the committee's approval.
– One of the three sites is in Cruz Bay on the Southside Road, Route 104, near E & C Service Station. Proposed work at this site includes milling and repaving with three-inch-deep asphalt, installation of a new concrete swale, and new pavement markings and cleaning of the gut at the end of the road.
No utility relocation is deemed necessary at this site. It is expected to cost $155,583.
– The second site is on the Fish Bay Road near its junction with Route 104; repair costs are listed as $234,080. Proposed work includes temporary shoring and bracing, removal of one lane of existing concrete road, construction of a new cantilevered retaining wall, removal and replacement of the catch basin and culvert, installation of a drop manhole at the retaining wall, installation of mortared riprap/boulders/gabions at the outfall, and installation of guardrail. (A gabion is a cage, cylinder or box filled with rocks, concrete, or sometimes sand and soil for use in civil engineering, road building, military applications and landscaping.)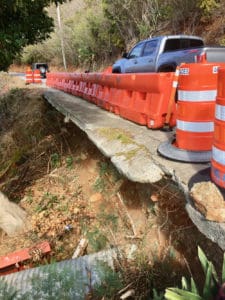 – The third site is along Route 107, near the Calabash Market, at a cost of $1,662,800. Proposed work includes temporary shoring and bracing, reconstruction of approximately 460 feet of concrete road, construction of a new 240 feet long by 15 feet high cantilevered retaining wall, removal and replacement of the catch basin at the trench drain, flowable fill under concrete pavement adjacent to trench drain, and removal and replacement of the guard rail and utility relocations.
Two other sites on St. John scheduled for repair are in places that are not expected to impact Coastal Zone Management areas and do not require STJ-CZM approval. They were not considered in the meeting.
One is in Cruz Bay along Route 104 (Southshore Road) near Starfish Market, at a cost of $381,650.
Another is located on Route 108, about a quarter of a mile down from where it descends from the Bordeaux Mt. Road to Coral Bay. Repair costs are listed at $669,732.
The work is being undertaken by Johnson, Mirmiran & Thompson, working with Island Roads Construction as a design/build team, under contract with the Federal Highway Administration, Eastern Federal Lands Highway Division, and the U.S. Virgin Islands Department of Public Works.
The five sites on St. John are among nearly two dozen sites scheduled for repair throughout St. Thomas and St. John.
At Thursday's meeting, STJ-CZM board member Rafe Boulon asked why these sites were selected from among the many spots in need of repair on St. John.
Officials said the sites met the particular eligibility requirements for this source of funding. The Department of Public works is working with other federal agencies to identify additional sources of funding for other sites.
"The couple of miles of Route 107 from Penn's Point, through Saunders Gut, to Shipwreck Landing, have serious guardrail and undermining issues," said Sharon Coldren, president of the Coral Bay Community Council. " I hope we can get the rest of the road fixed."
In granting the permits, CZM set forth several conditions. Contractors must use measures to prevent sediment from running off during construction, and the public must be notified two weeks before the work commences.
Work is expected to be completed by June 2022.