Mature male deer, such as this nine-point buck, above, are harder to spot. Photo by Dr. Caroline S. Rogers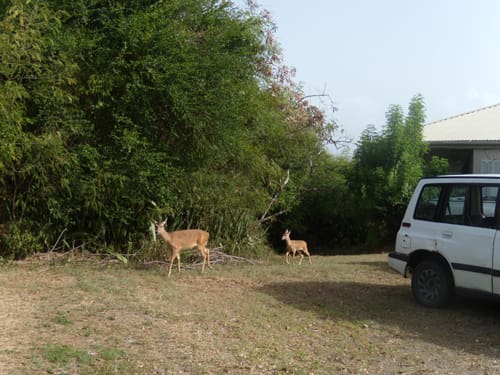 Island deer are not shy about grazing in yards, above , and train their young early how to forage.
"What's up with the deer?"
That was a question posed by David Keplinger, a retired park ranger who was visiting St. John this spring.
When Keplinger worked in the Virgin Islands National Park from 1981 through 1992, he said he rarely saw deer. This spring he was seeing them every day browsing peacefully along roadsides throughout the national park.
Except for the East End of St. John past Haulover — which is still "goat country" — and Ram Head on the southeast tip, deer are everywhere, according to ecologist Gary Ray. 
"Deer put a lump in the throat," said Ray. For him, it's not just because they're dainty and wild and evoke childhood memories of Bambi.
It's because they're a non-native species that's browsing on the vegetation, according to Ray. With no natural predators, their population is growing and changing the balance of the island's ecosystem, Ray explained.
Non-native Species Browsing
"Their diet is critical. Deer have a broad diet, but they're selective," according to Ray. Deer like to "graze" (eat herbaceous, grasslike plants) as well as "browse" (consume shrubs and trees, more woody plants), he explained.
"The ground layer is dominated by tiny seedlings, baby shrubs and trees. How many seedlings can one deer remove in a day? We don't know. In certain areas there are almost no seedlings."
"I hike all the time. I keep mental notes on how many times I see deer," Ray said. "If I go on a loop for three to four miles, I'll see about eight deer, in groups of one to two."
As he hikes, Ray notices the plants deer prefer.
A blood stain on North Shore Road on Friday morning, July 11, was probably the result of a vehicular collision with a deer — although the carcass had been removed.
"You'll see whole stalks of certain species of anthurium eaten to the stalk, but not others," Ray explained. "Do the deer kill the plants? No. But at the beginning of dry season, when there's stress on the plants, they could die.
"I'm getting really worried about our rare, rare plants," Ray said. "You have to take action and hold the line. There are problems if we don't act soon enough."
Problem for Home Gardens
Deer also present problems for homeowners who tend their gardens and shrubs.
"If you've got plants planted, you're likely to find deer browsing them," Ray added.
How many deer are there on St. John?
 "I can only guess. Thousands?" Ray poses with a shrug. "We need to take breeding rates from a range of places in the Western hemisphere and research what is the potential for their fertility. Here in the Virgin Islands, are there any defined breeding seasons? We don't know."
No Guess on Deer Population
Venturing a guess on the deer population is more than Thomas Kelley, the Natural Resource Manager at the Virgin Islands National Park, is willing to do.
"They appear to be increasing in number, but we don't have the data. We know they're changing their habitat. They're in places where they didn't use to be. They browse and change the seed dispersal through their digestive tracts, affecting the native plants, says Kelley.
"They're introduced exotic ungulates, and we're charged with managing them, so we will develop a management plan," said Kelley. "We have plans for most of the larger mammals — rats, cats, mongoose, sheep, goats and hogs. Burros and deer are next on our list."
Developing a management plan is a multistep process that can take many months. The Park is required by the National Environmental Policy Act to file documents, conduct studies, and hold public hearings before the plan can be implemented. Facing budget cuts, parks are struggling to find the funding to do the research.
"Conducting a wildlife census is difficult and expensive, especially on an island that's densely vegetated, with steep slopes and a small number of trails," Kelley added.
Introduced as Food Source
Deer were originally brought from the southeast United States in 1790 and released on St. Croix as a food source, according to Rafe Boulon, who served as Chief of Resource Management with the VINP for 14 years.
In 1845, some were removed to St. Thomas, and more deer were brought in the 1960s from Texas and the Carolinas for hunting.
"We think they swam to St. John via the St. James islands," he said.
Boulon is not certain exactly why or when hunting season was closed on St. Thomas.
"I assume it was during the 1970s," he said.
Prior to working at the National Park, Boulon spent 18 years with the V.I. Division of Fish and Wildlife.
In 1982, when he was acting head of Fish and Wildlife, Boulon said he was asked to testify before the Virgin Islands Legislature because previous deer hunters wanted seasonal permits again. About 20 hunters attended the session chaired by Senator Lorraine Berry.
"I said, 'No problem,' if the hunters wanted to use a bow and arrow, shotgun, or attended snare,'" Boulon recalled. "I said no to dogs and long rifles. (Hunting with dogs is inhumane, he explained, and a bullet from long rifles can have a range of a couple of miles.) I asked the hunters if that would be okay with them (the proposed rules), and they said 'No'."
That was the last time Boulon said he could recall a push to re-open a deer hunting season, but individuals can apply to Fish and Wildlife to hunt deer on their own property.
There is no hunting permitted within the V.I. National Park, but there are rumors of clandestine hunting in certain parts of the island.
Puzzled by Population Explosion
Boulon is also puzzled by the apparent deer population explosion.
"When I was growing up on St. John, I heard about deer, but I never saw one until I was in my late 20s, in Wintberg on St. Thomas," said Boulon, who theorizes the population growth is tied to the above average amount of rainfall in the past ten to 12 years, increasing their food supply.
To fend off the deer from eating the plants and fruit trees at his north shore residence, Boulon has built a fence around his property.
"It takes an eight-foot high fence to keep out a deer with a running start," explained Boulon who said that as he walks through unprotected areas, he notices deep gouges in the bark on seagrape and mango trees.
"I don't know if it's from them sharpening their horns," he said.
Caneel Welcomes Deer
Not everyone tries to keep out the deer, however.
Patrick Kidd, the director of Sales and Marketing at the Caneel Bay Resort, says the deer are part of the landscape on the hotel property.
"We make provision for wildlife," Kidd said. "The guests love them."
"The numbers seem to ebb and flow," Kidd admitted. "Right now the population is on the buoyant side."
The deer seem to have little regard for human presence as they roam the beaches, Kidd acknowledged.
"I've seen them swim," he added. "They're highly entitled."
"Glorious Life" of Non-Stop Eating
In the late afternoons, as many as a dozen deer — including a handful of spotted fawns — can be seen on the green lawns of Caneel Bay contentedly munching on blossoms from cedar trees and flamboyants.
"They pretty much lead a glorious life," Kidd remarked. "They do eat non-stop."
Kidd admitted the deer's eating habits do present problems for the resort's horticulturists.
"Many of our plants are rather tasty," he said. "The donkeys have a nibble as well."
The deer and donkeys, however, don't graze enough to keep the resort's acres of lawn "at the manicured level we need," Kidd said, and grounds keepers still need to mow.
Although most guests do appreciate that the deer are wild, some do try to feed them, as one guest admitted to former Ranger Keplinger, who said the Caneel grounds "look like a petting zoo."
Do Not Feed Wildlife
Kelley of the NPS does not like to hear this.
"It's good practice not to feed wildlife for any purpose at any time. They get humanized and expect a treat or a handout and act more aggressive than their wild counterparts," Kelley said. "And the deer are truly wild, unlike the burros or feral cats which were once domesticated."
The deer do cause another problem as they become more comfortable with the presence of humans. Motorists are much more likely to encounter them in the road, and occasionally deer and cars do collide.
"I almost hit one on my motorcycle," Boulon said. "Fortunately, I was going slow and I could stop."
The consequences of hitting a deer at high speed can be devastating. Dean Hulse, a long-time St. John resident who now who spends part of the year in Colorado, recently hit a deer when he was driving his motorcycle there and suffered 12 cracked ribs.
No Lyme Disease Ticks on St. John
Fortunately, the most serious health hazard associated with deer, the ticks that carry Lyme disease, has not been found on St. John. Boulon said that deer do carry dog ticks, but a sampling by the U.S. Department of Agriculture's Wildlife Service Division was unable to find any traces of Lyme disease.
Without any predators, the deer will continue to thrive on St. John until the Park Service implements a management plan. In the meantime, guard your gardens, and enjoy the deer for the photo opportunities they present.