Bikers line up across from the VINP Visitor's Center to the start the 2017 St. John Festival Bike Race. All photos and videos by Perdita Stapleton.
St. John's annual Festival has had a well-kept secret for over ten years… its bike race. This year's race took place on Saturday, June 17 starting at 8:15am. A group of British Virgin Islands entries needed some extra time clearing U.S. customs to register for the race at the Virgin Islands National Park Visitor's Center.
The visiting BVI cyclists are members of the the BVI Mountain Bike Club, but were not representing the club on Saturday's race. Gareth Thomas, a team member, said bikers decide on their each to compete. For the St. John Festival Bike Race this year, he was accompanied by ten other bikers. A few of whom had never seen or done the St. John racing route.
Two competitors of Team St. Croix also participated in the bike race. Stephen Swanton and Robin Sheila the returning male and female first place winners.
St. John's own Erin Moon and Jodie Tanino were also in the line-up.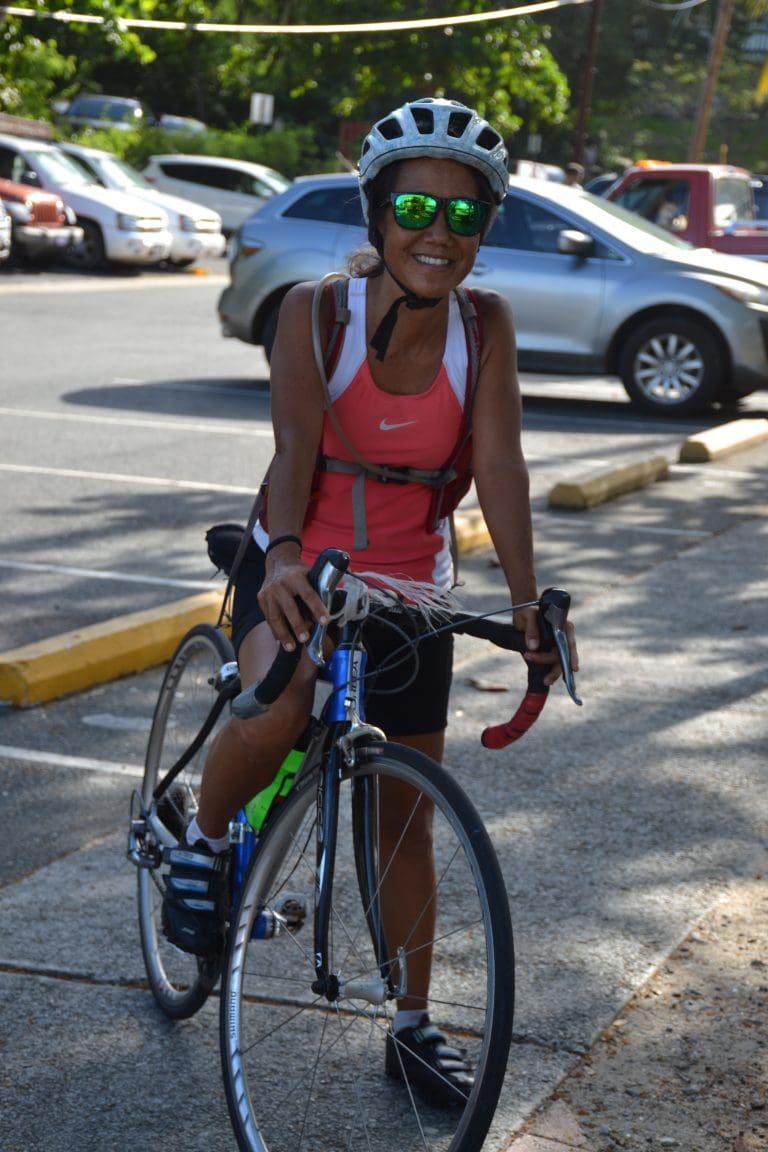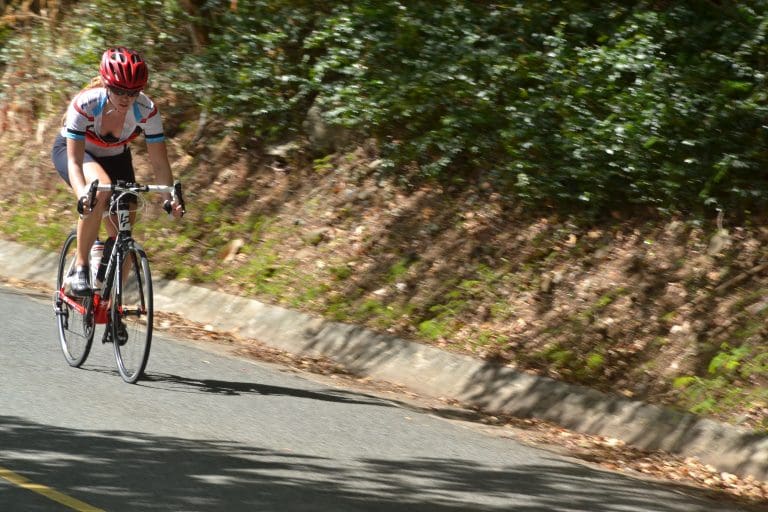 One biker from St. Thomas, Christoper Cilliers, experienced some technical difficulty with his bike and was unable to complete the race.
Stephanie Guyer-Stevens, a volunteer, gave the racers pointers on traversing St. John's curvy, hilly roads especially since it rained early that morning.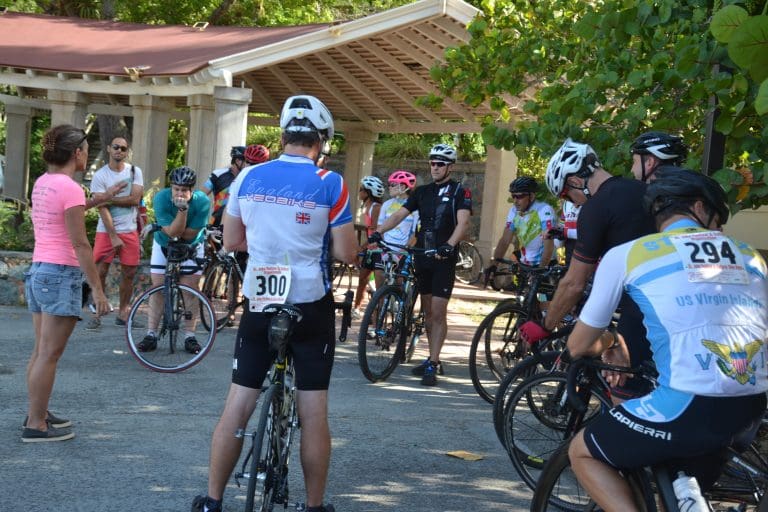 The route started across from the VI National Park Visitors Center, up to Centerline Road into Coral Bay then turned around at the "triangle." Bikers then had to travel back up the way they came to the North Shore road and finish at Hawksnest Bay.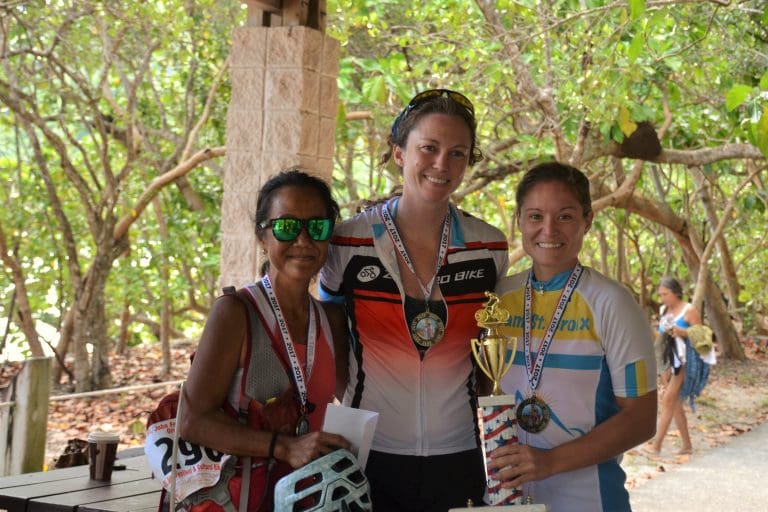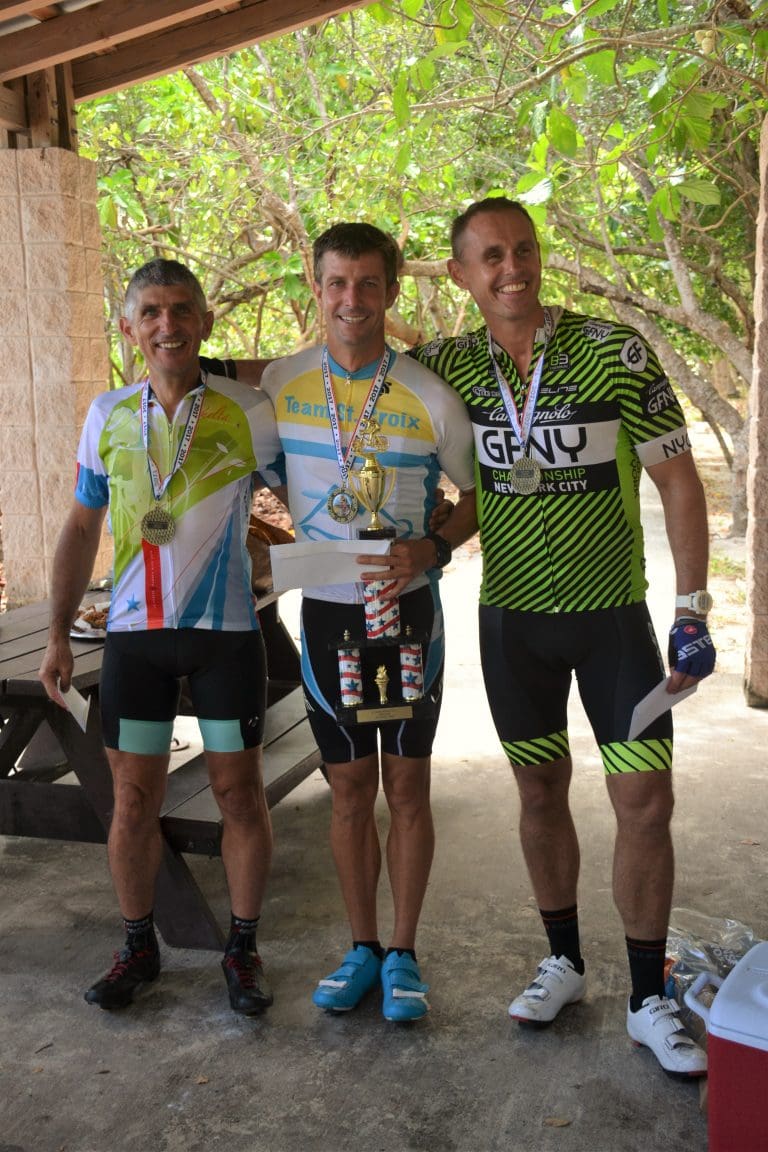 The top three winners in the male and female categories received checks and trophies.
0:58:53 Stephen Swanton    Team St. Croix
1:00:58 Phillippe LeRoy   BVI
1:07:57 Gareth Thomas   BVI
1:09:12 Robin Seila   Team St. Croix (1st Place Female)
1:11:10 Craig Allam   BVI
1:14:53 Justin Smit   BVI
1:19:49 Chris Potgieter   BVI
1:24:50 A. Abreavart   BVI
1:26:59 Peter Sorrentino    BVI
1:28:03 Erin Moon   St. John (2nd Place Female)
1:33:59 Laurent Keeble-Buckle   BVI
1:36:30 Grant Carroll   BVI
1:36:31 Shane Donovan   BVI
1:36:42 Jodie Tanino   St. John (3rd Place Female)
1:41:19 John Ayres   BVI
DNF Christopher Cilliers   St. Thomas
The Festival organizers were Leona Smith, Festival Chair, Cindy Jurgen and Natalie Thomas.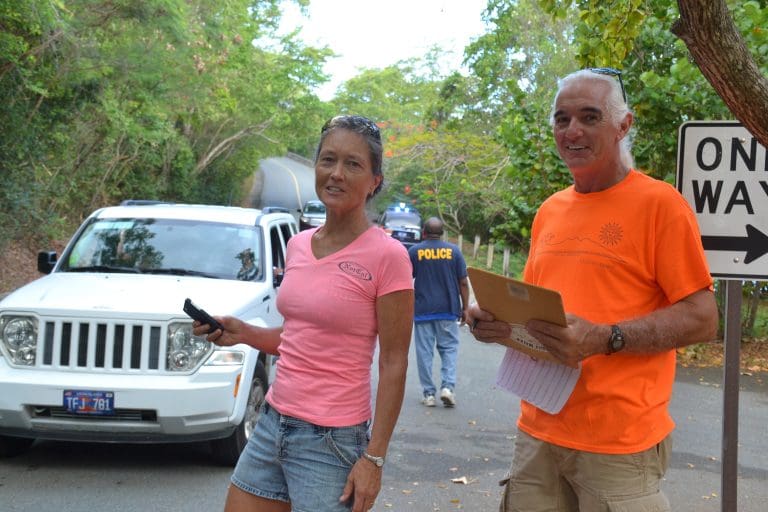 The following were volunteers at this year's bike race: Jane Thill, Peter Alter, Adren Anderson, Stephanie Guyer-Stevens, Dave Worthington and Mark from the Taproom.