The annual community feast Thankspigging could make the pages of The Guinness Book of World Records.
While Coral Bay's annual community feast Thankspigging has worn many monikers, this year is the first time the event is angling to get in the pages of the esteemed Guinness Book of World Records.
The brainchild of St. John architect Ken Yolman, the annual Thanksgiving party started in 2001 as way for the once down-on-his-luck Coral Bay resident to give back.
On November 25, he's hoping to attract 500 people to take part in the world's largest potluck dinner ever.
"When I first moved here, there used to be Thanksgiving parties down at Lameshur Bay," said Yolman. "Back then, I was pretty broke and I always went, but I couldn't even bring anything. Then they stopped having them — probably because there were so many freeloaders like me."
A few years later, Yolman, who owns Coral Bay Design Build with his brother Rick, was in a better position and hosted his first Thanksgiving dinner at his Coral Bay home, which he opened to anyone who didn't have a place to go.
"A lot of people are away from their families here," said Yolman. "So I made my house open to anyone who needed a place to go for Thanksgiving dinner."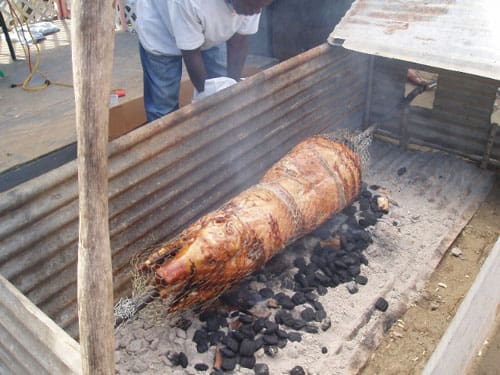 A slow-roasted pig has long been the centerpiece at Thankspigging.
The first Thanksgiving gathering drew a crowd, which continued to grow over several years until Yolman needed a bigger venue.
"I first approached Dougie [Sica, owner of Skinny Legs, who passed away in 2006] and asked if we could have the party there since Skinny Legs closes on Thanksgiving," said Yolman. "He told me, 'No way! That is one of my only two days off all year and I don't even answer the door that day.'"
So the next year, Yolman asked Sica's business partner Moe Chabuz, who happily offered Skinny Legs' venue for the gathering — and the soiree had a home.
While there are usually turkeys on the menu, a slow-roasted pig has become the centerpiece, and thus, Thankspigging was born.
Since those first early years, Thankspigging has steadily grown in both menu offerings and diners, who line up a few hundred deep for the buffet. Dinner has included everything from roasted pigs and deep fried turkeys to grilled alligator tail and fresh sushi.
The day also includes live music by just about anyone who brings their instrument along, which many people do.
Putting a distinct Coral Bay twist on the event, Yolman commissions an annual Thankspigging T-shirt from Tall Ship Trading, which he distributes to the core group of helpers who have pitched in year after year. That group includes Megan Elliott, Sandie Stein, Sally Bolhous and Barbara Horan among many others, who take care of everything from decorations to food display.
Last year, Yolman estimated that more than 300 mouths were fed with the extensive Thankspigging spread. That number stuck in the architect's head, and eventually the idea for the Guinness Book of World Records arose.
After contacting Guinness Book of World Records officials, Yolman discovered that there was no category for Thanksgiving dinner specifically. There was, however, a record for largest potluck — and Thankspigging surely fits that description.
The folks at Sideluck Potshow of New York currently hold the record for the largest potluck ever which they set on May 15, 2010, by feeding 479 people.
Yolman is hoping to attract at least 500 people to this year's Thankspigging and take that record from Fed Ex.
From Hops and Hogs to A Brotherly Feed, the event is also christened with an annual title and this year Yolman promised to be the last in which he will act the host.
Yolman's final Thankspigging, "The Last Feed" will be on Thursday, November 25, and will hopefully be an historic one as well.
Everyone is invited to bring whatever dish they make best, whatever they like to drink, and come out and enjoy an impressive spread of food. Diners will be asked to sign in with official witnesses for inclusion in the Guinness Book of World Records, starting at 2 p.m.
While this might be Yolman's last year hosting the annual community event, he hoped someone else will pick up the torch next year. So for the first time, he is selling T-shirts, the proceeds from which Yolman will donate to help get next year's Thankspigging' off the ground.
Stop by Skinny Legs for Thankspigging on November 25 around 2 p.m. and be a part of history. For more information check out www.thankspigging.org, which should be up and running this week.