St. John residents will now have access to expert physicians on the mainland without ever leaving their island via a new innovative medical technology available at Myrah Keating Smith Community Heath Center.
There was standing room only at the island's health clinic on Thursday, September 10, as medical professionals, local dignitaries and community members gathered to witness the unveiling of a new state-of-the-art virtual technology called telemedicine which will link doctors at the prestigious Cleveland Clinic in Weston, Florida, with patients on St. John.
The advanced video conferencing system allows for real-time interaction between doctors and patients through technological features such as: a digital stethoscope for listening to the heart and chest; a high fidelity otoscope for examining ears, nose and throat; a dermscope for skin examinations; high resolution video monitors for displaying microscopic detail and a special document camera for displaying x-rays, scans and medical records.
"This has been a long road to pull this project together," said Harold Wallace, MKSCHC administrator. "It has been a unique collaboration of public, private, civic and a philanthropist to get this project done."
In collaboration with the Cleveland Clinic, plans for telemedicine has been in the works since summer 2007, Wallace said.
St. John Rotary funded the technology infrastructure which facilitates telemedicine ­— costs which include $39,000 for a T-1 line, a dedicated DSL connection between St. John and the stateside clinic, and a $1,000 monthly service fee as well as $23,000 annually for three years which will cover equipment leasing, insurance and maintenance for exclusive access to Cleveland Clinic specialists, according to BJ Harris, St. John Rotary President-elect.
Local philanthropist Donald Sussman donated $72,000 to get the project started and Rotary will host various fund raising initiatives to meet its pledge to support the innovative project for the next three years, Harris said.
"It has been very much a community effort," Harris said. "We (St. John Rotary) are only covering the costs for three years, so Senator Hill, we will be looking for something in the Budget."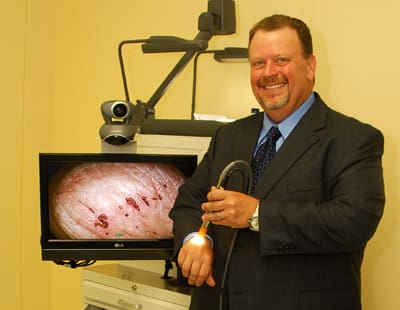 Senate President Louis Hill, who attended the unveiling, said having access to the Cleveland Clinic will be a tremendous benefit to Virgin Islanders and the government should be prepared to make a significant contribution to keep the service going three years from now.
Telemedicine specialty services at the clinic will include pulmonology, dermatology, rheumatology and cardiac surgery pre- and post-evaluations. Patients on St. John will initially be evaluated by a MKSCHC provider before being referred to the telemedicine services where a virtual visit will allow mainland doctors to communicate with physicians and patients on St. John.
"Telemedicine is not to replace the physicians we have on- or off-island," Wallace said. "But it will enhance patient care."
The objective of telemedicine is to expand medical services and increase medical access on St. John while decreasing the need for residents to travel off-island to meet their health care needs, Wallace said.
The new cutting-edge technology will allow for more rapid diagnosis and treatment as well as access to medical specialists in an array of different areas for patients on the remote island of St. John, according to Dr. Mercedes Dullum, a cardiac surgeon at the non-profit, physician-led Cleveland Clinic.
"This is really taking video conferencing to a new level," said John Santangelo, director of information technology for Cleveland Clinic. "We are integrating diagnostic technology into telemedicine and we have the ability to integrate new, upcoming technology into the camera system."
Dr. Thelma Watson, medical director of Schneider Regional Medical Center, said St. John is a trailblazer for a technology that will allow Virgin Islanders to receive medical attention from specialists who the territory could not otherwise attract.
"Instead of you on St. John sending patients our way (to St. Thomas), we'll be sending our patients your way," Watson said.