The Friends of the Elaine I. Sprauve Library on St. John will hold its annual meeting at 5:30 p.m. Feb. 28 in the Fellowship Hall at the Nazareth Lutheran Church in Cruz Bay, St John.
It will be the group's first meeting since January 2017.
The library is particularly in need of community support at this time, according to Kathy Guidi, who was the organization's secretary several years ago. Although the library is open "and looks wonderful and welcoming" on the inside, the building – a restored great house dating back to 1757 – is in need of repair, and territory-wide staffing problems continue to affect services.
Newly-elected Senator-at-large Steven Payne was called to address some of these concerns in late January.
"I was notified that the public library on St. John had closed because of several issues, including no air conditioning, no telephone service, no [wheelchair] accessibility, and mold," Payne said.
Working with the Division of Libraries, Archives and Museums, which is under the Department of Planning and Natural Resources, Payne was able to resolve some of the problems within a short time. The air conditioning upstairs is now working, and a new AC unit – donated by a community member – is scheduled for installation on the lower level.
A contractor from St. John volunteered to make a temporary repair to the door that opens to a ramp which allows wheelchair access. Because the building is a historic structure, permanent repairs have to be approved by the Historic Preservation Committee before they can be completed, Payne said.
Payne and Shikima Jones, the newly-appointed island administrator, have worked with the V.I. Next Generation Network to restore public access Wi-Fi, and with Viya to reconnect telephone service.
A white substance leaching through the walls has been identified as calcium, but further testing is needed before the possibility of mold can be ruled out.
"The building needs a paint job more than anything," said Guidi, "and some of the shutters must be replaced." But inside there's very little sign that the building was hit by Hurricane Irma in September 2017 and had to remain closed for the next six months.
Arlene Pinney-Benjamin, acting director of the Division of Libraries, Archives, and Museums, said, "DPNR does anticipate funding its projects at the Elaine Ione Sprauve Library and Museum of Cultural Arts, through federal and local appropriation and funding."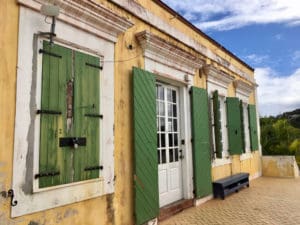 At the time the storm hit, there was no full-time librarian on staff at the Sprauve Library. Librarians from St. Thomas had been filling in since Ashley Till resigned as librarian in August 2016. Till became librarian in May 2015 following another year when the position had remained vacant. Prior to that, Carol McGuiness had served as librarian on St. John for 23 years.
Seeing the difficulty in recruiting and retaining a librarian on St. John, retired educated Elroy Sprauve suggested that the Friends of the St. John Library create a scholarship. The recipient would make a commitment to work at the library in exchange for financial assistance in obtaining a master's degree in library science. Funding was obtained through the Community Foundation of the Virgin Islands in 2017.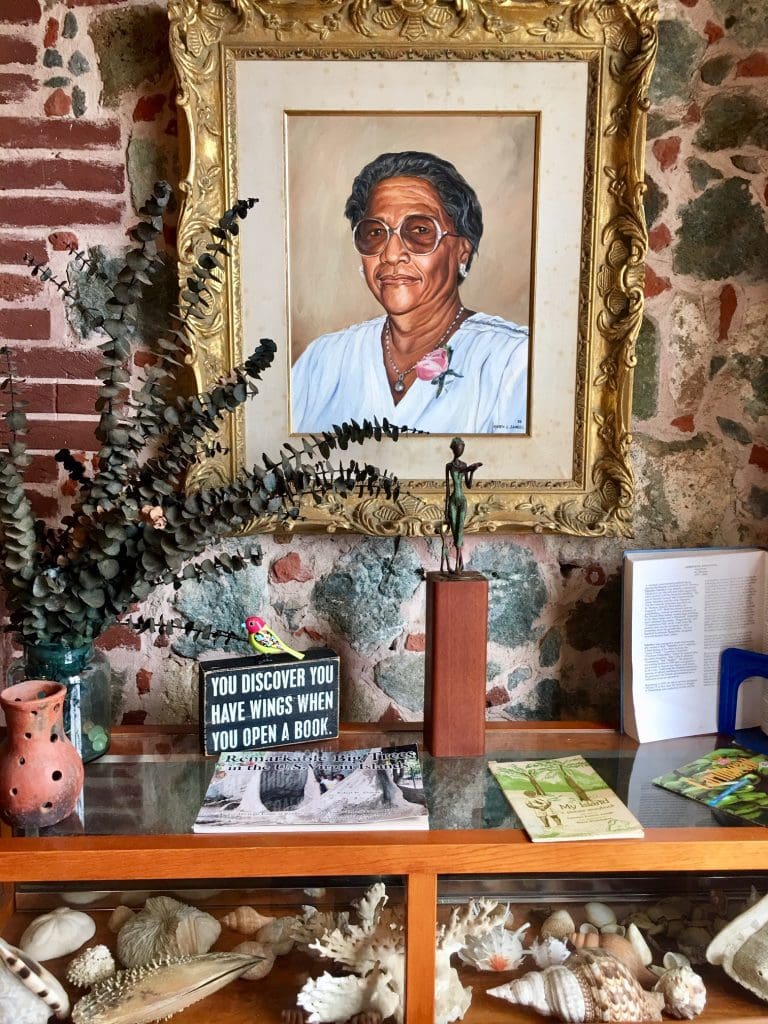 Library users were excited when Carla Sewer, a St. Johnian, was named librarian in January 2018 and given the scholarship to earn her MLS degree. At the same time, Sewer was thrilled to work at the library named for a relative, an "aunty" on her father's side of the family.
Sewer is off island completing the requirements for her master's in library science at Texas Woman's University in Denton, Texas. She is also pursuing a doctoral degree in family studies and hopes to help the Sprauve Library become a family engagement library.
Rumors have circulated recently that Sewer has left her position. Pinney-Benjamin, her supervisor, said she would not comment on personnel matters, but Sen. Payne said, "Ms. Sewer plans to return immediately after completion [of her degree] as she is passionate about seeing the library operating as the informational/educational hub on St. John."
Payne had warm words for Sewer's work.
"I've known her since she was a student of mine in high school. I've seen her interact with the students at the Julius E. Sprauve School as well as children in the community. She is one of the most caring and nurturing persons I have ever met," she said.
Guidi also praised Sewer's work.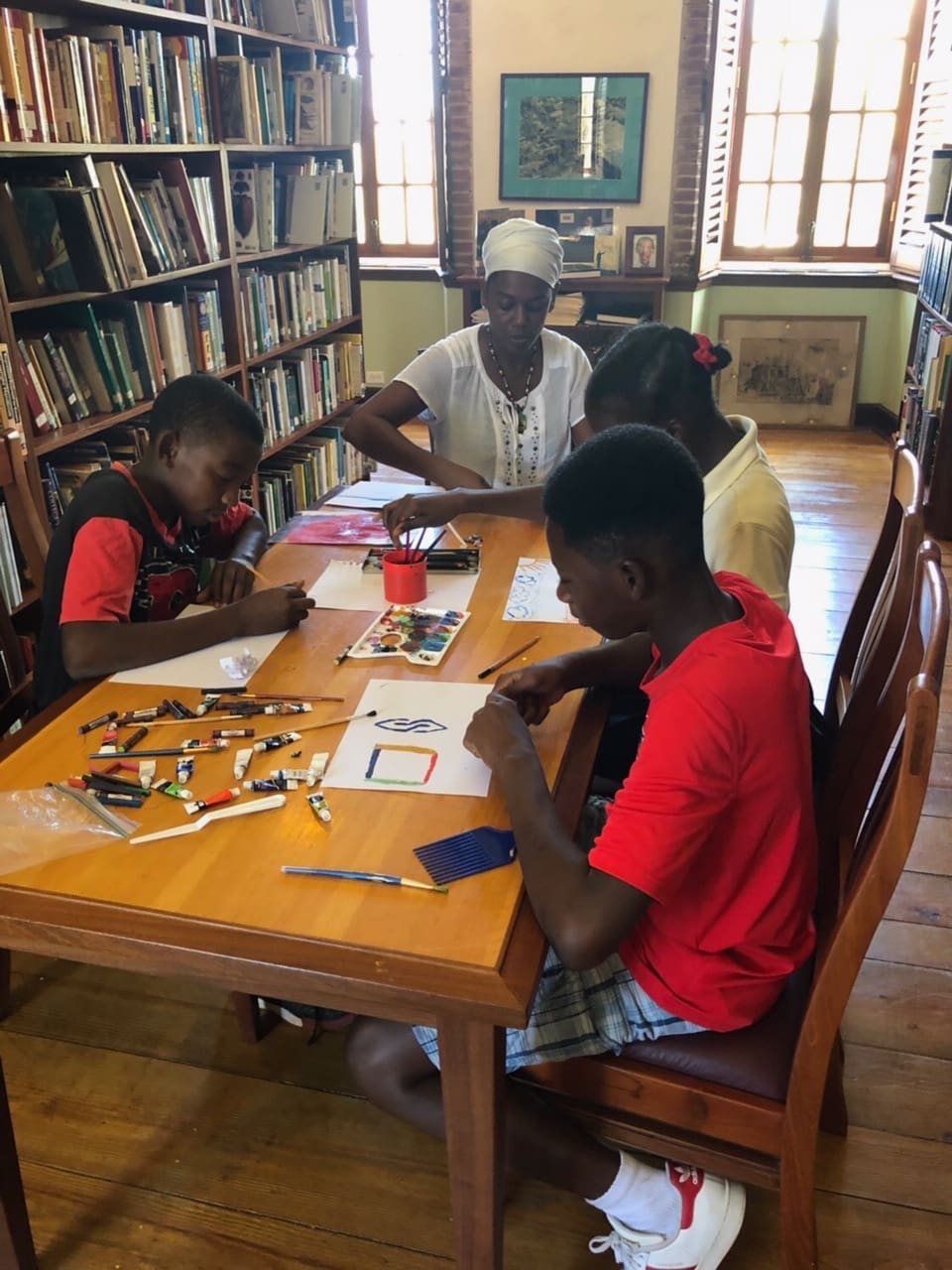 "I took my granddaughter there, and Carla spoke to her and said, 'I grew up here, and I remember coming to this library when I was your age.' My granddaughter, who was three-and-a-half at the time, was enchanted. When we left, she said, 'I think I want to be a librarian when I grow up.'"
With Sewer off island, staffing remains a problem. Pinney-Benjamin said, "It is DPNR's goal to have at least one librarian per library."
The shortage of qualified staff exists throughout the territory. Pinney-Benjamin said vacancies, which are currently being advertised and/or processing, include librarians, library technicians, custodial, Bookmobile driver, and administrative officer.
"With the passing of two Category 5 hurricanes (Irma and Maria), DPNR continues to work feverishly with its federal and local partners to ensure that the USVI Public Libraries stand resiliently in making its necessary repairs, filling vacancies, and providing continued invaluable services to its community territorially," Pinney-Benjamin said.
While Sewer is away, Beverly L. Thomas has been keeping the library open and assisting at the circulation desk. Formerly an employee with the Environmental Protection Division of DPNR, Thomas was chosen to help get the library into working order after the storm.
The staffing shortage is most critical when Thomas has to take time off from the job. She said she hopes staff from St. Thomas will be able to come over to St. John to keep the doors open when she's not there.
Now that the phone is working again, library users can call 340-776-6359 to confirm that the library is open on the day they plan to come.