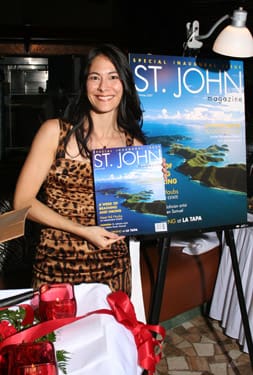 The air buzzed with anticipation at the Thursday evening, November 15, St. John Magazine launch party, as guests anxiously awaited the first look at the high-end magazine devoted entirely to Love City.
More than 150 guests mingled at the Equator Restaurant at Caneel Bay, waiting for the unveiling of the product of months of hard work by several local contributors and publisher MaLinda Nelson.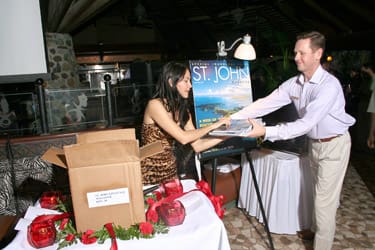 Nelson took the microphone after being introduced by long-time friends Lee Eng Khauv and Kelly Morris and individually thanked each of her contributors before revealing a blow-up photo of the cover of St. John Magazine. She thanked the advertisers, many of whom jumped on board to support the magazine before they even knew Nelson.
"It was a very hard sell to those who didn't know me personally, and I want them to know that I have something tangible to share with them now," said the publisher. "After living here for 10 years, St. John Magazine represents the friendships and professional relationships I have been blessed with in the community."
Nelson then presented a slide show featuring photos from the magazine, and finally, to the delight of the crowd, she ceremoniously opened the first box of magazines and St. John Magazine was distributed to each party guest.
Guests and feature story subjects alike were wowed by the professional, glossy magazine featuring stories and full-color subjects of island life from cuisine to the M/V Cinnamon Bay.
"I've been coming to St. John since I was 12, and it's pretty amazing to see this," said La Tapa chef Alex Ewald, who is featured in the story "Pure Passion for Good Food and Good Wines."
Luz Mey Cordero Lopez-Chavez, who modeled for "Fashion Aficionada," the story on native clothier Karen Samuel, was excited to show the magazine off to her family back in Cuba.
"I love it," said Lopez-Chavez. "I'm going to send it to my family in Cuba. My grandmother will show it to everyone there."
Honorary guest V.I. National Park superintendent Mark Hard-grove raved about the positive light St. John Magazine shines on the island.
"This is possibly the best idea I've seen so far," said Hardgrove. "It's hard to argue with the sheer beauty of St. John. The spirit on this island had yet to be tapped."
Island educator Guy Benjamin, who is featured in the story "Traveling Backtime With Mr. Guy Benjamin" by Carol Beckowitz, was proud to be a part of the inaugural issue of St. John Magazine, he explained.
"It's one of the best things to happen to me while I've been here," said Benjamin. "It's a wonderful job by a wonderful person. It gives us a point of view which makes us feel good."
Rosewood Resorts Director of Marketing Patrick Kidd, who provided strong corporate support to St. John Magazine from its inception, took time to flip through the publication after traveling from New York for the event.
St. John Magazine is on newsstands now at Starfish Gourmet and Wines, Starfish Market, Book and Bean, Chelsea Drug Store, Every T'ing, Bringin' the Fun, Elaine I. Sprauve Library, Connections, The Mail Center and Keep Me Posted.
For subscriptions, visit www.stjohnmagazine.com.