The St. John Recovery Choir will hold its first rehearsal 5:30 Thursday, October 4 at the St. John School of the Arts, and all are welcome to join.
The choir will spend ten weeks preparing for holiday concerts that include songs in celebration of  Christmas, Hanukkah, Kwanzaa, and the Solstice.
"The music we're doing is music that brings joy to most people," says Kristen Carmichael-Bowers, the choir's director. "The emphasis is on fun, community interaction, even as members are developing their musicianship and vocal technique."
The ability to read music is not a requirement for membership in the choir as the director employs various learning styles. For those who can read music, she prepares notebooks with sheet music.  For those who learn by ear, she prepares CD's and lyric sheets.
"Singing should be joyful," says Carmichael-Bowers. "Even as we work for a high quality product, the process has to be joyful, and the whole mind, body and spirit has to be engaged. Singing is work, but my job is to make that work fun."
Carmichael-Bowers launched the Recovery Choir after Hurricane Irma last year, fulfilling her goal of lifting spirits with the music of Motown.  She decided to keep the choir's name for another year as the community continues to recover from the effects of the storm.  She also directs the All-Island Children's Choir.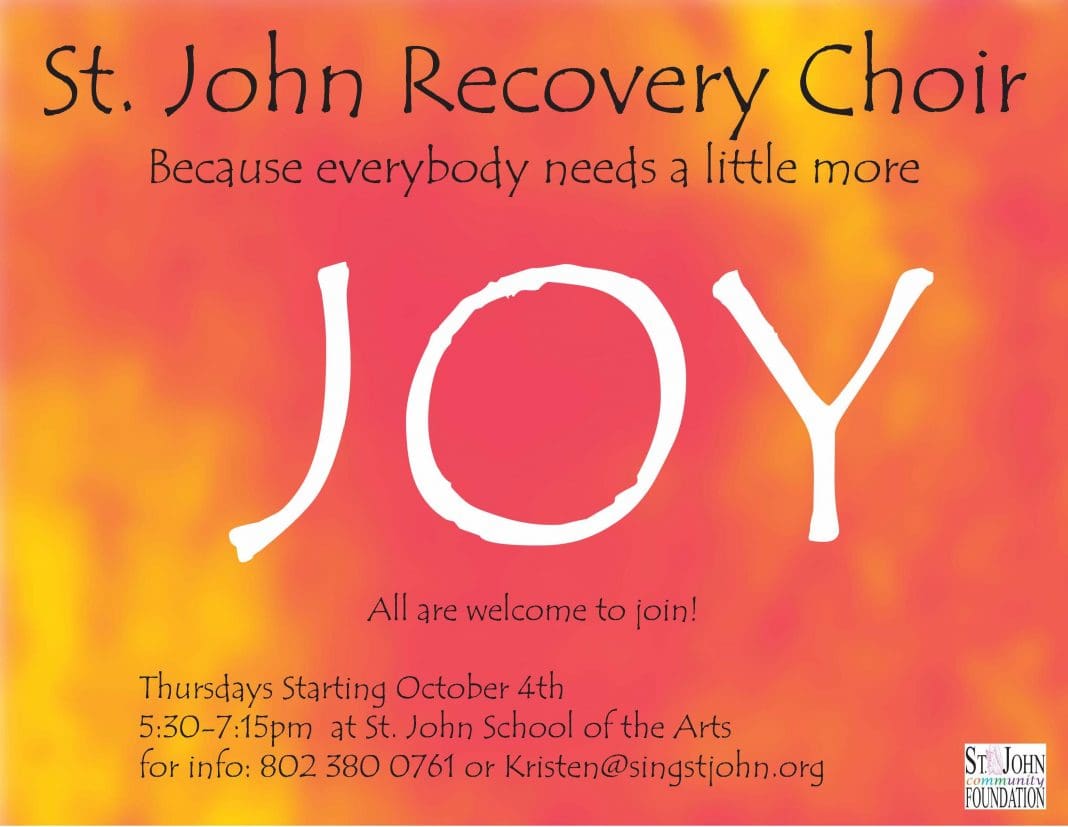 Membership in the Recovery Choir is open to anyone aged 15 and above, and children aged 9-14 with an adult.  Thanks to support from the St. John Community Foundation and the V.I. Council for the Arts, there's no membership fee, but those who can afford to are asked to contribute $30 to cover the cost of materials for the year.
"No experience is necessary, but consistent practice is, so I ask that people contact me if they have a question about required attendance," said Carmichael-Bowers.  "I know people are still coming back after the storms, so there is some flexibility if you'd like to join and you're still off island."
For further information, please contact Carmichael-Bowers at kristen.carmichael.bowers@gmail.com or (802) 380-0761.