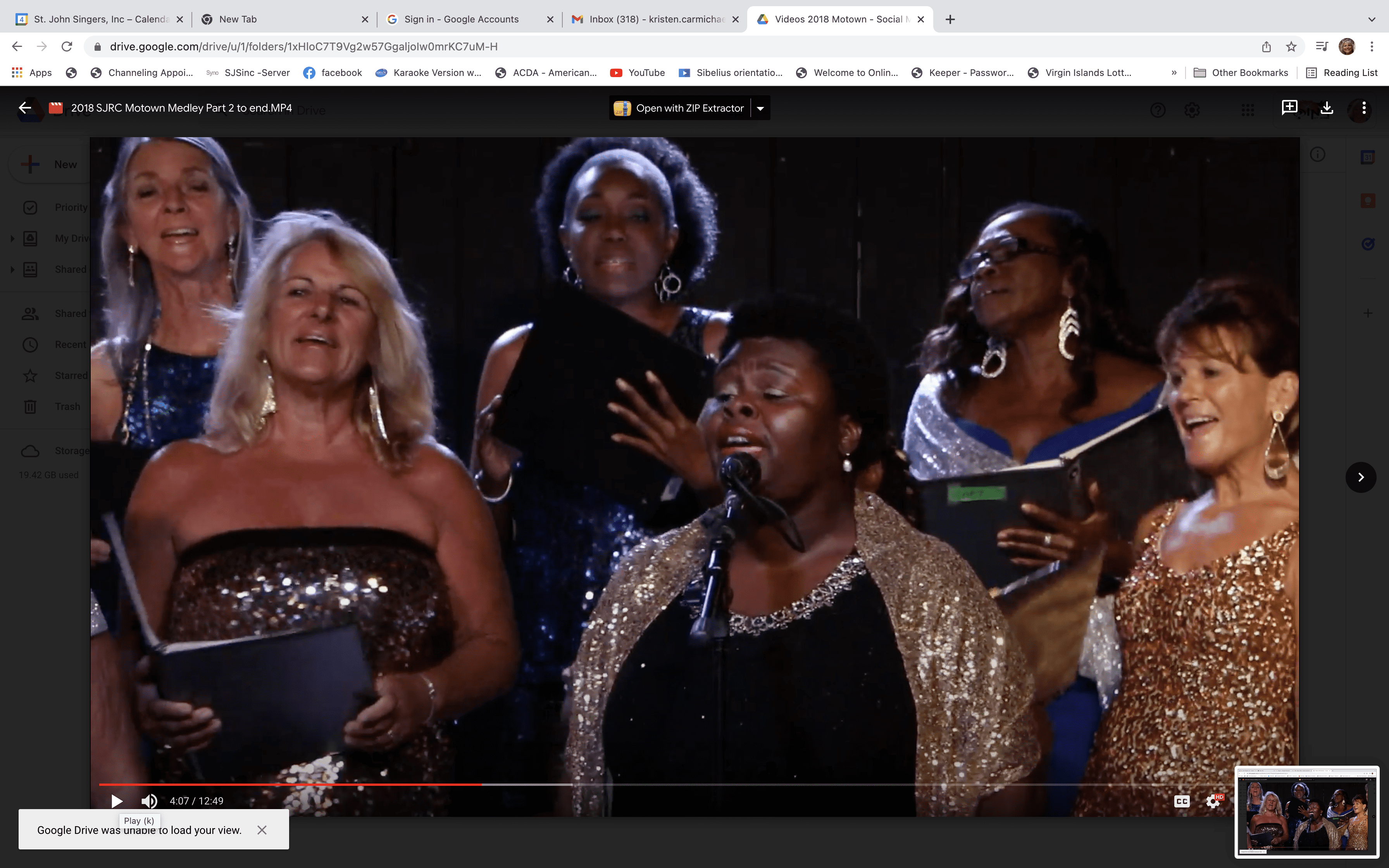 Kristen Carmichael-Bowers, the director of the St. John Recovery Choir, has a plan to "blow out the pandemic cobwebs during the next three months."
Everyone is invited to join the choir as members start Zoom rehearsals on Tuesday, Feb. 1, for the "Love City Soul" session.
After producing several concerts on Zoom during 2020 and 2021, Carmichael-Bowers was really looking forward to bringing choir members together to sing live this spring. Two evenings of caroling throughout the towns of Cruz and Coral bays in December reminded her how sweet it is to share the spirit of a live song.
"When I heard the news of Omicron's arrival, I felt deflated for the better part of a day," said Carmichael-Bowers. "But then I realized that we don't need to let this pandemic take control of our joy!"
She's programmed a concert of soul music classics most people already know; "I Heard It Through the Grapevine," "Respect," "Sitting on the Dock of the Bay" are just a few of the titles.
The plan is to start rehearsals on Zoom and move to live rehearsals outdoors one day a week with masks, social distancing, and other protocols in place as soon as possible. Since she's learned there are no guarantees when it comes to this pandemic, Carmichael-Bowers has already determined that the "Love City Soul" concert will be virtual. But the good news is, "There ain't no mountain high enough, ain't no valley low enough, ain't no river wide enough" to keep anyone away who wants to join the choir.
In the past year, participants from as far away as California and England have sung with the choir.
For those who have never been part of an online choir before, the process may seem off-putting but never fear: Carmichael-Bowers sends customized vocal tracks and sheet music to participants, and she's perfected the art of directing choir members as they come together to rehearse on Zoom.
Members are expected to tune in regularly for rehearsals. Sectionals that focus on soprano, alto, and tenor/bass parts are scheduled from 5:30 p.m. to 6:30 p.m. AST on Mondays, and full rehearsals will be held from 5:30 p.m. to 7:00 p.m. AST on Tuesdays.
To sign up, go to the Recovery Choir's registration page at www.singstjohn.org/program-registration.
There's a $50 materials fee that may be waived, if needed, by selecting "fee waiver" under payment options.
The registration process takes less than a minute, provided that applicants read all the way to the end and click the "Submit" button at the bottom of the page. As a bonus, choir members are eligible to sign up for small group sight-singing classes.
Veteran choir members are already familiar with some of the songs that were performed in the Motown concert of 2018. That's when the Recovery Choir was formed as a way to bring the community together after hurricanes Irma and Maria.
"Now I figure we are needing to recover our sense of joy because of Covid-19," said Carmichael-Bowers. "There's no shortage of things to recover from, it seems, but the Recovery Choir is also always here to help us to feel lively again. So log in, everybody; put on those headphones or earbuds, and let's sing our hearts out to some classic soul tunes."
For further information about the Recovery Choir, which is one of several programs produced by Sing St. John, follow this link: https://www.singstjohn.org.
Sing St. John is funded by the Virgin Islands Council on the Arts, the National Endowment for the Arts, the Virgin Islands Lottery, and many community donors.