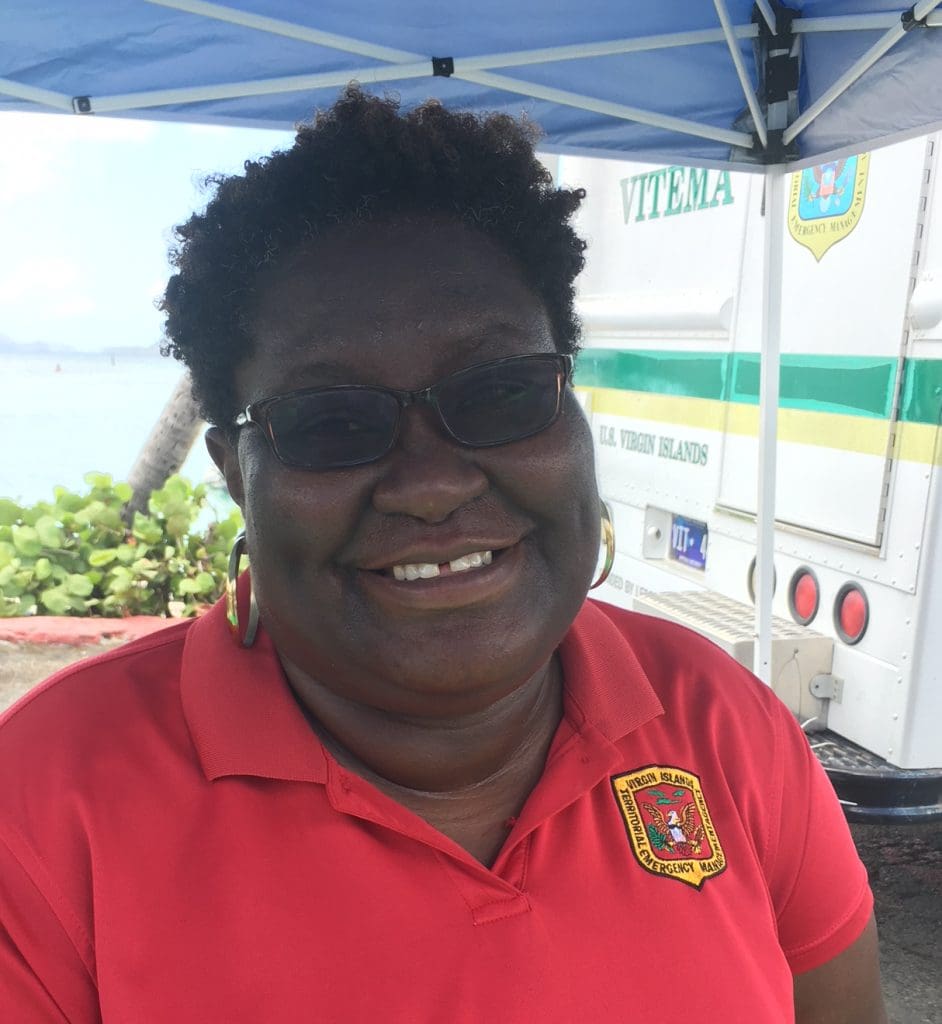 Linda Williams, VITEMA's Emergency Operations Center supervisor for St. John, had words of advice for those who stopped by her booth at the Hurricane Preparedness Fair Saturday afternoon in Cruz Bay.
"Be prepared," Williams said. "Check your house (to see) if you have shutters. Check your generator. Make sure you have enough water. If you're taking care of an elderly person, make sure they have all their medications to last through an emergency. Take responsibility. Ask, 'What can I do?' The more we can do for ourselves, the quicker we'll be up and running after a storm."
Williams, who headed up the island's VITEMA operations during Hurricanes Irma and Maria, is now the only VITEMA staff member based on St. John. When asked about the preparation of shelters for the upcoming hurricane season, Williams said the Department of Human Services is charged with operating shelters.
"Many people mistake the role of VITEMA," she said. "We're the coordinators. We're not the first responders. I'm relying on my volunteers, and I've got [Bloomberg's] Steve DeBlasio in my corner."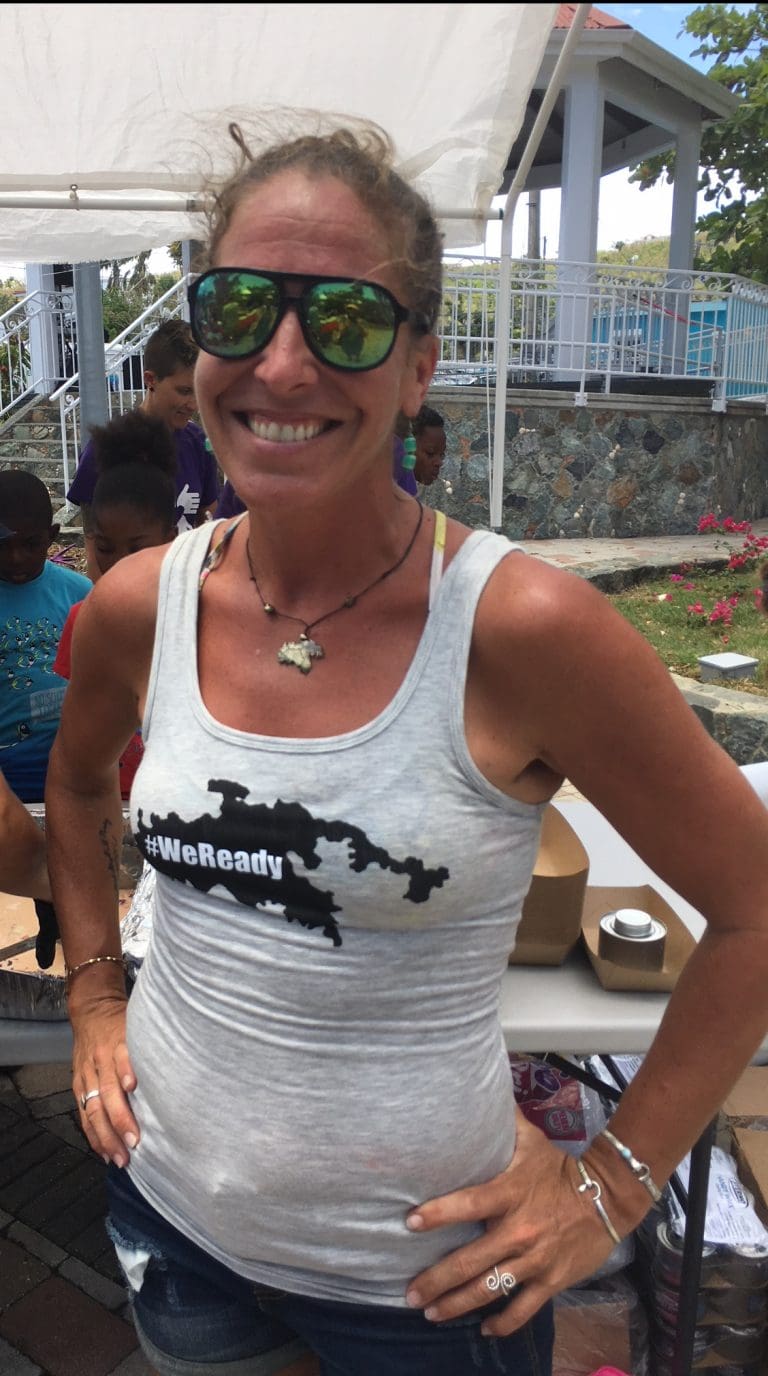 The volunteers Williams is relying on were out in big numbers during the two-day Hurricane Preparedness Fair. Held on Friday and Saturday, it was sponsored by the St. John Angels Long Term Recovery Group in cooperation with the St. John Community Foundation. Organizer Hillary Bonner said the support from the community was "beyond words."
Almost two dozen community groups and government agencies set up booths to share tips with the public on what they can do to be better prepared for an emergency.
Volunteers from the Environmental Group of the St. John Angels Network were on hand to explain initiatives in solid waste management, solar power, and water quality monitoring. Member Rachel McKinley urged the public to check their website https://sjcf.org/stjangels to find out when the next meeting will be held.
Jon Griswold, project manager for St. John for All Hands and Hearts, reported that since operations began in mid-February the group has helped almost 85 St. John households remove storm debris and clean up their homesites.
"We're funded until the end of August, and we're hoping to stay longer," Griswold said.
The volunteer agency now has 25 members from around the world working on St. John, and Griswold hopes to expand to 40 volunteers soon. The group, known as "the purple shirts," are staying in tents and using the facilities at the shuttered Caneel Bay Resort.
Residents who would like the assistance of All Hands and Hearts can call 508-317-2733. Anyone who would like to join can call 340-244-0611.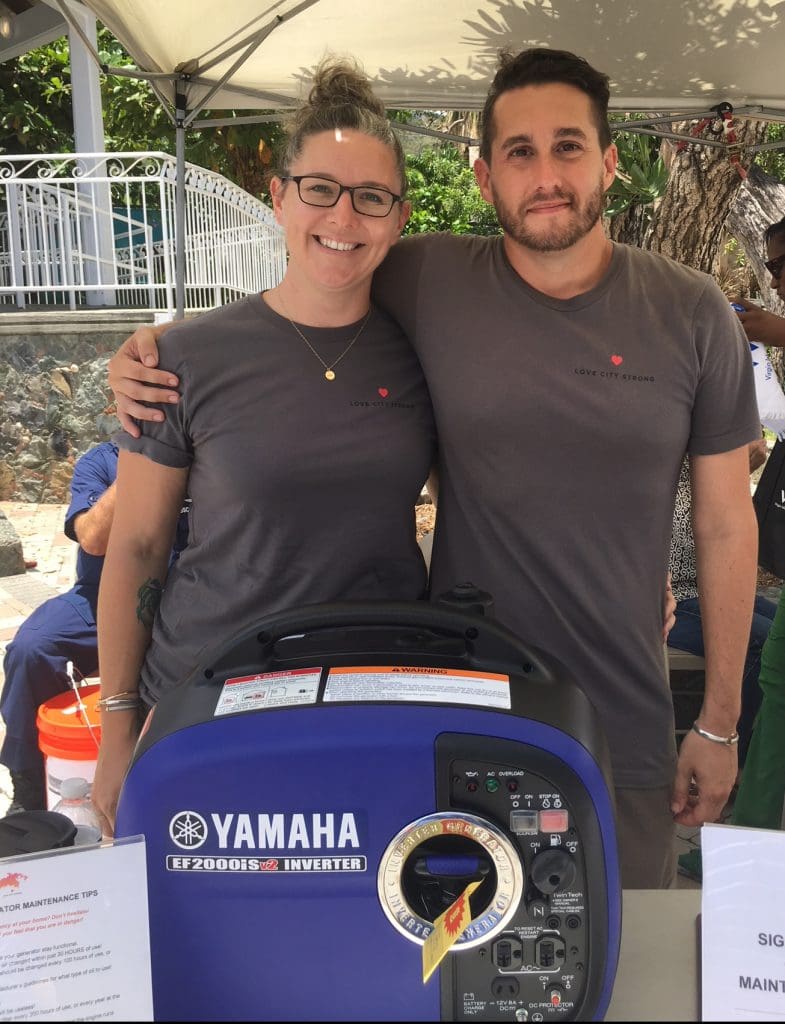 At a nearby booth, Meaghan Enright and Ryan West of Love City Strong were handing out tips on generator maintenance. They said the Bloomberg Group and Kenny Chesney's Love for Love City distributed almost 1,000 small generators to island residents in the months following the storm.
Harris Short of the Zika Support Team for the V.I. Department of Health wanted to remind the public that although there was no apparent surge in reported cases following the hurricanes, Zika is still a problem.
Only 20 percent of people infected with the Zika virus show symptoms, Harris said, but there's a five percent chance that babies born of infected mothers will develop some form of birth defects. The Department of Health offers free testing for pregnant women or anyone who shows symptoms of the virus as well as free services for babies that show signs of the effects of Zika.
"The biggest thing is that Zika can be transmitted by sexual activity, so it's important to practice safe sex, especially during pregnancy," Harris said.
At a booth operated by Love City Community Network, Pete Mottl demonstrated features of their prototype of a Power Pod, a self-contained solar generator capable of supplying enough electricity to run a small house for up to three days.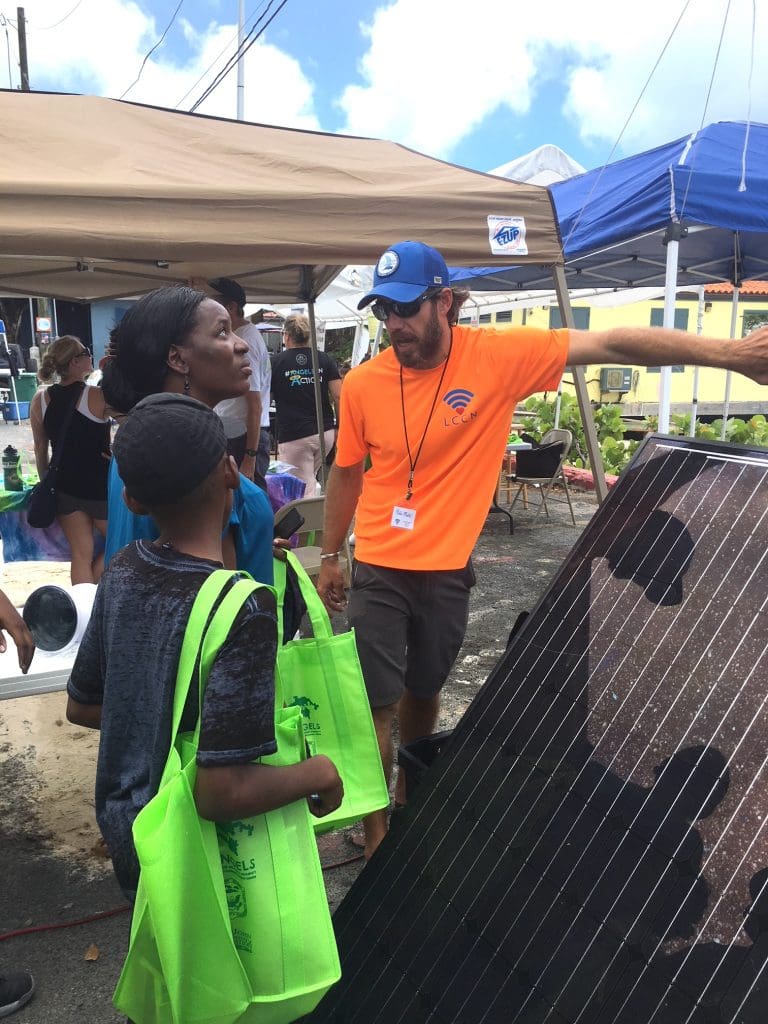 When Thora Henry Letang asked Mottl to explain in simple language to two young children how solar panels work, Mottl quickly obliged, leading them to the solar panel which was used to energize a video screen and the sound system that blasted upbeat music throughout the event.
Other participating groups included the Department of Human Services, the Family Resource Center, FEMA, WAPA, Island Green Living Association, Canines, Cats and Critters, the Red Cross, HUD, the Salvation Army, the VI Police Department, the Disability Rights Center, St. John Rescue, Sunsect, USDA, St. John Rotary, Explore Everything Outdoors, and the STT Recovery Team.
Shared content for St. John Tradewinds and Virgin Islands Source.