A somber contingent of more than 30 people marched through Cruz Bay on Thursday evening, October 19, with names of those who lost their lives to domestic violence draped around their necks, and candlelight illuminating their faces.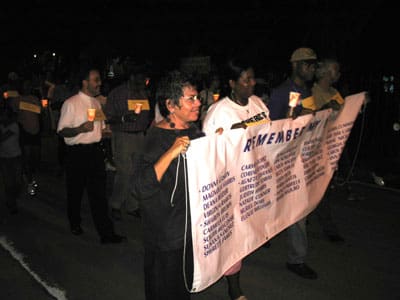 Dr. Iris Kern, executive director of The Safety Zone, and a few other volunteers led the group holding a sign bearing the names of 41 people who have died in the territory in the last 15 years as a result of domestic violence.
"There have been six domestic violence deaths in the territory in the last couple years," said Kern. "Every death is too many. Agencies on the three islands have done a remarkable job transforming victims into survivors."
[adrotate group="6"]
The march, which began at the Cruz Bay tennis courts and ended at the Frank Powell Sr. Park, was an effort to raise awareness about the severity of the problem of domestic violence in the territory, according to Kern.
Raising Consciousness
"Tonight is an attempt to raise consciousness," she said. "We have a long way to go in changing attitudes here. We still have so far to go."
Several St. John residents turned out for this important cause.
"Awareness is so important," said native St. Johnian Ronnie Jones. "It's an important cause, and I want to be a part of it."
Father Charles Crespo of Our Lady of Mount Carmel Church also joined the march.
"There are two issues on St. John where there shouldn't be any controversy — racism and domestic violence," he said. "We've been dealing with the racism here for the last year, and we need to give equal attention to domestic violence. Every citizen has an obligation to say that we won't tolerate either anymore."