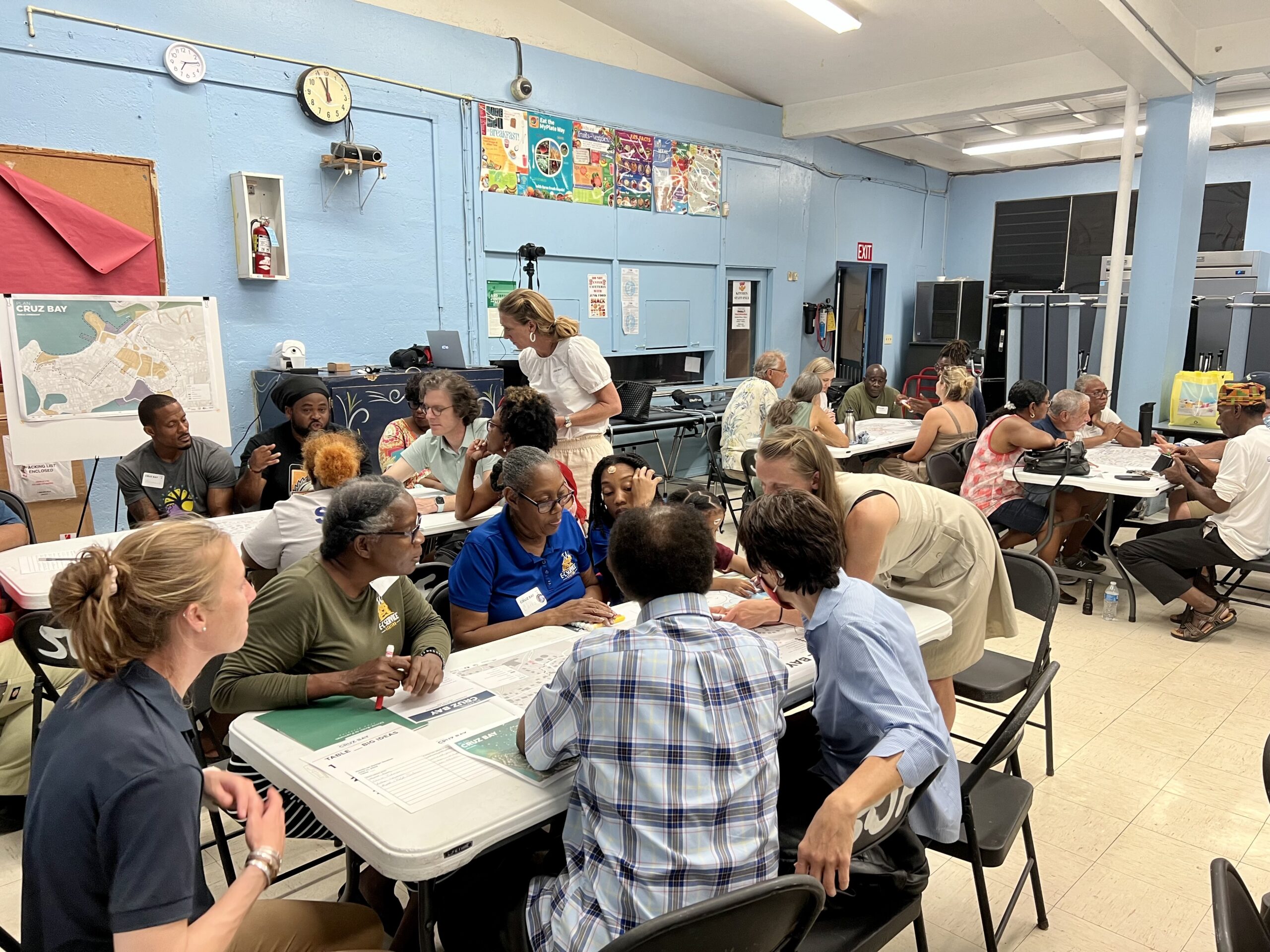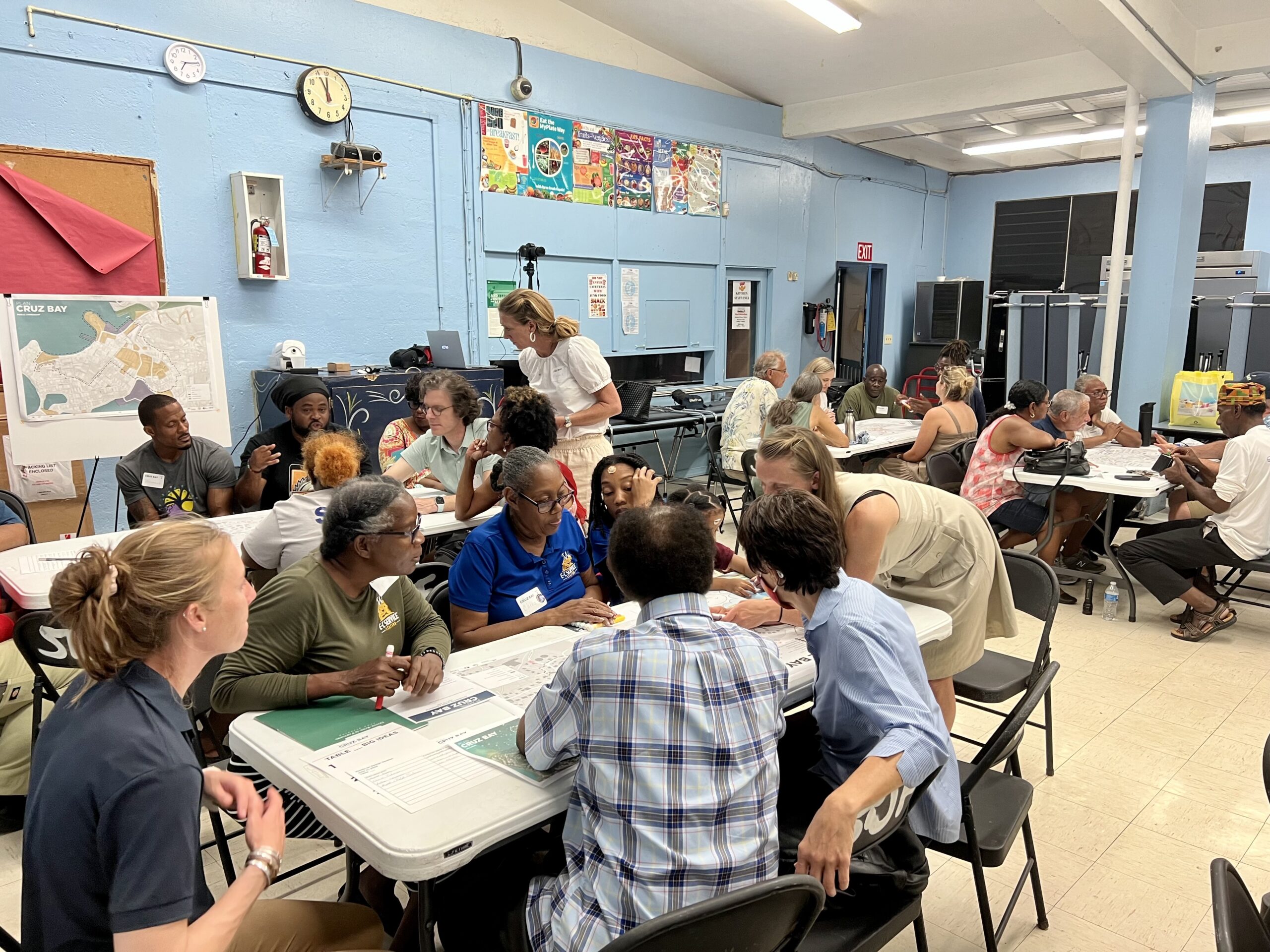 The cafeteria at the Julius E. Sprauve School was abuzz with ideas Monday evening as dozens of St. John residents met to collaborate on ways to improve conditions in Cruz Bay.
The initial Plan Cruz Bay meeting was one of a series of events taking place this week as part of a "charrette" — a "multi-day public engagement process designed to collect input and establish a community vision."
The results of the charrette will inform teams of planners who are now developing a territory-wide Comprehensive Land and Water Use Plan with the Department of Planning and Natural Resources. A renewed effort to formulate a comprehensive plan — under discussion for three decades – has been underway since February.
Jon Ford, a planner with Horsely Witten Group, told residents that resiliency is at the heart of the planning process. He said as groups put their heads together, they should bear in mind the possibilities of sea level rise, hurricanes, storms, drought, heat, flooding, and public health concerns.
During Monday's meeting, groups of residents poured over large-scale maps of Cruz Bay with sets of colored markers to highlight ways to improve traffic flow, pedestrian walkability, and access to government services.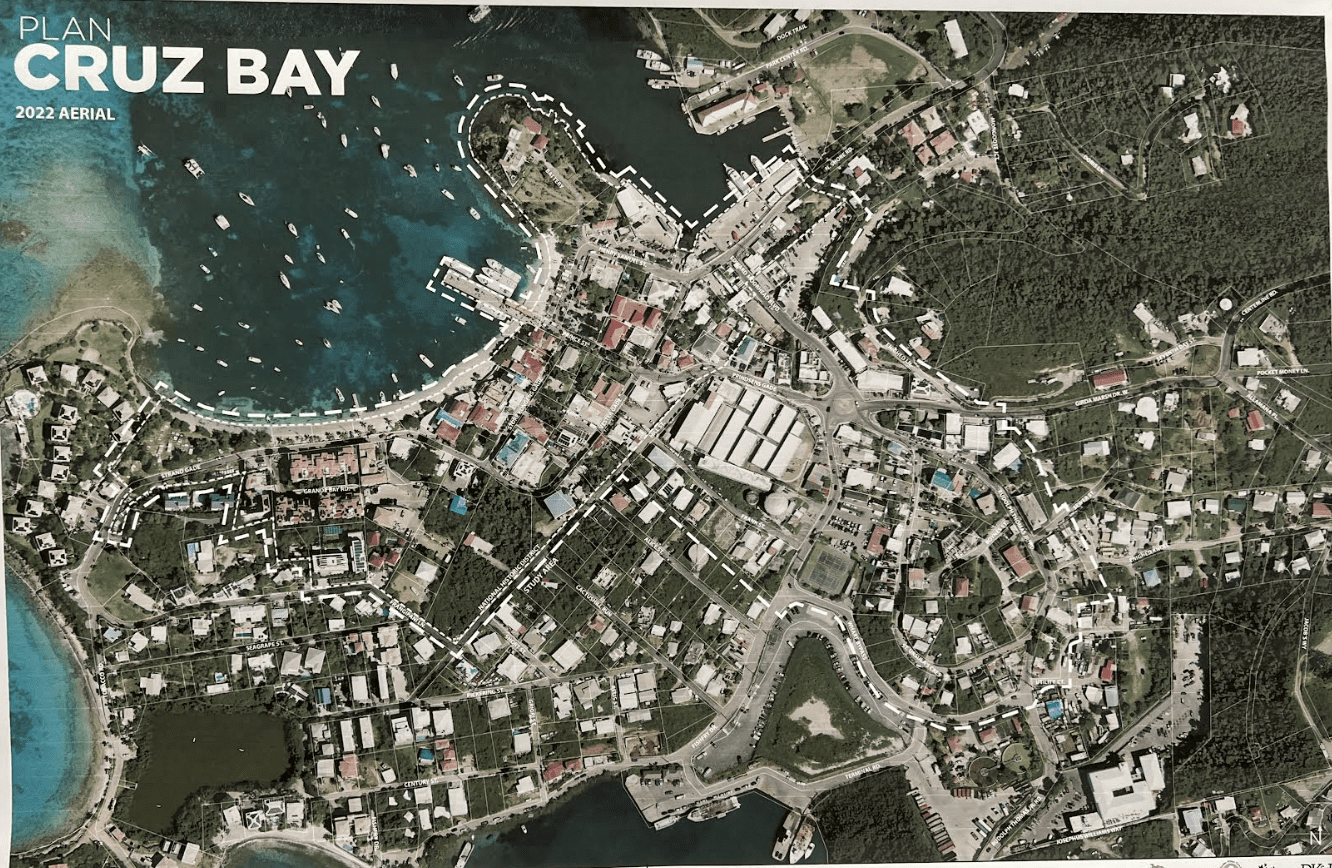 As each group reported on their "big ideas" at the end of the two-hour session, a number of suggestions kept popping up.
Among them was the need to decrease congestion and enhance walkability.  Several  groups suggested turning Prince Street — the road running from Connections to the ferry dock — into  a pedestrians-only pathway.
Groups also suggested putting a waterfront promenade from the ferry dock around the Battery and establishing a museum and cultural center at the Battery.
Making Cruz Bay more accessible to recreational boaters was another repeated suggestion. Several groups discussed building dock space for boaters in Cruz Bay and moving ferry services to the Enighed Pond, where barges now operate.
Almost every group said that once a new school is built in Catherineberg, the site of the Julius E. Sprauve School in Cruz Bay should be converted to a centralized government facility. Some groups suggested including office and retail space for businesses within the complex.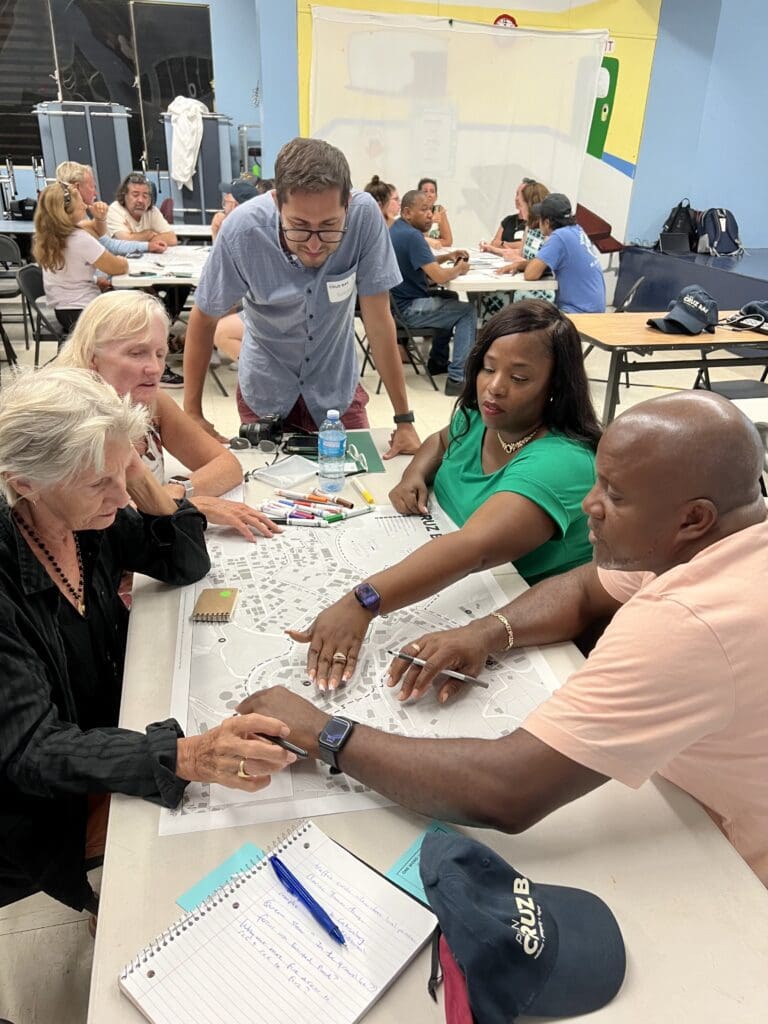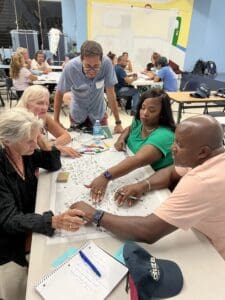 Meeting-goers agreed that the ballfield next to the school should be restored as an open-space recreation area once the temporary modular classrooms are no longer needed.
Although each group brought up the critical need for more parking, no group had a clear idea of how this could be achieved. Some suggested building parking facilities outside of Cruz Bay and establishing a low-cost shuttle service to move residents and visitors through the town.
Residents also called for planting more trees, improving the visual appeal of the traffic circle, moving the vendors out of Frank Powell Park, and building a fisherman's market near the heart of Cruz Bay instead of at Enighed Pond.
At the beginning of the session, audience members were asked to text a word that describes Cruz Bay today to an app that created a "word cloud." The words "congested," "run-down," and "crowded" predominated.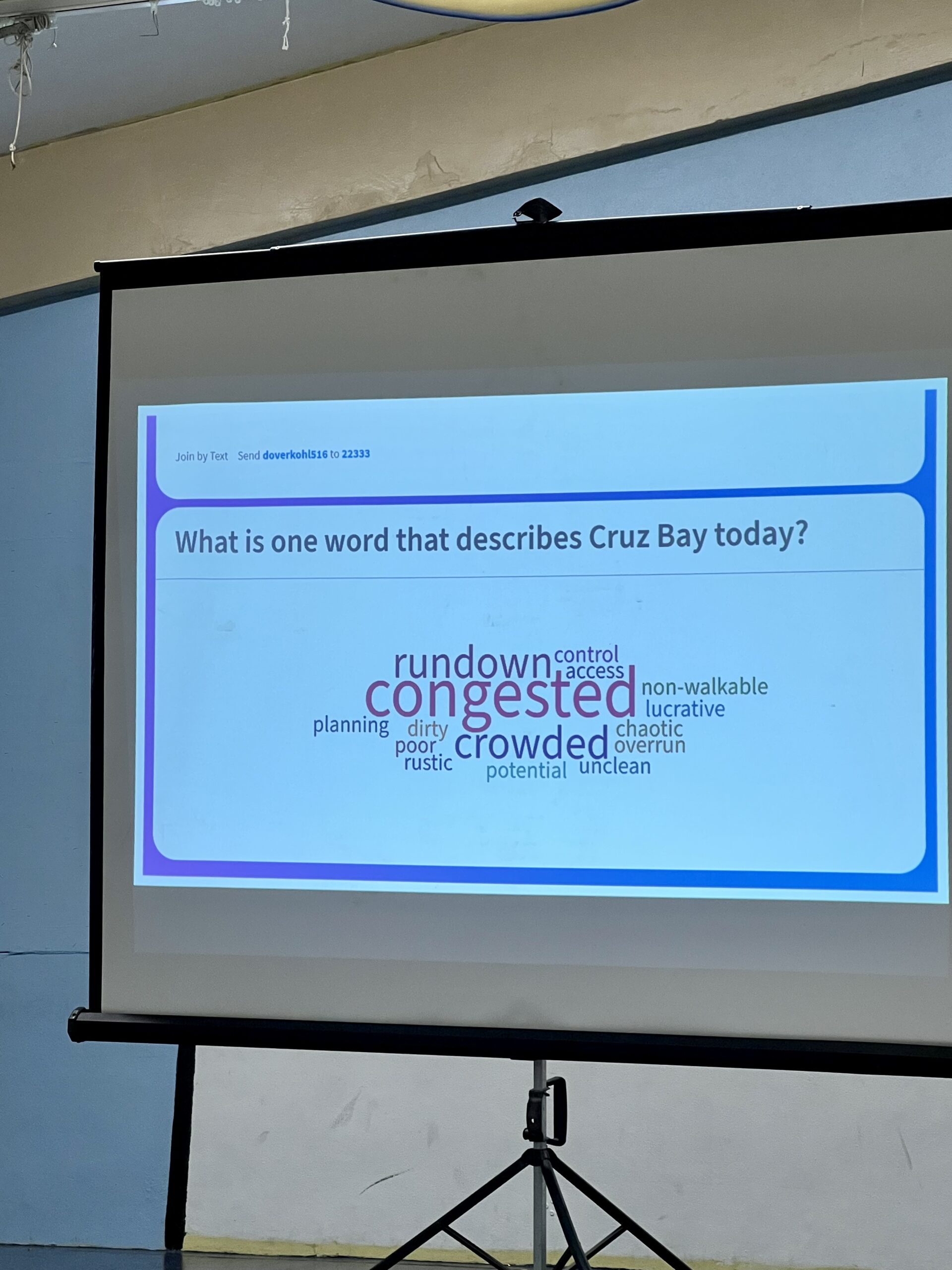 A similar request for the audience to describe their vision for the future of Cruz Bay resulted in "walkable," "sustainable," and "accessible."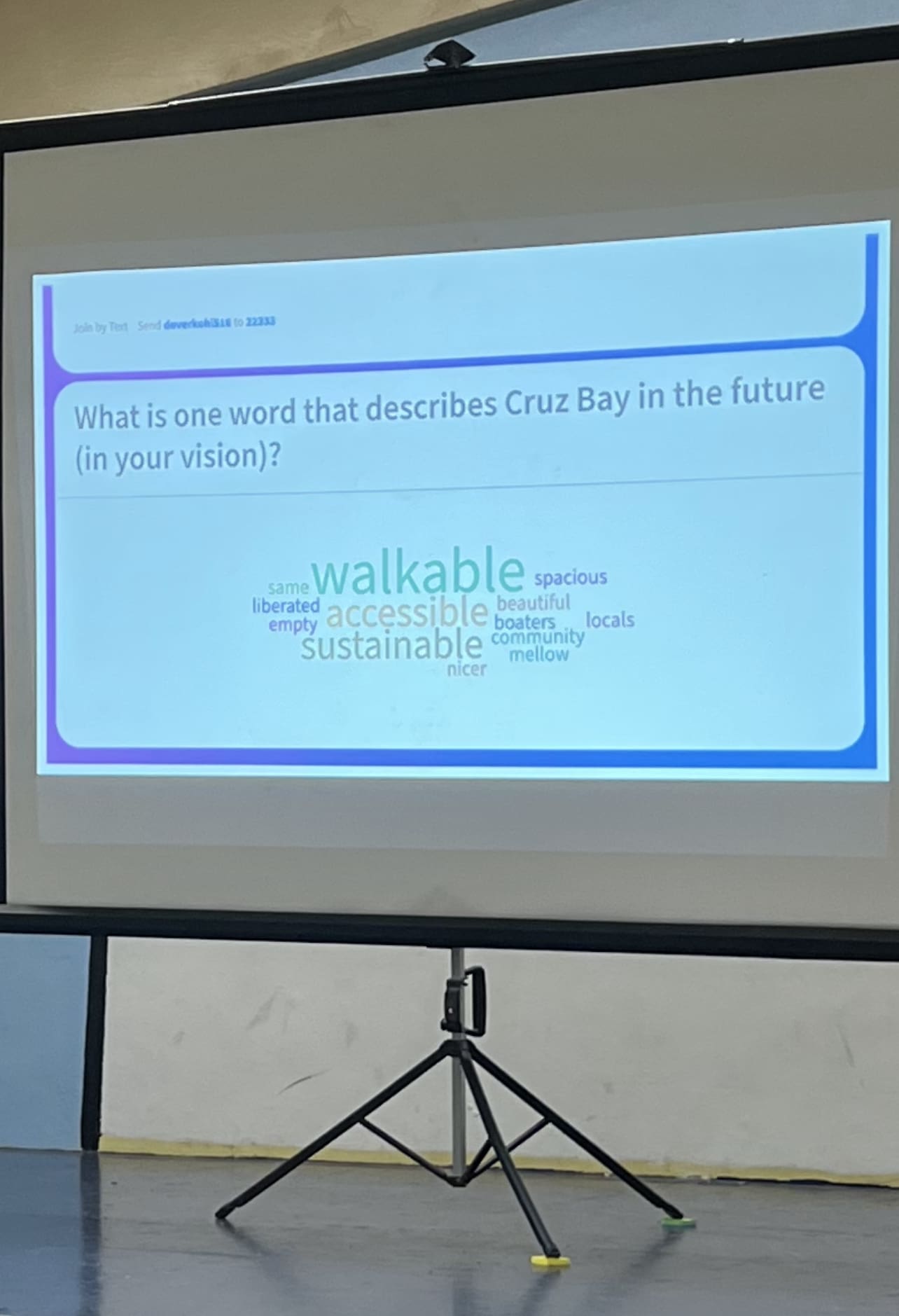 Through this week, planners from Dover, Kohl and Partners and Horsely Witten will be working to find ways to make the vision for the future a reality.
The public is invited to come by Meada's Plaza on Wednesday from 8 a.m. to 6 p.m. and on Thursday from 8 a.m. to 8 p.m. to offer their suggestions and be a part of the solution.
On Friday, the community is invited to the Sprauve School cafeteria from 6 p.m. to 8 p.m. for a work-in-progress presentation.
For more information about the event, reach out to Meaghan Enright via email at meaghan@lovecitystrongvi.org or by phone at 340-714-7744.