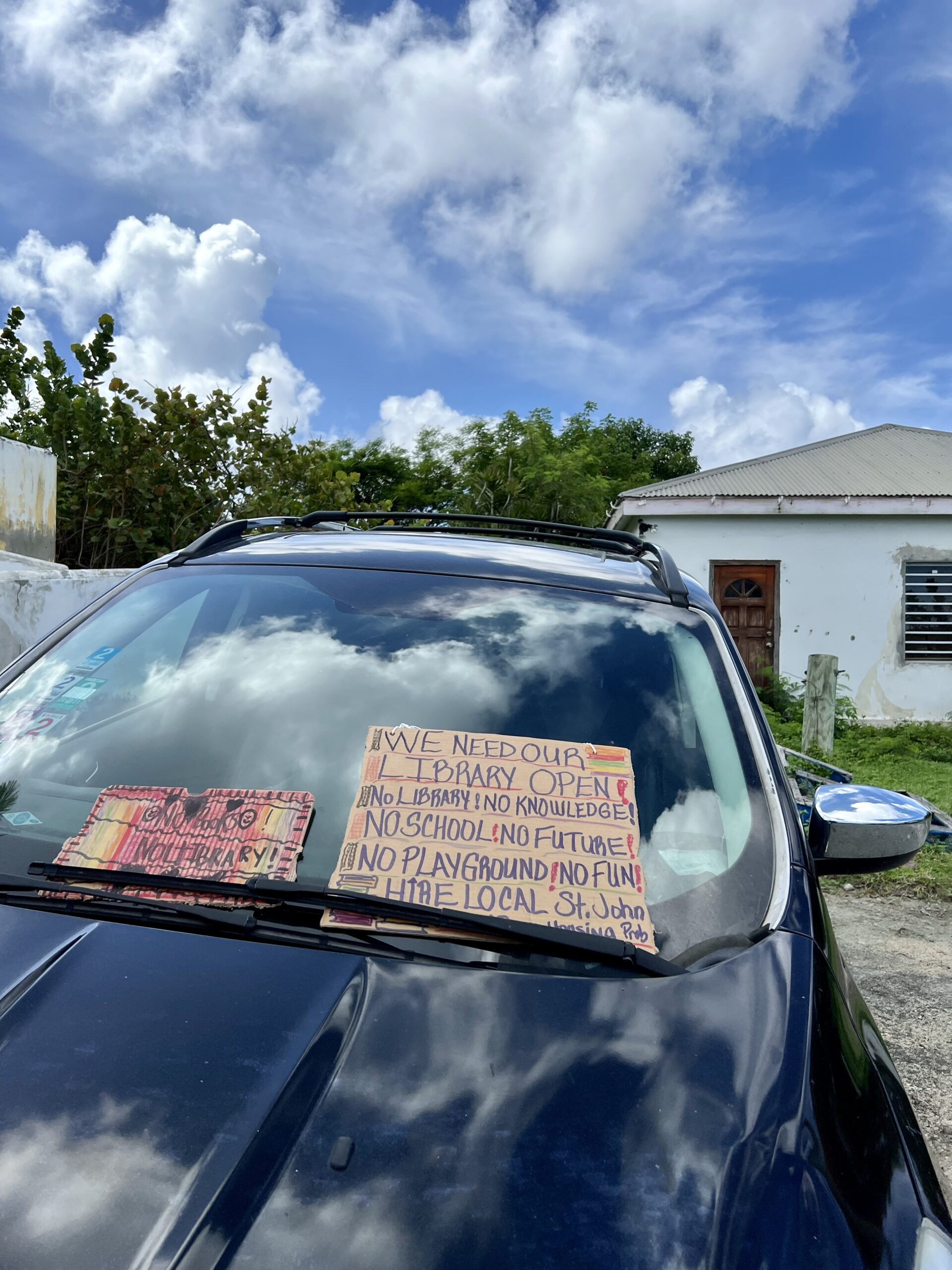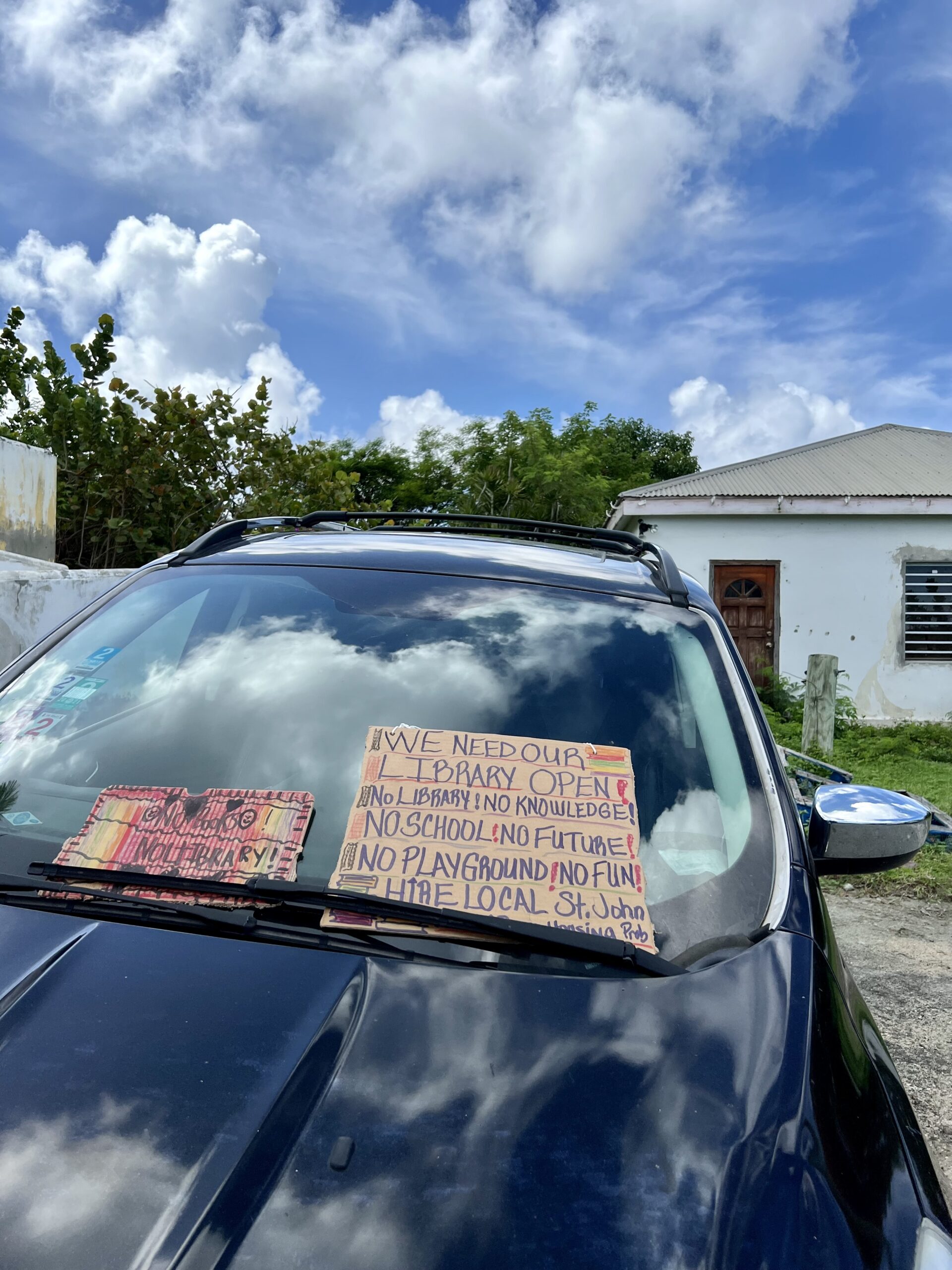 More than two dozen residents gathered at St. John's Elaine I. Sprauve Library on Saturday morning to protest the glacial pace of repairs, one of several reasons that the library has remained shuttered since 2019.
The library did receive some damage from hurricanes Irma and Maria in 2017 but remained open for two more years. At that point, staffing issues became the reason for keeping the doors closed.
This past year, St. John residents became hopeful that the library would soon open when the V.I. Office of Disaster Recovery announced that the repairs to the historic structure qualified for federal funding.
The work was initially expected to be completed by early summer, but the historic building is still encased in scaffolding, and the steps and ramps to the entrance are barricaded.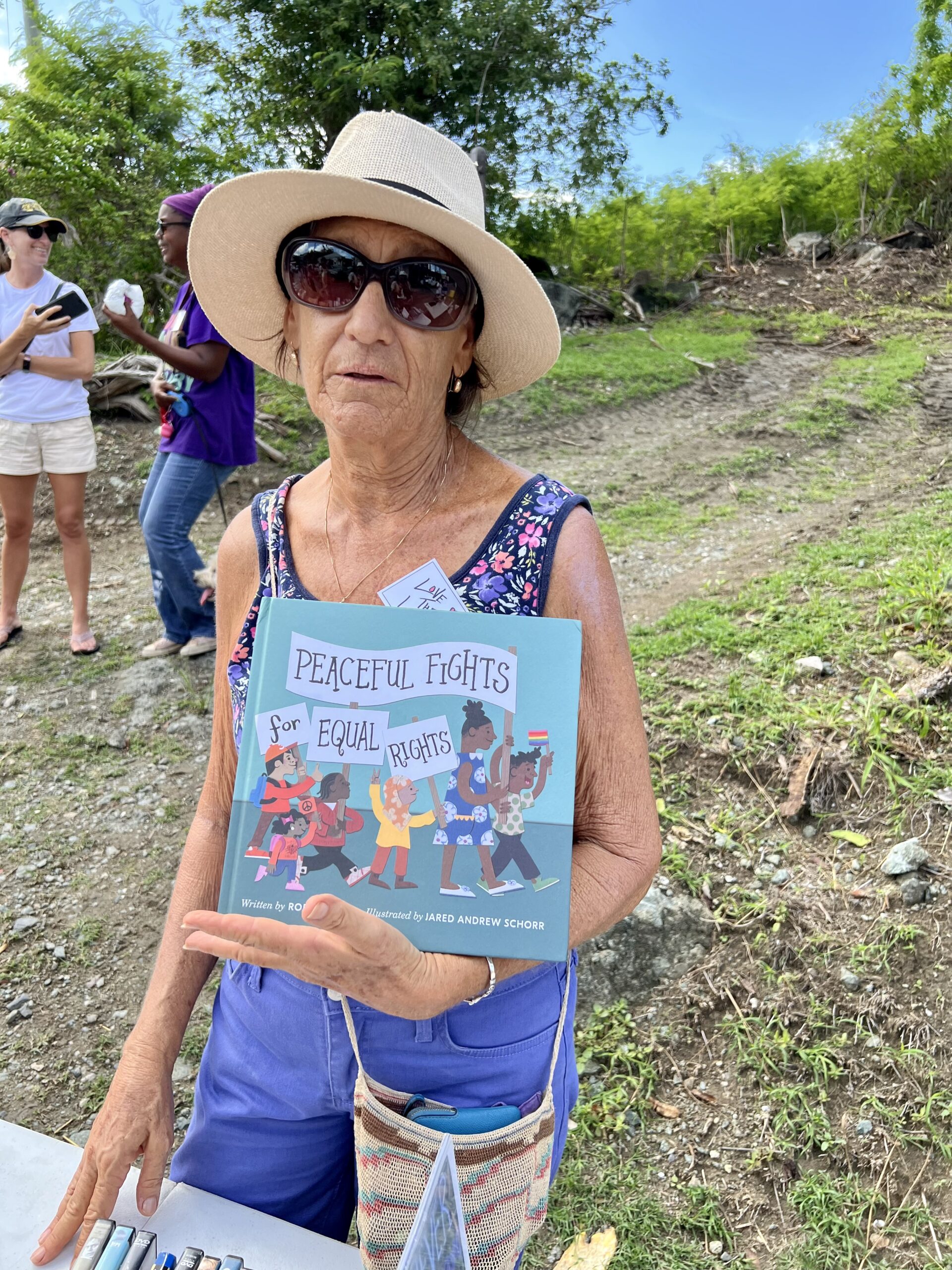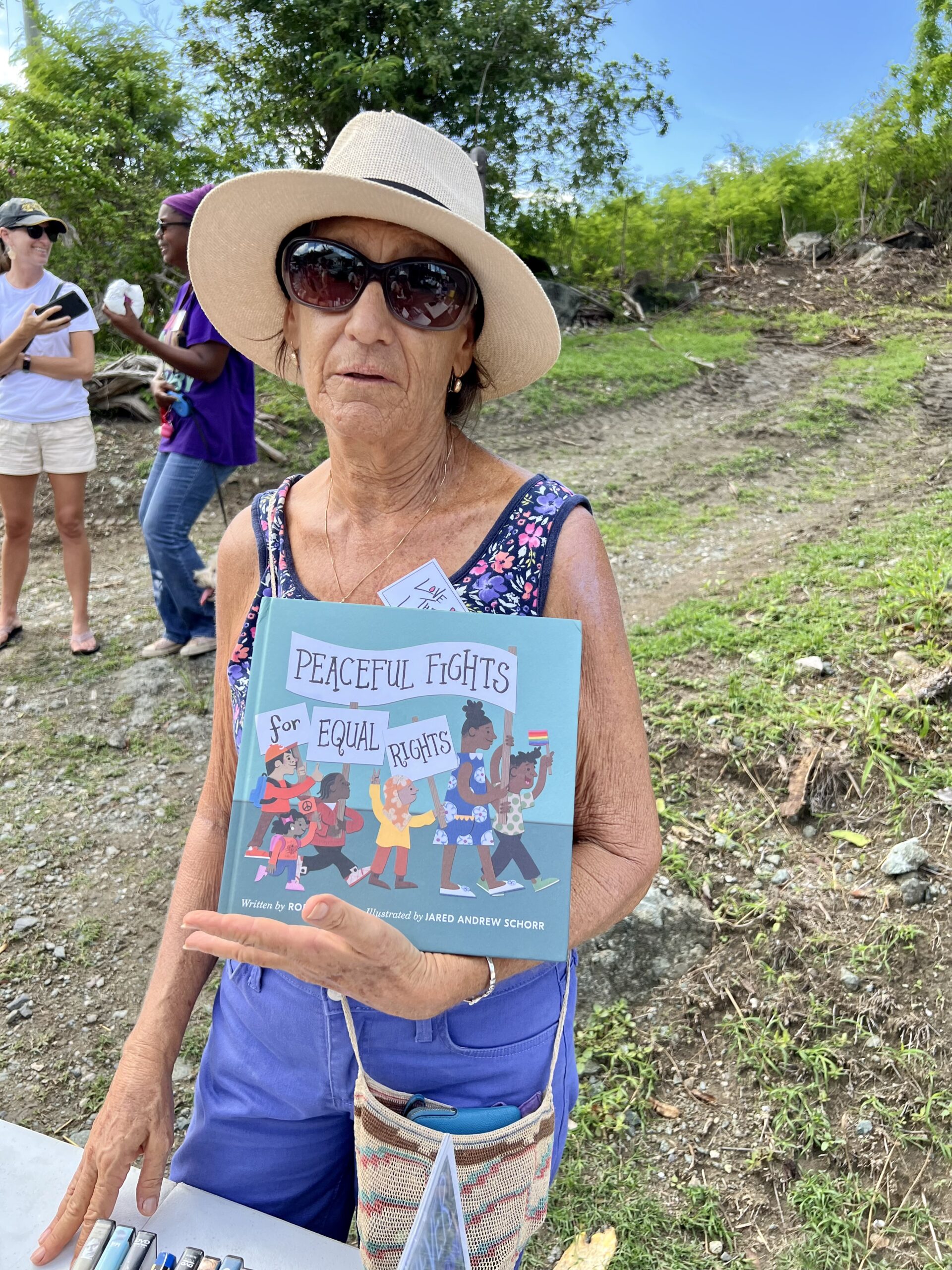 In April, DPNR spokesman Jamal Nielsen told the Source, "This FEMA-funded project has been awarded to 4 Star Construction in the sum of $383,950.19 to address damages done to Sprauve Library from the hurricanes of 2017. Repairs range from roof repair to replacing sections of the wooden flooring and power washing and painting. We are also converting the existing restrooms to meet ADA requirements."
During the last several months, frustrated residents have regularly posted updates on social media, noting how many days had passed since neighbors had seen any work going on. Meanwhile, Shikima Jones-Sprauve, St. John's island administrator, urged patience as she posted photos of work completed in the interior that would not be visible to passers-by.
The absence of a library has left a gap in services to the community, according to residents who gathered to register their frustration on Saturday. In addition to providing educational enrichment to children and students since it opened in 1982, the Sprauve Library has sponsored cultural events, story hours, instruction in local crafts, and exhibits by local photographers.
"It's very important to have a place open to the public to gather," said Erin Lieb, one of the organizers of the protest. "The library can be a center for the community for adult literacy, computer training, senior programs."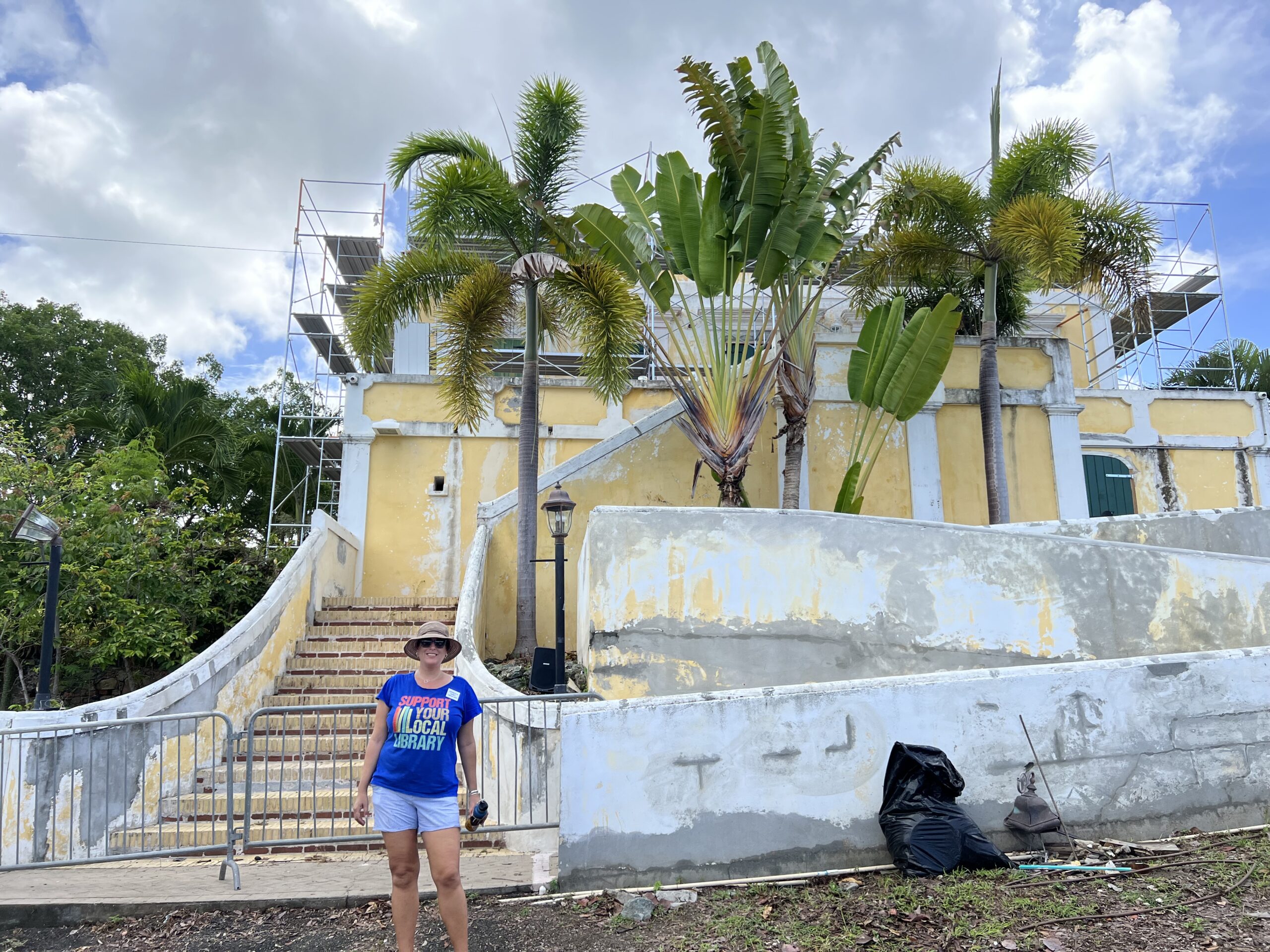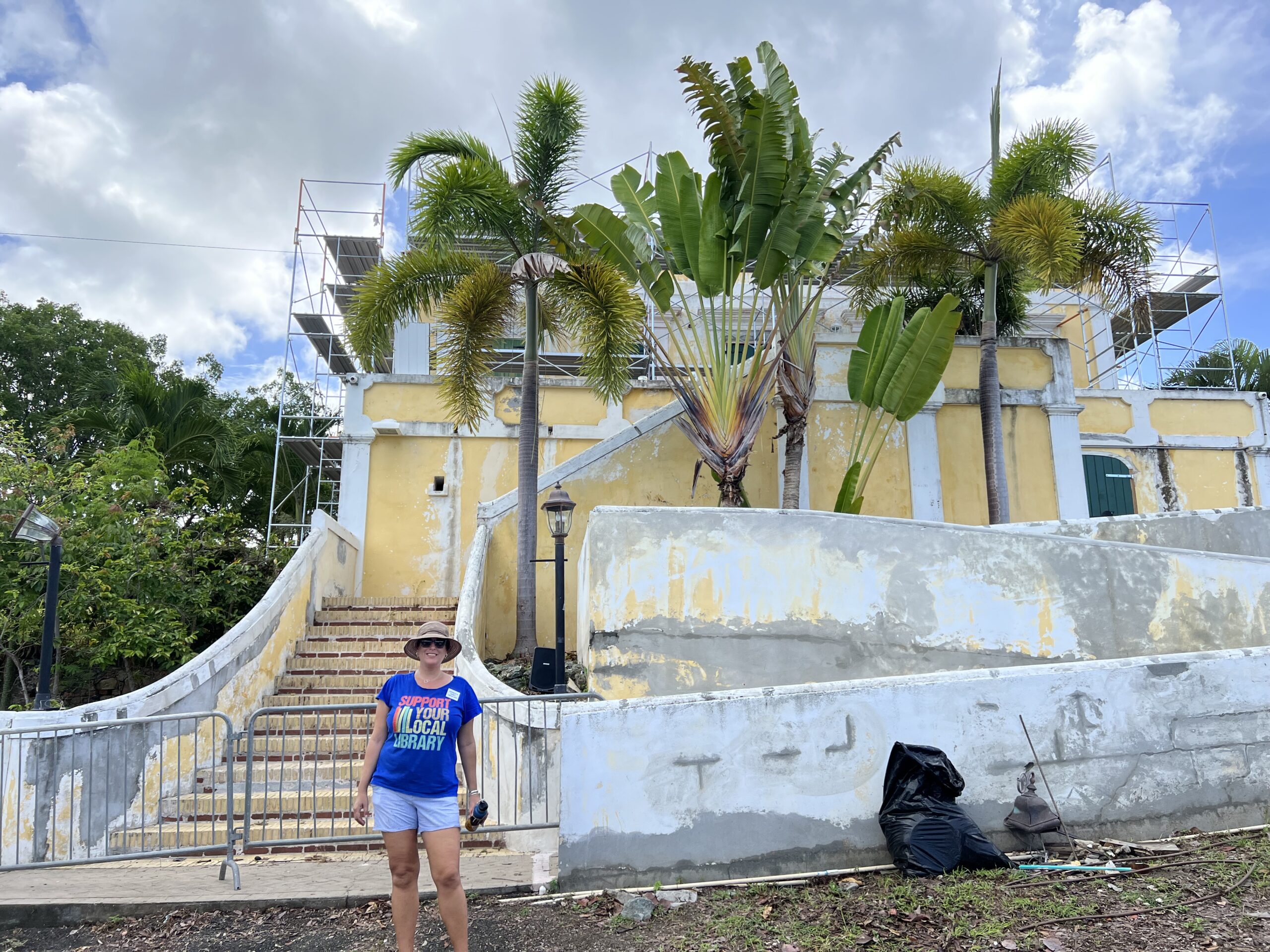 Exactly what has caused the delays to repairs is unclear. The Source spoke to Amy Parker DeSorbo, who serves as director for DPNR's Division of Libraries, Archives, and Museums, on five occasions since April to request an interview, but was not able to arrange an in-depth conversation. DeSorbo also did not respond to questions sent by email.
Lieb, however, said she had been in communication with DeSorbo over the past two years. Lieb said delays in obtaining the correct paint for the exterior of the building was one of the reasons given for the slow progress.
Even when the repairs are completed, it's also unclear if a qualified librarian can be found to fill the post. The last librarian to work full-time at the St. John Library was Ashley Till, who resigned in 2016.
From 2016 until 2018, librarians from St. Thomas commuted several days a week to keep the doors open, assisted by DPNR employees who lived on St. John, including Beverly L. Thomas.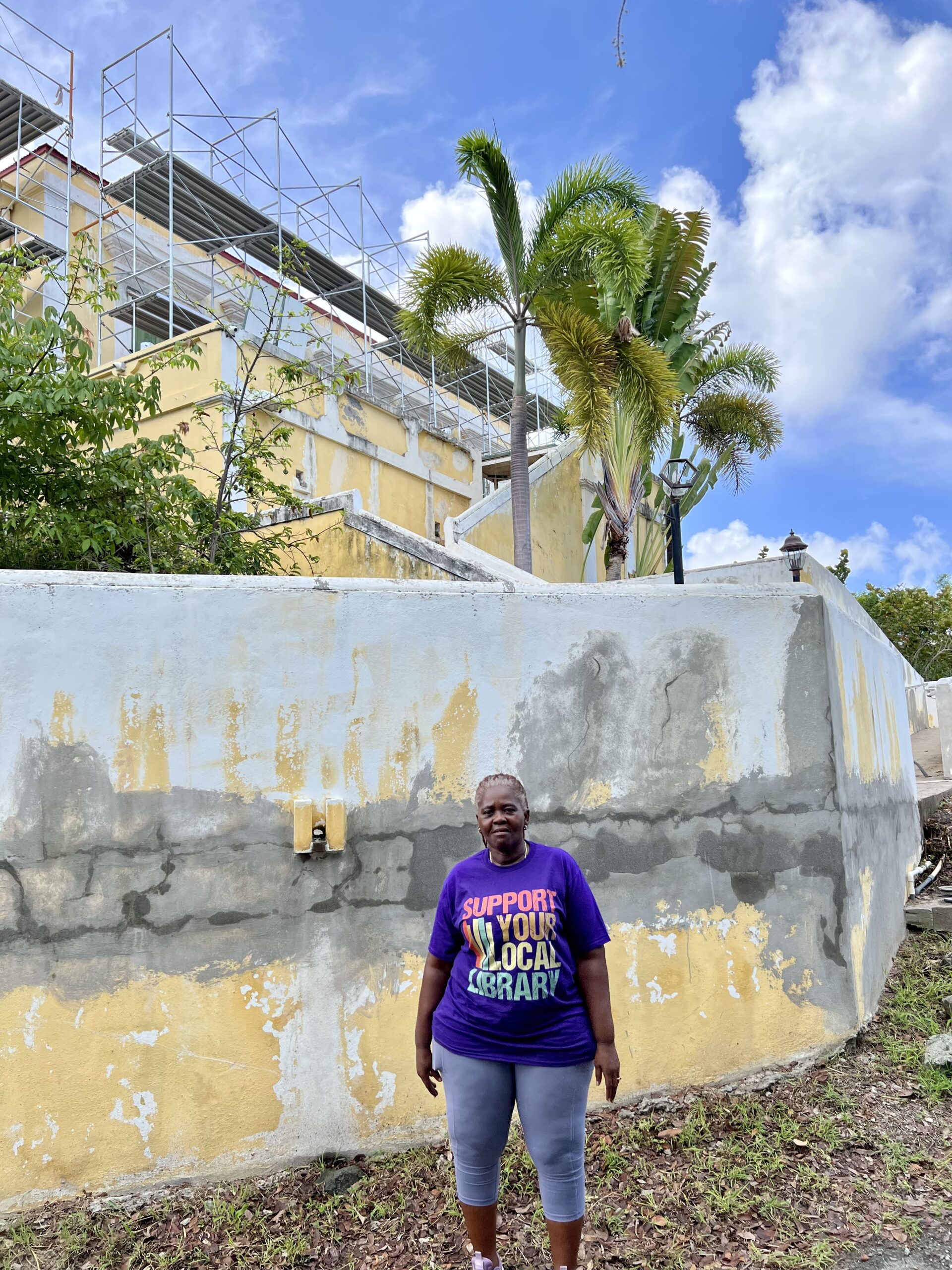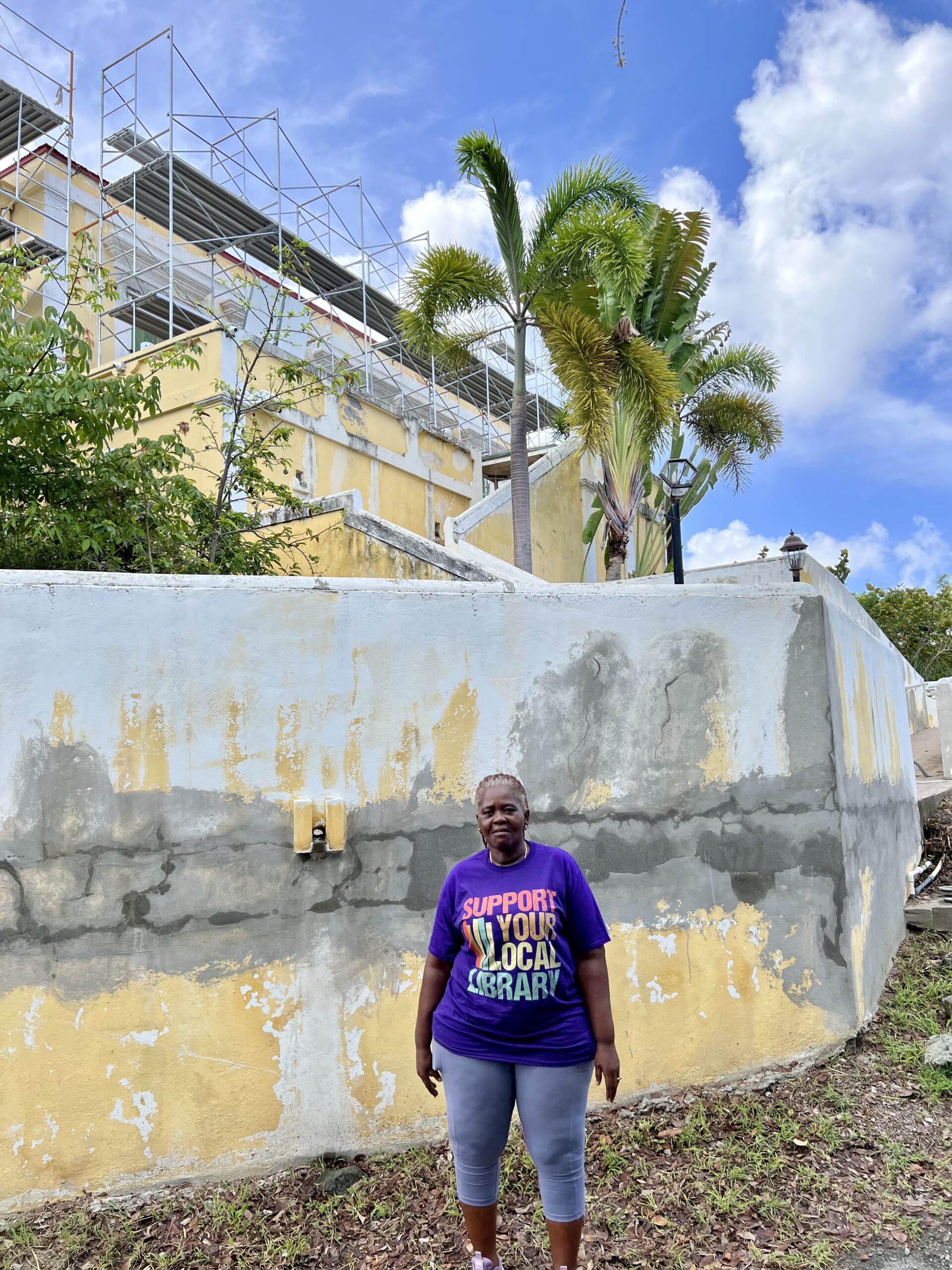 In 2018, St. John native Carla Sewer was hired as a full-time librarian, but her one year on the job was mired in controversy. Sewer said the director of libraries at that time verbally "attacked" her for asking community members to donate a new air conditioner for the facility and for wanting to extend library hours to bring in new family education programs.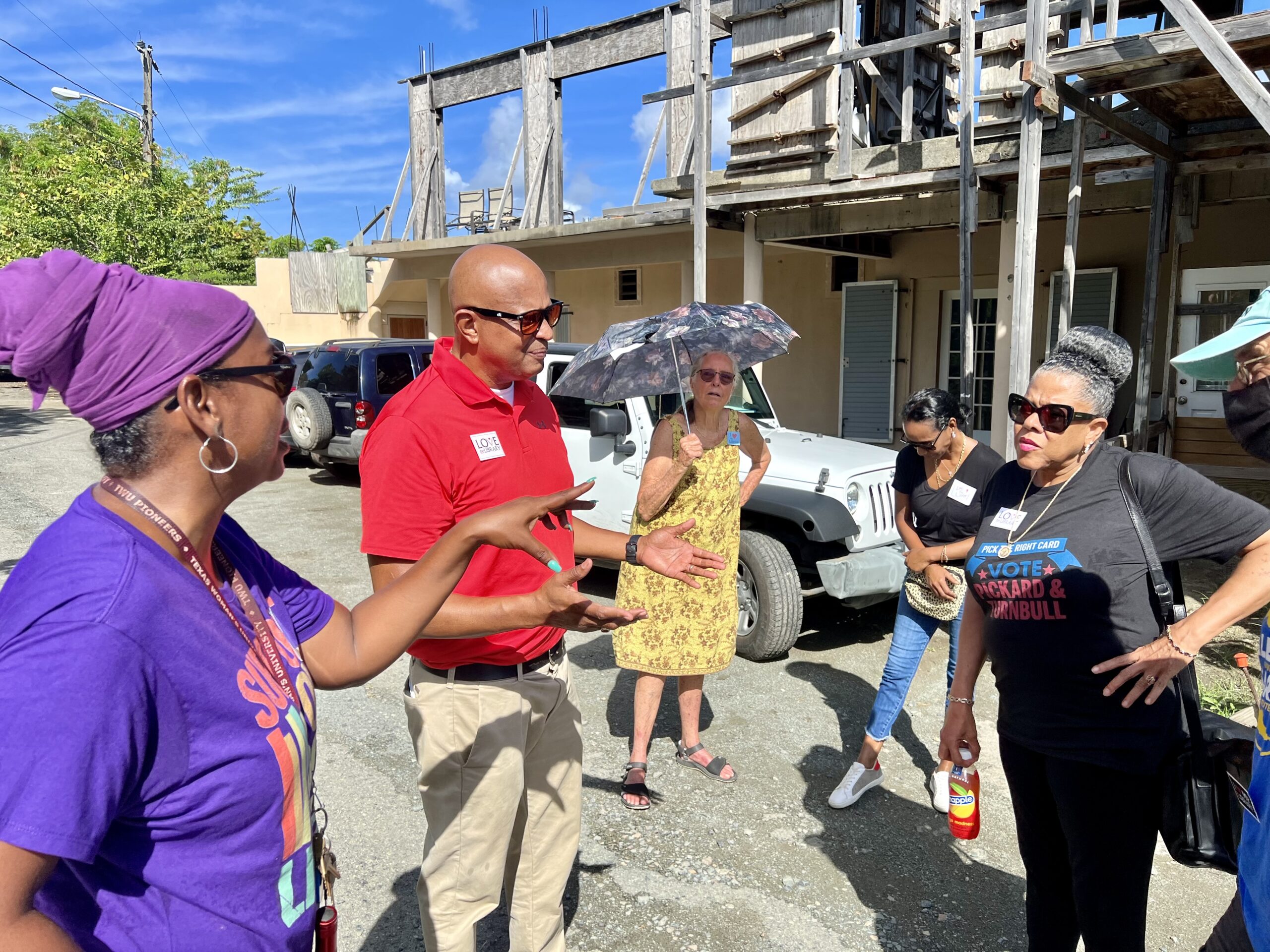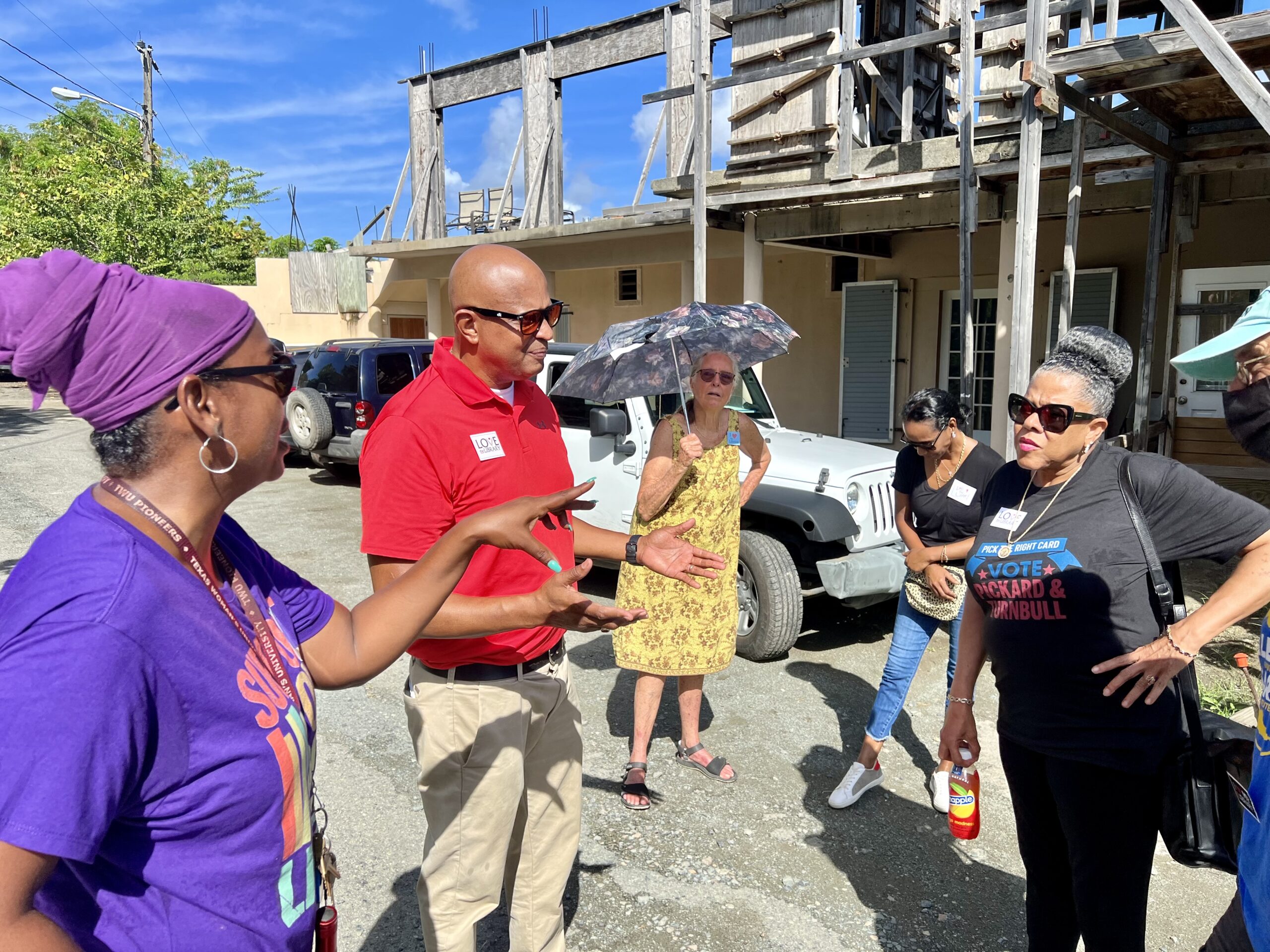 In January 2019, Sewer left St. John to complete her degree for a Master's in Library Science at Texas Woman's University in Denton, Texas, because there was no opportunity to complete a practicum on St. John required for her degree. She could not obtain her credential by working at Sprauve Library, she said, because the building lacked ramp access to the second floor and was not an ADA-compliant facility.
When Sewer returned to St. John, she was not re-hired. She said she was applying again for the position. On Saturday, she held a story hour for children in front of the main entrance while community members picked up trash around the building and gave out books and DVDs.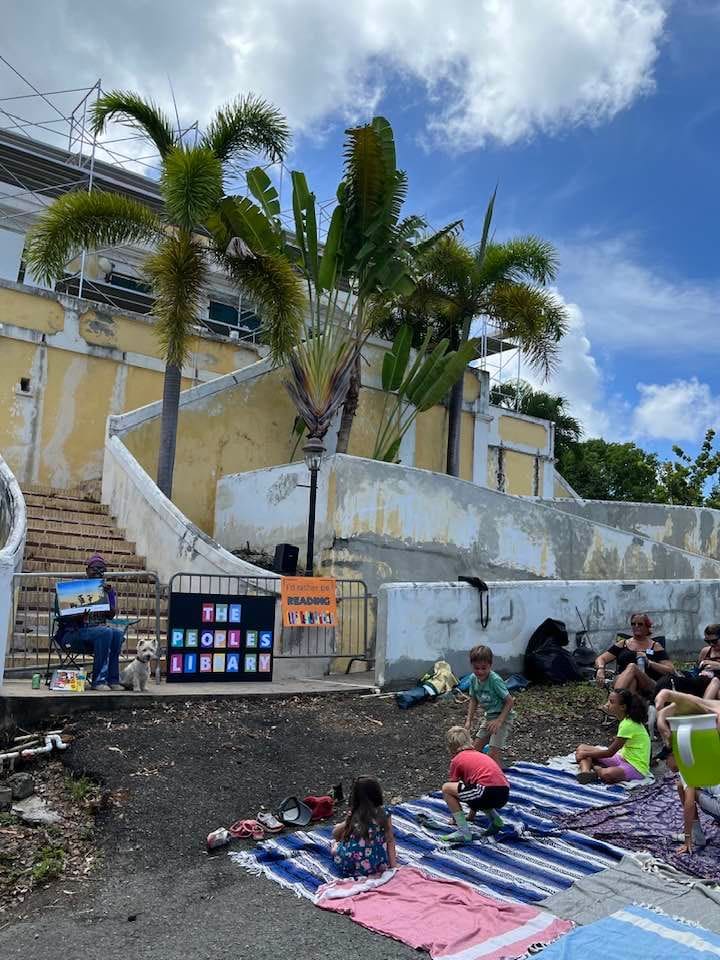 Lieb said that according to DeSorbo, a new librarian was hired in April but sent notice two weeks before starting the job that he had decided not to take the position. The position has been posted again, DeSorbo told Lieb.
On Saturday, residents said they could muster volunteers to keep operations going at the library if officials would allow them access. In the meantime, Lieb said Virgin Island residents would soon be able to subscribe for free to a virtual library to download e-books.