The St. John School of the Arts will present a concert by the Black Oak Ensemble on Friday, January 4 at 7:30 p.m. at the school's main building (behind the Julius E. Sprauve School) in Cruz Bay.
The members of the Black Oak Ensemble describe themselves as "Crossover Classical" musicians who play music spanning the centuries from Bach to modern composers.  The core ensemble, consisting of violinist Desiree Ruhstrat, violinist Aurelien Pederzoli, and cellist David Cunliffe, take particular delight in presenting undiscovered and new works. To see a range of their work, follow the links on their website http://www.blackoakensemble.com/.
Their performance is the first in a series of five concerts that make up the 2019 Sis Frank Concert Series at the SJSA.  Tickets are $35 each or $150 for all five performances.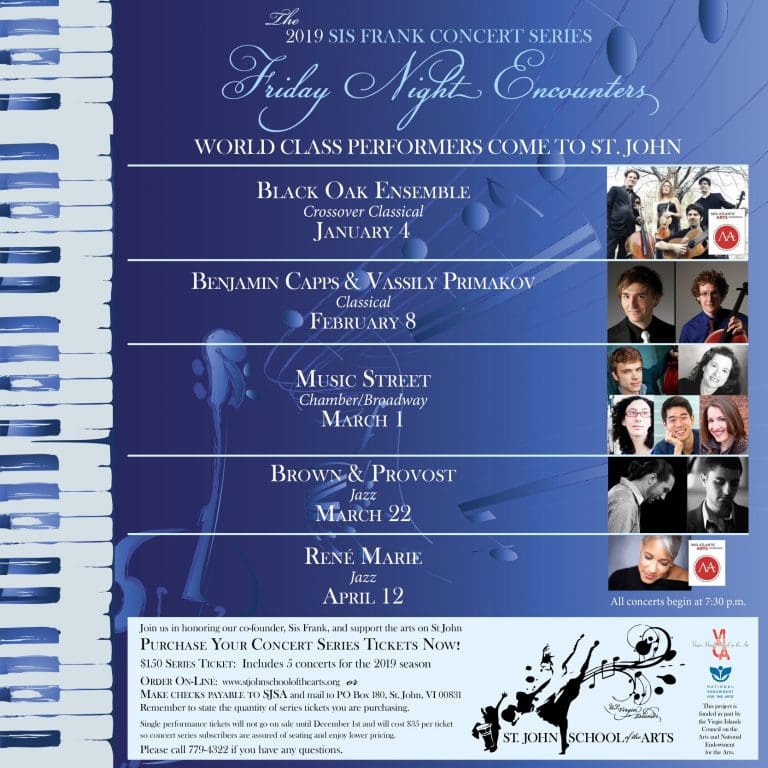 The St. John School of the Arts is proud to announce that it has deepened its collaboration with The Forum, a non-profit organization dedicated to bringing live world-class artists and events to the US Virgin Islands, which has generously offered to provide ground transportation on St. Thomas for St. John residents attending events at Prior-Jollek Hall at the Antilles School.
The Forum's next event in the Metropolitan Opera's HD film of Verdi's "La Traviata" on Thursday, January 10. St. John residents will be met at 5:20 p.m. at the Red Hook ferry dock, giving them time to purchase food and drink before the 7 p.m. screening.  Please contact the St. John School of the Arts at 340-779-4322 to reserve a spot in the van.
This engagement of Black Oak Ensemble is made possible through the Special Presenters Initiative program of Mid Atlantic Arts Foundation with support from the National Endowment for the Arts and the Virgin Islands Council on the Arts. For further information, please check out the SJSA's website at http://stjohnschoolofthearts.org/.