Elementary School Children Will Perform "Same City" on July 28

Very few people get through their lives without having to consider who they are as individuals, and how they fit into larger groups within society.
It's a question that interests children as well as adults, so it's the perfect subject for an original musical being produced at the St. John School of the Arts (SJSA) summer camp.
"Same City" is the latest production by Andrea Green, the visiting artist-in-residence at SJSA who has specialized in composing musicals with the themes of tolerance and communication.
Green is in the process of rehearsing 27 children ages 6-12 who are attending a free summer program at the school sponsored by the ASCAP Foundation.  They have only three-weeks to make the sets, learn the songs, practice their lines, and perfect the dance moves choreographed by Renee Chambers Liciaga.
The public is invited to the one-and-only performance of "Same City" at the St. John School of the Arts in Cruz Bay on 6 pm Friday, July 28.  Tickets are $10 for adults, and $5 for children 12 and under.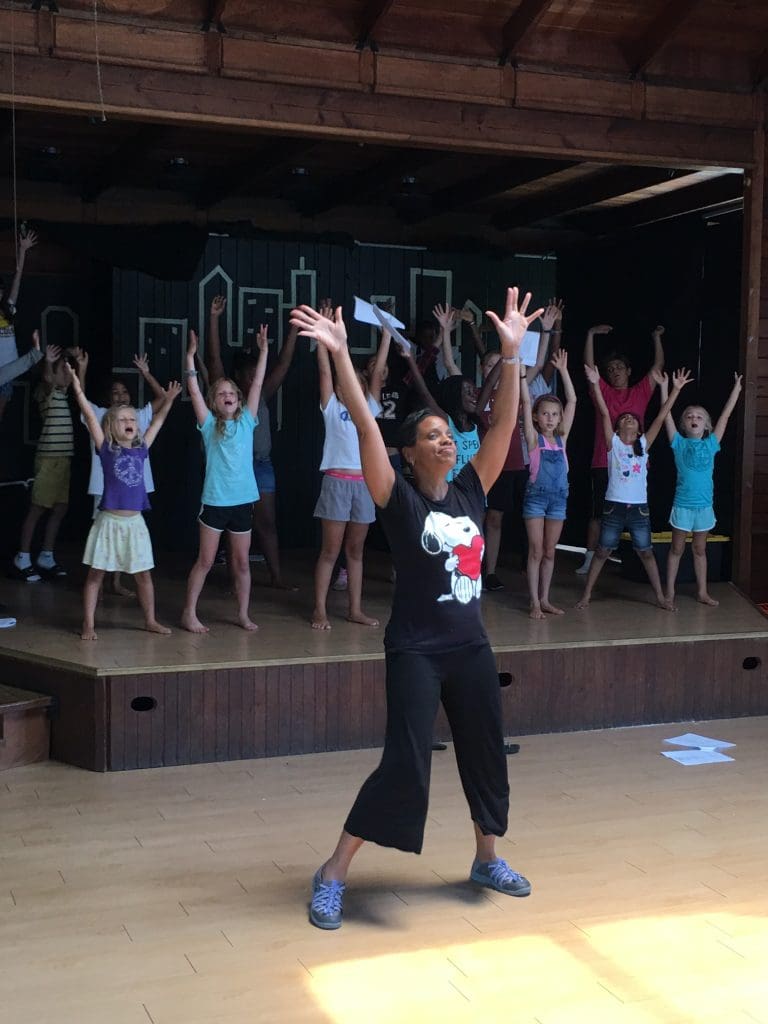 The show is the third produced by Green for the school's summer program over the past three years.  "When I do a musical, my objective is not just the end product, but it's for the kids to feel included, and that they're contributing," said Green.
Inclusion and diversity are two themes that arise in the 14 musicals that Green has written.  Her productions come from her experiences working with children with severe disabilities, pairing them with those that have no apparent disabilities.
"As preparation, we play a game called 'Same-Different' where children name traits or tastes that they have in common, like 'We're both girls' or 'We don't like broccoli' with qualities that make them distinct," said Green.   "It's all about acceptance and respect."
This year's production picks up on those themes. "The play 'Same City' is about a girl named Jane who dances in the halls at school, and everyone laughs at her," said 10-year-old Chionne Love, who has also participated in the two previous summer productions held at the school.
"She loves what she does.  She wears crazy hats and clothes, and asks a lot of questions," added Shaiah David, 12.
But Jane's antics get her in trouble, and when she's sent to the principal, she falls into a dream about going to Same City, where everyone is just like everyone else. "In the end, she realizes it's better to be different," said Chionne.
"I want children to feel good about themselves and who they uniquely are," said Green who has won awards for her productions. As the writer and director, she models flexibility by incorporating the children's suggestions and making the most of their talents.
At the same time, she teaches the children the importance of conformity as they learn the choreography for one of the musical numbers.
The children received additional training this summer from Sharon Geller, an actress and comedian from Philadelphia who worked with the young actors to develop their characters—and make them funny.
This year for the first time, the camp participants get to enjoy all the activities in their six-hour day in an air-conditioned studio.  The school's board and administrators have worked vigorously in the past two years to raise funds to install air-conditioning at the school's main building prior to the beginning of this year's camp.
It's so cold in the studio that campers brought hoodies to camp until they were banned, said Shaiah.  Asked why they were forbidden, she acted out campers pulling the hoods over their eyes and slouching against a wall.
"I was smart," said Chionne.  "I started bringing a sweater."
Primary School Children Practice Being Artists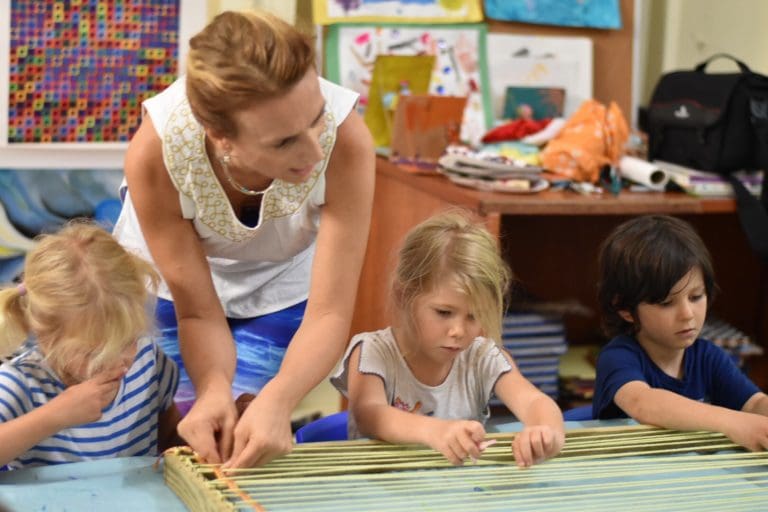 Though they may be too young to take on the rigors of staging a musical, St. John children ages 4-6 are participating in another extraordinary program offered by the St. John School of the Arts.
At Art Camp, Katia Moltisanti introduces children to famous artists and then gives them a chance to creatively respond to what they see.  Sometimes they use a similar technique, like spatter painting in the mode of Jackson Pollack.  Other times they move beyond the artist's chosen format, making three-dimensional water lilies out of tissue paper to add to paintings inspired by Claude Monet.
Moltisanti seems unperturbed as she guides the children from one activity to the next.  "They're very young, and it's a six-hour camp, so we do many different activities during the day," she said.
On one afternoon, the children gathered in a circle to listen to a story about pirates, then leaped up to the table to paint pictures of pirates or parrots. They're encourages to tell their own stories about their creations as each activity is designed to stimulate the children's capacity for language.  Moltisanti, who was born in Italy, also teaches the children vocabulary–the names for colors and numbers, for example– in Italian and Spanish.
Some projects are designed to be completed within a few minutes, and some may take weeks.  "We looked at Guatemalan weaving and built a loom," said Moltisanti.  "We do a little bit every day.  It teaches children that everything doesn't have to be done in a moment."
Each day the campers go for walks in the park and gather materials that they use in their creative projects. On one day they might seek twigs with bushy endings that they will then use as paint brushes; on another they might collect leaves that may become part of a collage.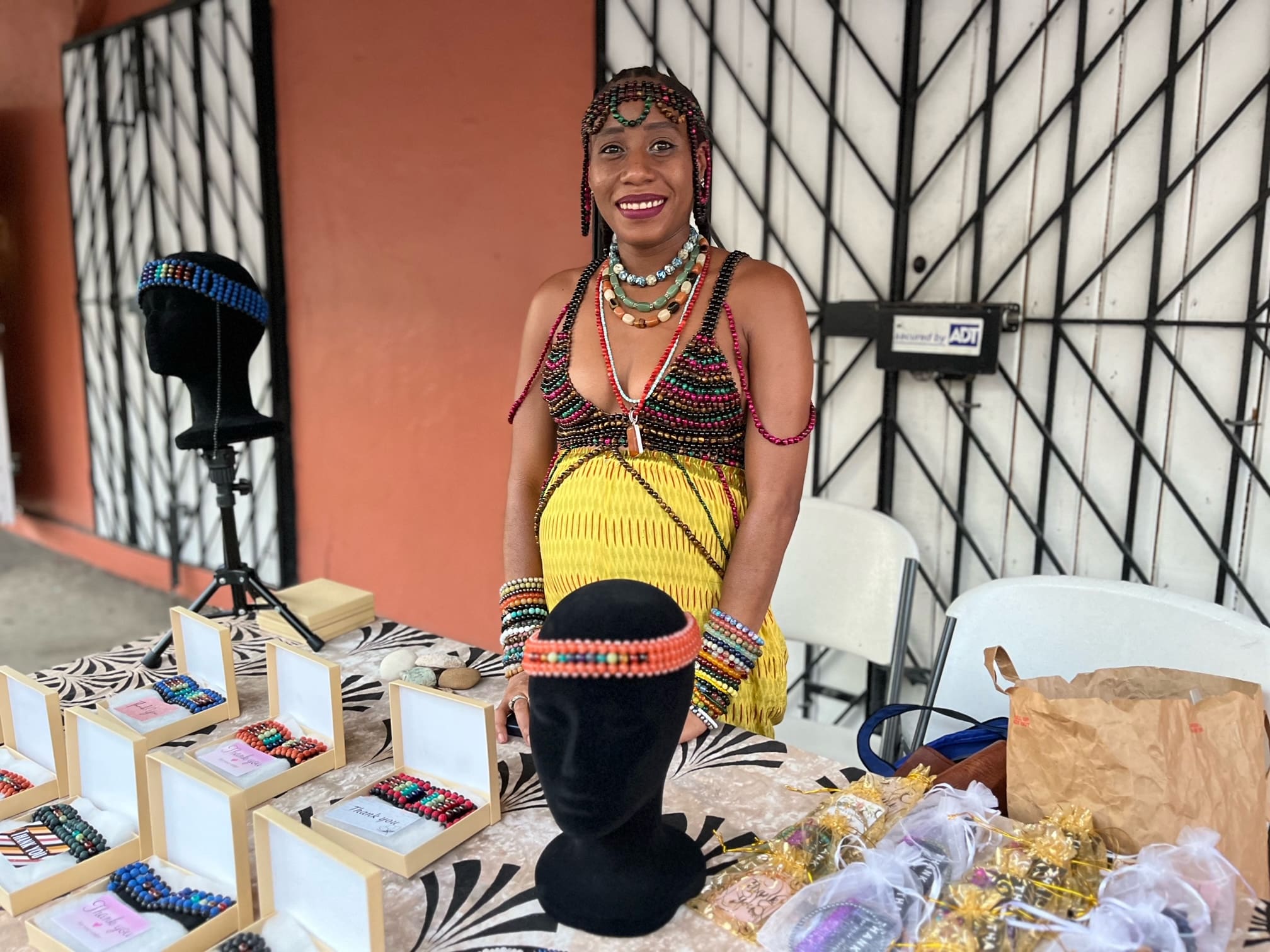 The children go on regular field trips to galleries in Cruz Bay to see the works of local artists and return wanting to emulate what they see.  Last week, they visited Knox and Ollie's, a restaurant at the Westin Resort which is currently hosting a show of large-format canvasses of flowers painted by Moltisanti.  The children are happy to learn that people they know are real artists, she said.
Moltisanti is the founder and director of Centro Raccontami (which means "Tell Me" in Italian), an Italian Language and Cultural Arts center for children and adults in Manhattan.  She moved to St. John in October 2016.
"Our daughter, Ella, has always had an interest in art, so this camp was certain to be a perfect fit," said Jessica Schnell. "It has surpassed our expectations. I am so grateful our little island can provide programs such as this summer art program."
The Art Camp, which runs through August 4, charges a fee of $75 a day.  Children may attend on a part time of full-time basis. Contact the St. John School of the Arts for further details.