'Broadway Comes to St. John' is an annual program that the St. John School of the Arts (SJSA) creates for all the 4th grade students on island. SJSA brings teaching artists from New York to work with the 4th graders for a three-week period. They teach them singing, dancing and acting, culminating in an original "Broadway" production — one created especially for children their age.
SJSA has been doing this for eight years (except for last year…Irma-Maria hurricane year). The school is making up for it this year by including the 4th and 5th grade students from Julius E. Sprauve Elementary School, the Gifft Hill School, the Christian Academy and home-schooled children, as well.
The school is holding a raffle to raise money for this program. Anyone who buys a raffle ticket could win two tickets for the next Broadway Musical sensation, "Moulin Rouge." The winner will have a choice of any preview performance, June 28 through July 24, on stage at the Al Hirschfeld Theater, 302 W. 45th Street, NYC. The raffle winner will also get $1,000 in cash towards airfare and hotel plus dinner for two at Etcetera, Etcetera at 352 W. 44th Street.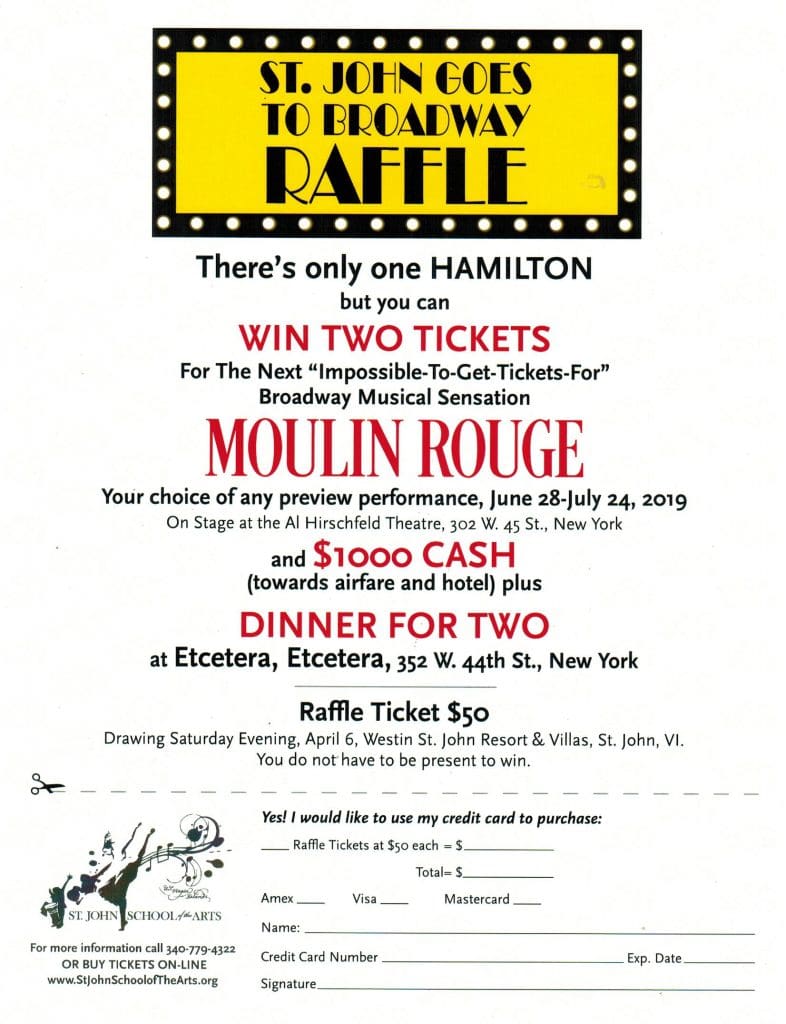 Raffle tickets are $50. The drawing will be held Saturday evening, April 6, at the Westin St. John Resort and Villas. The ticket holder does not have to present to win.
For tickets or information, call 779-4322 or go online at www.stjohnschoolofthearts.org