St. Maarten resident Dick Luttekes won his third straight Love City Triathlon, cruising over the finish line more than six minutes ahead of the next male finisher. His win ensured the triathlon's coveted inter-island plaque stays put on the island of St. Maarten.
About 72 participants came out and braved the morning rain and steep terrain to take part in the 8th Annual Love City Triathlon on Sunday, September 3.
The race attracted a record number of relay teams who took part in the half-mile swim, 14-mile bike ride and four-mile run which ended at Annaberg. Eight women and 22 men contended in the individual race, and about 14 relay teams came out for the endurance test.
[adrotate group="6"]
No Fooling Around
Luttekes didn't travel to St. John for down time. He arrived the day before the race and rode his bicycle – loaded with all of his gear – from the Cyril E. King Airport to Red Hook; jumped on the ferry and then pedaled up North Shore Road to Maho Bay Campgrounds, where he spent the night.
"As I was biking up the Trunk Bay hill, I was wondering how this was going to affect my race the next day," said the 44-year-old pharmacist.
His race was obviously not much affected by the grueling bicycle ride to St. John.
Although Luttekes finished fourth in the swimming leg, he more than made up time on the bike course and the run.
"This race likes me," he said. "The wet roads slow you down, but I'm strong at cycling uphill. It's mainly about training regularly to build up your stamina."
Back in Shape
On the women's side, St. Croix resident Teresa Harper proved she is back in shape, claiming her first win since a bike crash sidelined the 40-year-old teacher in May. It was Harper's second Love City Tria-thlon title; she also won the event last year.
"I've been a little sore," she said. "The conditions were a little scary, but I feel good about my race."
Although there were no serious injuries, many athletes be-moaned the slick conditions brought on by an early-morning shower.
St. Maarten resident Frits Bus claimed second place for the men, crossing the finish line a few minutes before Love City resident Matt Crafts, who posted his best triathlon finish.
"I didn't fall, so that was good," he said. "The conditions slowed me down a bit, but they affected everyone the same."
Slippery and Steep
Another home talent, Jeff Miller, a fisheries biologist for the National Park Service, claimed fourth place in what he dubbed the "Love City Slippery Triathlon."
"Coming down the hills in the rain is a bit of an experience," he said. "We have to thank all of the volunteers who came out and made the day such a success. We had more than 60 volunteers who were all invaluable and really made this a community event."
St. Maarten resident Terry DeWitt sprinted to a second place finish for the women in her first Love City Triathlon. The 43-year-old veterinarian and mother of two said the race was nothing compared to her normal hectic life.
"Look, no kids," she said. "Anything is easier than running around with my four- and five-year-olds. I will definitely return next year for the race."
Woodcock is Back
St. John athlete Jude Woodcock claimed third place for the women, proving that she has fully recovered from a surgery which repaired the tendon in her arch.
"It took me three years to get back from my foot surgery, but I'm back," she said. "Running on trails is tough, but I'm really happy with the race."
Fellow Love City resident Jody Tanino cruised in to a fourth place finish, rebounding from a fallen bicycle at the beginning of the second leg of the event.
St. John residents Jeremy Zuber and Eric Bauman, along with Tortola cycler Darel Chris-topher, collaborated for the first-place finishing relay team. Bauman laid down a solid swim and 16-year-old Christopher pedaled his way to the front of the pack despite a crash in Cruz Bay.
"It was very scary," he said. "I was coming around the corner and it was just really slippery."
"A Hell of an Event"
Zuber, a regular favorite in the Eight Tuff Miles, rounded out the team on the running leg of the race.
"It was great," he said. "The guys gave me a lead and I kept us ahead. It's a hell of an event."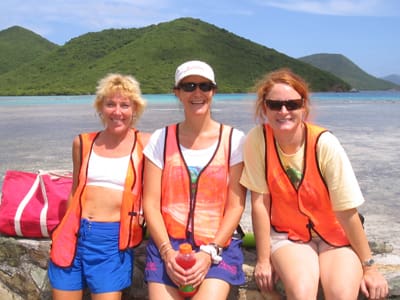 A number of supporters and volunteers ensured the race was safe and organized. Carly Kauffman even swam for a relay team and then ran over to direct runners on the last leg of the event.
"I was here anyway, and it's fun," she said.
Some volunteers watched from the sidelines with a bit of envy.
"I'm a triathlon wanna-be," joked Val Donaghue, a trainer at Gym in Paradise. "It's a good event. Everyone has a good time, whether you finish first or last."
Racing for a Reason
For other participants, the day was a chance to bring awareness to a worthy cause. Ted Kelliher raised a number of pledges for the Challenged Athletes Foundation, which supports amputee athletes.
"The foundation was started when an athlete was running in a triathlon and a van hit him and paralyzed him from the chest down," Kelliher said. "Initially the idea was to raise money so that he could buy a prosthetic, but now it's a national foundation for amputee athletes."
Kelliher raised around $2,000 for the Challenged Athletes Foundation, but he's still accepting donations. For more information, or to donate, check out his Web site at www.raceforareason.kintera.org/tedkell.
Following the grueling race, participants and volunteers congregated on Francis Bay beach and enjoyed some well-deserved refreshments and provisions.