Gov. Kenneth E. Mapp and Lt. Gov. Osbert E. Potter commended 329 graduating seniors of Charlotte Amalie High School and Eudora Kean High School who had overcome numerous difficulties during a challenging school year due to the impact of two Category 5 hurricanes.
At the Ivanna Eudora Kean High School commencement ceremony, held in the Digna Wheatley Gymnasium on Saturday, Gov. Mapp extended his congratulations to the 137 graduating students.
"To the members of this resilient class of 2018, I really wish you the best. You are off to a wonderful life," he said. "There may be days things don't work out so well, things don't happen the way you would like, but dust yourself off, stay focused, work hard and concentrate on your dreams. You will achieve them."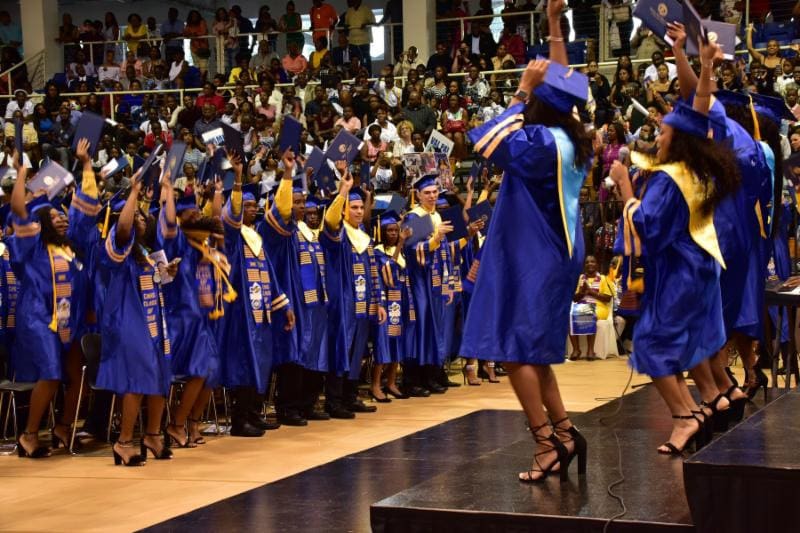 Valedictorian Jalen J.T. Francis described the Class of 2018 as "resilient and revolutionary." "The members of this class demonstrate their value not only in their future, but the future of the V.I.," he said. "The success of our class in itself leads to my belief of how great each and every one of you are."
[adrotate group="6"]
Hezekiah J. George was the salutatorian, and Teshanne Phillip gave the commencement address. Members of the classes of 1973, 1978, 1988, 1993, 1998, 2003, 2008 and 2013 were also in attendance. The event was a special celebration for the class of 1973 who, 45 years earlier, had the unique privilege of being the first graduating class of Ivanna Eudora Kean High School.
Charlotte Amalie High School (CAHS) celebrated its 88th annual commencement program on Sunday. Diplomas were awarded to 192 students.
Valedictorian Sumaiyah Richardson reminded her classmates about their strength in the face of adversity.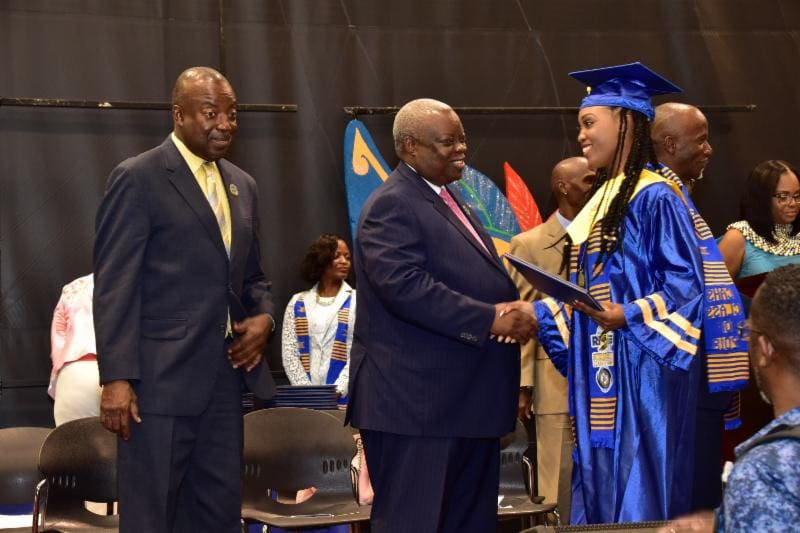 "Most of us with without roofs, with destroyed houses, without contact with family, with friends leaving on (mercy) cruises, without Internet or power or water or food… doing an academic support packet by flashlights and with all the mosquitoes, we faced an unprecedented time, but still, we rise," Richardson said.
The CAHS salutatorian was Carissa Moses, and the keynote address was delivered by Maria Melendez-Tirado who graduated in 1993. Commissioner of Education, Dr. Sharon Ann McCollum, recognized the class of 1968 as it celebrated its Golden Anniversary by naming each class member in attendance.
Mapp spoke to the new alumni about the opportunity to contribute to the territory's rebuilding and success. As he encouraged the Class of 2018 to pursue further education, training, military careers or other options and to make their mark in the world, he also encouraged them to "be a part of the growth, the expansion and the development of your community."