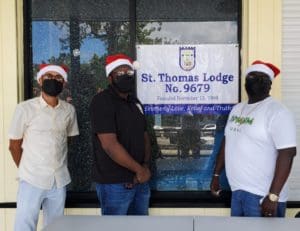 Every child, no matter what their home life looks like, should experience goodwill and joy, especially during the holiday season. That is why St. Thomas Lodge 9679 (the Lodge), with the help of the V.I. Department of Human Services Division of Children and Family Services (DCFS), decided to organize a day of play, Santa and gifts for over 40 children who are currently being fostered.
"As you know, children are put into foster care while their immediate family works towards being able to care for them again or while the child is hoping to be placed with a permanent family. Being able to give them some sense of normalcy and a space to play is extremely important for their continued development," said the administrator of the Division of Children and Family Services.
On Sunday, Dec. 19, the event took place at the Virgin Islands Children's Museum, where children ages four months to 18 years-old got a chance to play, explore and discover some of the museum's cool exhibits and activities, meet Santa and receive gifts from their Christmas lists.
After receiving their gifts, children and their guardians were treated to a small to-go snack and a stocking stuffed with goodies. Lodge almoner (social worker), Shawn C. Browne, led the coordination of this event, one of his first as almoner.
"I was a little stressed at first, but once the gifts started coming together, we knew it would go well. Each child got multiple gifts that were donated specifically from their wish list, so we know they would be happy. We are grateful to the community for supporting this initiative to bring a Merry Christmas to children who are not often included," said Browne.
"We were very happy to host an event like this where private and government organizations collaborated to bring children a new experience, one that encourages life-long learning. I personally wasn't aware there were so many children being fostered but I'm grateful that the VI Children's Museum could provide a safe educational space for them to play this holiday season. We hope this visit will not be their last!" said Chantel Hoheb, museum director Chantel.
St. Thomas Lodge No. 9679 is dedicated to community service, community involvement and charitable outreach on St. Thomas. The Lodge was founded on the principles of "Brotherly Love, Relief and Truth," and its officers and members continue to exhibit these through their outreach initiatives.
The Lodge is always looking for partnerships and opportunities to help grow its presence throughout the Virgin Islands while maintaining its commitment to charity and relief. People can follow Lodge 9679 on Facebook, https://www.facebook.com/stthomaslodge9679.