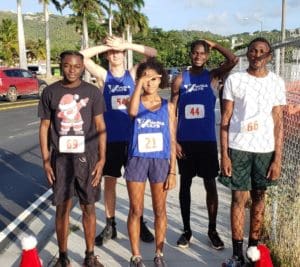 The St. Thomas/St. John Interscholastic Athletic Association closed out its Cross-Country season on Thursday, December 16, 2021, with a Jingle Bell Run.
Only eight runners braved the traffic and made their way downtown to christen the newly renovated Waterfront Apron. Earlier that day, the official dedication service of this two-lane roadway which received a major makeover transforming it into a four-lane state-of-the-art highway with an extended walkway running along the sea. This was the setting for the final event of the 2021-2022 cross country season. Organizers named the event "Jingle Bell Run." Cones were decorated with Santa hats and runners were outfitted with bells on their shoes making a joyful noise as they completed the one-mile course.
The junior varsity boy's division got the meet started as three runners all from Antilles School toed the starting line. Christian Newman finished in 7:14, just four seconds ahead of teammate, Jack Oram's 7:18. Ethan Hobdy crossed the finish line in a respectable 7:45.
In the varsity division, there was only one female runner, Maia Tolud. She ran with the other four varsity boys. Tolud led for most of the race until Cecil Hector made a strong push at the end to click Tolud at the finish line. Hector completed the race in 6:19 while Tolud recorded a time of 6:21. Both Tolud and Hector attend V.I. Montessori School and Peter Gruber Academy. All Saints Cathedral School's Tamir Browne also made a run for the gold but came up just short. Browne finished tied with Tolud registering a time of 6:21. Ivanna Eudora Kean High School's Rahyim George rounded out the field with a time of 9:03.
On Tuesday, December 14, 2021, meet number four was contested at the Kean High School track. Gifft Hill's Cleo Kinsella finished the mile in 11:40 in the middle school girl's division. Her teammate Kayla Roberts completed the course in 11:48. Andy Bourne of Montessori took first in the junior varsity boys race finishing in 6:16. Miles Tolud, also of Montessori, crossed the finish line in 6:42. Jack Oram of Antilles School secured third place with a time of 6:46. Christian Newman and Ethan Hobdy rounded out the field in this division finishing with times of 7:24 and 7:34 respectively.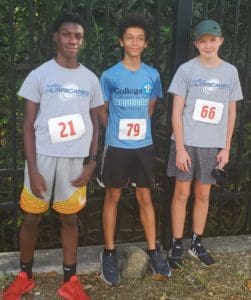 In the varsity division, Maia Tolud recorded her best time of the season, to that point, with a 6:26 finish. Cecil Hector had another strong performance registering the fastest time of the day with a time of 6:15. Rayhim George of Kean turned in a time of 6:23. Joquin Hawkes of Montessori and D'Vonte Newton of Kean rounded out the field with times of 6:36 and 6:46 respectively.
This concludes the St. Thomas/St. John 2021-2022 Interscholastic Athletic Association cross country season. After the Christmas break, student athletes in the St. Thomas/St. John district will be competing in Beach Volleyball and Tennis in January of 2022.