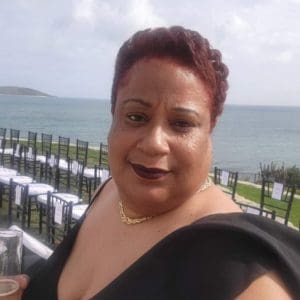 Stacie Nicole Schjang of Estate Peter's Rest died on Jan. 27. She was 46 years old.
She is survived by her mother, Helen Armstrong Schjang; father, Albert Michael Schjang; brothers: Dave A. Schjang, Henry "Gene" Schjang and Albert Michael "Mickey" Schjang Jr.; niece, Yllyse Nicole Schjang; nephews: Dave A. Schjang II, Alex M. Schjang and Dylon A. Schjang; and aunts: Carole "Terry" Pimentel, Evita Patton, Enid "Lola" Schjang, Melba Schjang, Charlita Schjang, Arlene Schjang, Morlene "Morl" Lockhart, Medeliene "Mede" Christian, Grace Armstrong and Luz Armstrong.
She is also survived by uncles: Oswald "Dukka" Schjang Jr., Ronald Schjang Sr., Kai Schjang, Guido Schjang, Freddie Pimentel Sr., Melvin "Melo" Armstrong, Henry "Hank" Armstrong and Raymond Lockhart; sisters-in-law: Marcela Cruz de Schjang and Devora Torres-Schjang; and great aunts: Alicia Emeric, Ingle Henry, Joan Nielsen, Rita Schuster, Millie deChabert and Ethelind Brown.
Other survivors include great uncles: Lester Henry, Heraldo Henry, Halvor Henry, Lloyd Henry, Jose Emeric and Dr. Andrew deChabert, M.D.; godparents: Dr. Olaf "Bronco" Hendricks, M.D., Aracelis Bermudez-Walcott and Lillie D'Angelico Lawaetz; cousins and other relatives: the Schjangs, Armstrongs, Christians, Henrys, Schusters, Fabios, deChaberts, McGregors, Larsens, Knights, Langs and Messers; as well as other relatives and friends too numerous to mention.
There will be a viewing held at 10 a.m. followed by a funeral service at 10:30 a.m., Friday, Feb. 11, at Holy Cross Catholic Church, Christiansted. Private cremation will follow.
In lieu of flowers, donations can be made to the St. Croix Animal Shelter at 1C La Grande Princesse, Christiansted, St. Croix VI 00820.
Due to the COVID-19 pandemic, all attendees must wear a mask and adhere to social distancing guidelines.