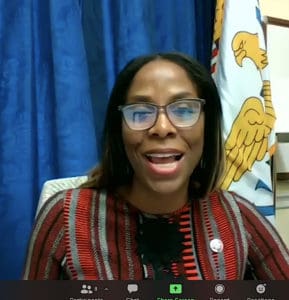 The U.S. President's State-Of-The-Union Address is one of the most watched and scrutinized political events on the planet but few know what it's like to actually be in the room. The U.S. Virgin Islands Delegate to Congress Stacey Plaskett knows well. It's cold, seriously cold, she said.
"They make the room really cold for security purposes. You don't see it but a lot of times, particularly the members who have dresses on, have blankets on our legs. It's freezing in there. It's so cold," Plaskett said Wednesday morning.
She said she didn't know what the extra air conditioning protects against, but in pre-pandemic times, when the room was actually full, guests at the event relied on their shared body heat. Spaced out as they were Tuesday night, that wasn't possible.
The speech, which takes place after a president's first year in office, is often met with half the chamber sitting quietly and the other half standing with applause, but before the event there's a great sense of camaraderie, Plaskett said.
"The House members, we see each other all the time. There is quite a bit of energy in the room. It's when the Senators come in that it makes it different. Quite a number of them were House members before. So I'm talking with Kyrsten Sinema, who had been in the House when I was there. I go over to my old boss Rob Portman, who I was a staffer for," she said. "There's a lot of backslapping."
For members of Congress and the president's cabinet, whose lives are a whirlwind of pushing for changes to laws and policy, the beginning of the evening is a time to let go a little, Plaskett said. The political divide gives way a bit.
"No one, interestingly, is discussing serious policy at that point. Oftentimes when you get around members that you don't normally see, you're going to try to plug something. But that's the one night — they may make a promise to meet with each other later — but people aren't really having that kind of discussion," she said.
The president himself was not immune, Plaskett noted. Joe Biden, a famed hugger and hands-on chatter, was thrilled to end two years of pandemic-necessitated social distancing.
"The president would not leave the floor. He was like a kid in a candy shop. He got to touch and talk to people. He was beside himself," she said. "I think traditional politicians love that. Bill Clinton was one. Even George W. Bush loved talking to people. I was like, the president was talking to the camera people!"
But not everyone was giving — or getting — the love.
Georgia Republican Marjorie Taylor Greene, one of two Representatives who heckled Biden several times during the speech, found herself on the receiving end of a freeze-out, Plaskett said.
"I was at the elevators with two Democrats and a Republican, and we were standing there waiting for the elevator," said Plaskett. Taylor Greene arrived as the elevator door opened. "All of us looked at each other, including the Republican, and, just like, 'We're not going in that elevator. We'll wait for the next one.'"
Taylor Greene's behavior, shouting "Build the wall" as Biden spoke on immigration policy and addressing a white nationalist event two days earlier, has drawn criticism from both Democrats and her fellow Republican party members.
"Actions have consequences. That's what our moms told us," Plaskett said.