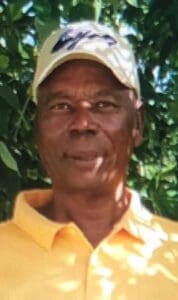 Steadroy Theophilus Meade, also known as "Stead," of Estate Clifton Hill died on May 1.
 He is survived by his wife, Morel Veronica Meade; sons: Derrick Meade and Edson Meade; grandchildren: Akile Meade and Keyanna Meade; sisters: Mary "Genita" Donovan, Priscilla "Faith" Anthony, Ursula Thomas, Pearline Humphreys and Verna Humphreys-Williams; and brothers: Samuel Humphreys Sr., Lorriston Daniel, Godfrey Humphreys and Ricky Humphreys.
He is also survived by nieces and nephews: Yourine Charles Hector, Naomi Williams, Johnny Williams, Nelvine Charles, Valerie Iotie Barthley, Veronica Browne, Carmella Christian, Genevieve Tonge, Devon Harvey, Allison Lambert, Uriel Charlie Joseph, Hellerine Joseph, Icilma Yearwood, Rowan Jeffers, Jerome Humphreys Sheralyn Joseph, Ives Kirby, Velma Brown, Marion Kirby, Danny Kirby, Sherlene Humphreys, Jonnile Humphreys-Baker, Samuel Humphreys, Jr., Cheryl Joseph, Paula Crump, Joyce Crump, Sharon Crump, Craig Douglas, Kerry Williams.
He is also survived by great nieces and nephews: Jason Joseph, Bevon Barthley, Dwight Donawa, Desrie Donawa, Gay Galler, Marsha Martin, Shashauna Bowman, Valentine Silston, Elloy Tonge, Schnelle Tonge, Danielle Tonge, Jason Howell, Calvin, Christian, Marlon Christian, Raheem Duncan, Gabrielle Joseph, Josaine Burch, Omar Phillip, Terique Phillip, Michael Harvey, Michelle Harvey, Shamarri Harvey, Andre Lambert, Kareem Lambert, Eavey-Monique James, Nikki Echols, Kai Yearwood, Paget Jeffers, Zaire Jeffers, Kwesi Jeffers, Nicholas Jeffers, Tanisha Humphreys, Latifah Humphreys, Zion Humphreys, Zaria Humphreys, Jermaine Herbert, Jermil Herbert, Darius Smith, NKosi Felix, Joshua Talodi Felix, Ashaki Felix, Omari Joseph, Keshia Martin, Simone Joseph, Kerrina Williams, Rasheeda Humphreys-Shabazz, Rashawn Humphreys, Garfield Henry, Garreesa Henry, Garvere Henry, Danella Kirby, Danny Kirby, Jr., Dante Kirby, Denzel Kirby, Christopher Brown, Anthony Brown, Kerishma Williams, Kerrisha Williams and Isis Humphreys.
Other mourners are great-great nieces and nephews: Ian Christian, Tyler Burch, London Burch, Aria Philip, Omari Phillip, Cameron Phillip, Zionjah Howell, Braydon Lambert, Azalea Lambert, Dominique Marriott, Ra'Yanna Glover, Ni'Kaylie James, Ni'Kaël James, Danté Echols Jr., Micah Echols, Keanndra Martin, Averyann Joseph, Isabella Faragut, Shermiya Curington, Dinari Henry and Isis Humphreys.
Survivors also include cousins and other extended family in Antigua, St. Kitts, the U.S.V.I. and the U.S. Mainland: Veronica Jeffrey, Uriel Caleb and family, Ambrose family, Tonge family, Humphreys family, Anthony family, Pastor Freeston "Jim" Athill and family, The Family and Staff of Daniel Bakery, Maudlyn Charles, Eric Charles, Esworth Charles, Danny Charles, Beverly Hector, Marvin Hector, Victorine Smith, Tarisha King, Kenry Romeo, Jahric Charles, Micah Charles, Serilda Lewis and Trevor Henry; special friends: Lincoln Freeman, Simian Southwell, Bobcat, Sharon Christian, Hyland, Mr. and Mrs. Brown; as well as other relatives and friends too numerous to mention.
Tributes will begin at 9 a.m. followed by a funeral service at 10 a.m., Sunday, May 15, at Sunny Acres Seventh-day Adventist Church. Interment will be at Kingshill Cemetery.