An aerial shot of Trunk Bay from the Steve Simonsen calendar
Each winter on St. John brings welcome Christmas winds, cooling water temperatures and, for the past five years, the anticipated Steve Simonsen calendar.
Renowned local photographer Simonsen has teamed up with Chris Schatzman of Studio Equinox to produce the full-color, glossy calendar for the past five years. The calendar, with each month a frame-able iconic St. John image by Simonsen, has been a big hit since it first came out in 2007 and this year's is no different.
From the cover shot of a sun hat perched on one of two beach chairs under a bright umbrella on a perfect sandy shoreline to the images of playful donkeys and crystal clear turquoise water, the 2011 Steve Simonsen calendar is breath-taking.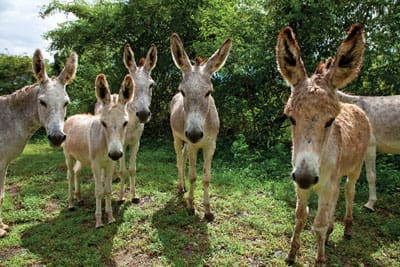 Donkeys grace the calendar
While St. John provides ample opportunities for picturesque photographs, the difficult part for Simonsen — who works with his wife Janet on the calendar — is finding an image which is still different from the ones that have run in previous calendars, he explained.
"Every year it's kind of a challenge to come up with images that haven't been used before or that someone hasn't seen," said Simonsen. "It's always a cooperative effort between Janet and myself. Janet is the one who, when I'm shooting during the year, says, 'This would be a good calendar shot,' and puts it aside."
The duo start to work on the calendar in June in order to get the images to Schatzman, who publishes, designs and distributes the calendar. Before being approached by Schatzman, Simonsen — who has been shooting images on St. John for decades — was unsure about publishing a calendar.
"Chris came into our office about five or six years ago with his idea about doing a calendar," said Simonsen. "We were always gun shy about doing dated material. But Chris was fine with it and he wanted to do it and we just worked out the logistics and financials and he walked away with 12 images for the first year's calendar."
That first calendar flew off the shelves and since then the partners have just been tweaking things to continue to improve the product, explained Schatzman.
"We hired a new printer this year and are extremely satisfied with the printing and paper quality," he said. "The most noticeable aspects are the vibrant, rich color reproduction and the satin grade paper. Previous years were printed on a glossy paper stock which reproduced the tonal ranges nicely but had a bothersome reflection which detracted from the print reproduction; the satin grade paper has helped to reduce this effect while still maintaining the tonal range and vibrant color of the photographs."
"There have been some subtle design changes which have enhanced the overall presentation and functionality of the calendar and so far, the reviews have been truly wonderful," said Schatzman.
Simonsen too has gotten great feedback about the new calendar, he added.
"A lot of people have told me that this calendar is the best one yet, but I think they might say that every year," said the photographer. "But I do really think it's a great calendar and I think it has something to do with the cover shot. The beach chair with the hat on it and the umbrella allows you to put yourself in that place."
"When you hang a calendar on your wall at your home or office, you want to look up it and get away from your cubicle and kind of have that be a constant reminder," Simonsen said. "With the cover shot, you really can imagine yourself on the beach here on St. John."
In addition to the St. John calendar, Simonsen and Schatzman have also released a Virgin Islands calendar this year. With images from St. Croix, St. Thomas and St. John, the new Virgin Islands calendar is sure to be a huge hit as well.
The 2011 U.S. Virgin Islands calendar depicts the beauty of the territory from the air, as seen in the Magen's Bay sunset shot, to the below sea, as seen right on the cover shot of pin cushion starfish.
On Love City stop by Nest, Pink Papaya, Dreams and Dragonflies, St. John Spice Company, both Connections, Jolly Dog, Every Ting, Bajo el Sol, Sparky's and the Friends of V.I. National Park Store to pick up a St. John calendar.
To purchase the 2011 United States Virgin Islands calendar on St. John, stop by Jolly Dog, Dreams and Dragonflies and St. John Spice. Both calendars are priced between $15 and $16.
Calendars are also available online at stevesimonsen.com and amazon.com.