Pictured above: Steven Payne with his daughter Steffi on the left and STJ campaign manager Noellise Powell on the right. [hr gap="1″]
"Our kids are beautiful pawns for politicians.  Saying we care about them makes a great soundbite for election time," says Steven Payne, who is running as a write-in candidate for senator-at-large in the November 8 election.
Payne has worked as a school resource officer– a police officer assigned to a school– for the past 15 years. His beat since 2002 has been the Julius E. Sprauve School (JESS) in Cruz Bay.
"I wanted to get into politics because of the kids," he said. "I go into their homes. I see the conditions they live in, and when I bring it up to the politicians, they say they're looking to do something, but they don't.  Too many of those that get into politics do it for their own fame or to line their pockets."
Payne says he decided to run for senator-at-large this year because he's concerned about public safety now and in the future. "I worry about my kids going to teen parties.  I want to retire and [be able to feel safe as I] walk the streets.  If I didn't think I could make a difference, I wouldn't try."
Payne has been working in schools as a music teacher, police officer, or volunteer since he graduated from Ivanna Eudora Kean High School on St. Thomas in 1985.
When Kean High's band instructor quit after Payne's senior year, Payne put off attending college and directed the band himself. "My music skills were very advanced," he said.  (The trumpet is his main instrument, but he can play them all.)  "I knew what music did for me, and I wanted to do it for the other kids. He worked without pay until a new band teacher was hired the following June.
(Since the start of this school year, Payne has taught the band class at JESS because the new teacher hasn't yet come on board.  He's now taking a leave of absence from his job to campaign for office, but he's promised to come back after the election to get the students ready for their Christmas concert if the new teacher still hasn't arrived.)
After his year at Kean High, Payne attended Norfolk State University and graduated with a degree in music education.  When he returned to St. Thomas, he taught music at the Joseph E. Gomez School and then continued to work with many of the same students when he transferred to Addelita Cancryn Junior High.
"When I taught, I gravitated to the kids who were failing or getting into trouble," Payne said. Knowing that his students needed to keep busy, he demanded that they come in after school and on Saturdays to attend rehearsals and tutorials; eventually his program grew to include 250 students. "That year, 1997-1998, we had the biggest graduating class yet, and up to now, Cancryn does not have the same problems with gangs that some other schools have," he said.
But as the students moved on to high school, he worried that they would lose their way without a structured program like his. In 2001 he joined the Police Department and launched the Juvenile Delinquency Prevention Program Band (JDPP) with funding from the Law Enforcement Planning Commission.  The program added individual and family counseling to its support services.
At one point JDPP enrolled 300 youths from St. Thomas and St. John.  Anyone who attended Carnival parades during the years can remember the exuberance of the band as they bounced along the parade route. "It was really working," said Payne. But after several years, the program lost its funding.
Just as JDPP was winding down, the public high schools on St. Thomas started their own marching bands, and many students migrated to these organizations. On his own time Payne started a smaller group for teens, the Avengers, and fans will tell you that the band really rocks. His 16-year old son Steven is a member.
Payne also has a 15-year-old daughter, Steffi, who attends Kean High along with her brother. He and his wife Vera Powell-Payne (now the manager of St. John Market) have several older children: Shanice Payne, who lives in Florida; and Shaniqua Charles and Sheanea Hughes, who live on St. John.
Once a year, Payne travels to locations from Texas to New York, visiting former JDPP members.  "I'm a distant father to hundreds of kids.  I've paid portions of tuition, bought airline tickets," he said.
Ironically, Payne hasn't seen his own father since he was five years old, but he doesn't feel his father's absence had a negative effect.  He found a father figure in Robert "Eddie" Francis, the leader of the wildly popular band Eddie and the Movements. Payne joined the band as a teenager and was its youngest member.  "How I guide people now is how I learned from him," he said.
Payne was raised on St. Thomas by his mother, Deanna Rogers, whom he describes as "super strict.  I learned discipline, manners, caring for people from my mom," he said.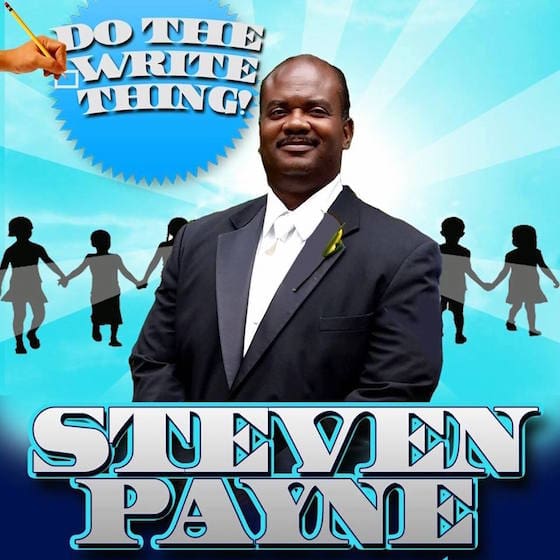 His siblings include Clarence Payne, a former Virgin Islands senator who now works as a district director of the Department of Human Services; Joanne Payne, a biology teacher in Florida; and Lauren Harris, a traveling nurse.
Payne moved to St. John after Hurricane Marilyn.  "My wife Vera convinced me," he said.  "I've traveled to many islands, and St. John is one of the best places to raise a family."
By law, the senator-at-large must live on St. John, and Payne plans to push for property tax reform and the construction of a new school on St. John,  two often- mentioned island issues.
Unlike many of the current members of the VI Legislature, Payne wants to protect St. John from overdevelopment.  "St. John has a uniqueness about it," he said.  When asked his opinion of the two proposed marinas for Coral Bay, he said he is opposed to the present plans.  "I don't think St. John residents want to destroy the serenity of Coral Bay.
"Coral Bay could benefit from smaller businesses, a gas station, and things the community needs.  When you bring in too much development, you may also bring in the criminal element.  To overdevelop Coral Bay or St. John would destroy it," Payne added.
He would like each island to grow according to its unique character and needs.  He described St. Thomas as the island for "Hustling and bustling, partying, hanging out at night, and shopping."
As for St. Croix, Payne says, "The island is hurting.  Businesses are closed.  People are relocating because they have no jobs, but they don't want any more factories polluting St. Croix."
Payne's solution is to assist St. Croix in developing as a center for sports tourism. "They have the land," he said. "We could get help from people like Tim Duncan to market the island."
On all three islands Payne would like to see more solar energy and recycling.  "We need to seriously push recycling.  We have only so much space, and so much garbage!"
Payne plans to spend much of the time before the election campaigning on St. Croix.  He's running as the senator for St. John, he said, "But if St. Croix doesn't vote for you, you lose."
The Challenge of Running for Senator-at-Large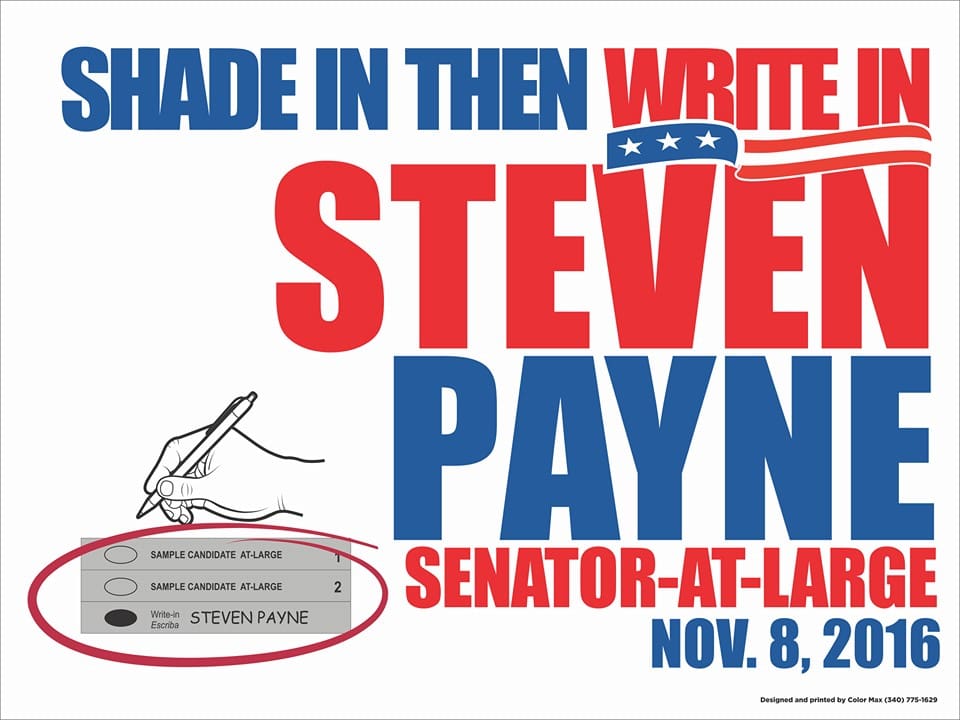 How should the people of St. John be represented in the VI Legislature?
That has been a question since colonial days, when the Danes created separate governing councils—one for St. Croix, and one for St. Thomas and St. John in 1863.
It's still an issue today.
The problem was – and is–that St. John's population is so much smaller than that of St. Thomas or St. Croix.
Even with growth related to the thriving tourism industry, St. John's population is listed as only 4,170, according to the 2010 Census.  That amounts to less than 5% of the overall population of the Virgin Islands–which is 106,405. (These numbers have changed since 2012 because of the closing of HOVENSA, St. Croix's largest employer.)
In spite of being a separate island, St. John has not been able sustain a claim that it has enough voters to qualify as its own district and elect its own senator to represent the island's unique concerns.   As of August 1, St John had 1,755 registered voters, according to the V.I. Election Commission.
The solution to combine St. John with the voting district of St. Thomas has been in effect for most of the past century (when the VI became an American territory.)  Since 1966, the Senate has been made up of 15 members. Voters in the St. Thomas-St. John District elect seven senators to the Legislature, as do voters in the St. Croix District.
To make sure St. John has a voice in the Legislature, a 15th senator– by law a St. John resident– must be elected. However, all the voters of all the islands get to choose this "senator-at-large."
This year, only one candidate is on the ballot for the senator-at-large seat– Democratic Party candidate Brian Smith– who is essentially running unopposed.  Whereas more than 21,000 voters in the St. Thomas-St. John district will choose seven candidates from among the 18 listed on the ballot, more than 45,000 voters throughout the territory have only one choice printed on the ballot for senator-at-large.
For there to be any contest at all for senator-at-large, there must be viable write-in candidates.  But a write-in candidate for this seat faces the enormous challenge of becoming well enough known on all three islands for the majority of voters to write in his or her name.  In addition, voters have to remember to shade in the "bubble" indicating that they are choosing to write-in a candidate.
This "bubbling" was a problem during the Democratic Primary, according to write-in candidate Steven Payne.  Payne said that hundreds of people wrote in his name on their primary ballots, but their votes were not counted because they didn't also shade in the bubble.  He lost the primary, but he's now posting red, white and blue signs throughout the territory that proclaim, "Shade in, then write in Steven Payne for Senator-at-Large."
Payne chose to run as a write-in candidate because of a well-intended law that can end up hurting candidates who work in the public sector.  Election rules mandate that anyone who works for any government agency must take a leave of absence upon declaring his or her candidacy, according to Caroline Fawkes, supervisor of the Election System of the VI. Since Payne works for the Police Department, he would have had to take leave starting in May in order to have his name on the ballot for the Democratic Primary or to run as an independent.
Because Payne's wife was facing a serious health issue, Payne couldn't afford to go without a salary from May through the election in November. Now a month before the election, he has taken a leave of absence and is working hard to catch up.