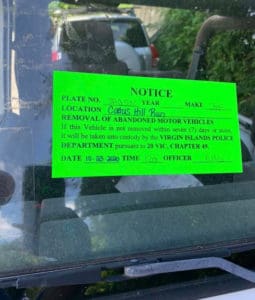 The St. John Administrator's Office tagged 18 abandoned vehicles on Saturday in the Cruz Bay area. The owners of the vehicles have seven days to remove or register their vehicles, according to Administrator Shikima Jones-Sprauve.
After seven days the vehicles will be picked up and brought to a compound on St. John. Owners will still have 30 days to reclaim their property.
After 30 days, however, "The fine is attached – $1,000," said Jones-Sprauve. "Then if no one claims the car, it goes to the dump."
Jones-Sprauve said that her staff is accompanied by police officers when they tag the vehicles.
"We don't want to have to deal with disgruntled people," she said.
The report of the tagged vehicles was one of several announcements made by the St. John Administrator's Office.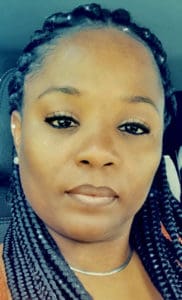 Food Giveaway Saturday
The Department of Education's Special Nutrition Program is giving out free food to the community at the Julius E. Sprauve School in Cruz Bay on Saturday beginning at 8 a.m.
Jones-Sprauve said the giveaway, which includes "provisions, meat, grains, fruit – good stuff," will continue as long as the supplies last. Community members should arrive wearing masks and follow social distancing protocols.
Administrator Giving Raffle Tickets for Turkeys
There's still time to pick up a free raffle ticket to win one of 75 free turkeys, Jones-Sprauve reported.
Community members can stop by the Office of the Administrator at the Battery on St. John and fill out a raffle ticket from 9 a.m. to 3 p.m. until Nov. 10.
Masks are required.
The drawing will be held on Friday, Nov. 13, and the winners can pick up their turkeys at 10 a.m. Saturday, Nov. 14, at the Battery gate.
The giveaway is sponsored by Perfect Ashlar Lodge No. 766, Tropical Jewels of Perfection No. 100 and Stafford-Hill Court No. 205.
"We don't want people to stress out about not having a turkey this year," said Jones-Sprauve. "It's just our [Gov. Bryan's administration's] way of saying thank you."