You'll find plenty of people who were proud of how St. John came together as a community following the onslaught of Hurricane Irma, but you won't find too many who will agree that officials' preparation for the storm was effective.
The main shelter in Cruz Bay had no generator, running water, cots, or hot meals until at least two days after the storm. Shelter residents used buckets for toilets or went across the street to the one working bathroom at the police station.
The clinic in Cruz Bay had no medications on hand, not even an epi-pen to treat a volunteer who was clearing roads and had a potentially life-threatening allergic reaction to a bee sting.
VITEMA's headquarters, containing critical communication equipment, was completely blown out, and a trailer holding emergency supplies slid down a hillside into the National Park.
[adrotate group="6"]
In spite of the mishaps, roads were soon cleared, basic cell phone communication was established, people found dry places to stay, and not a single life was lost on St. John.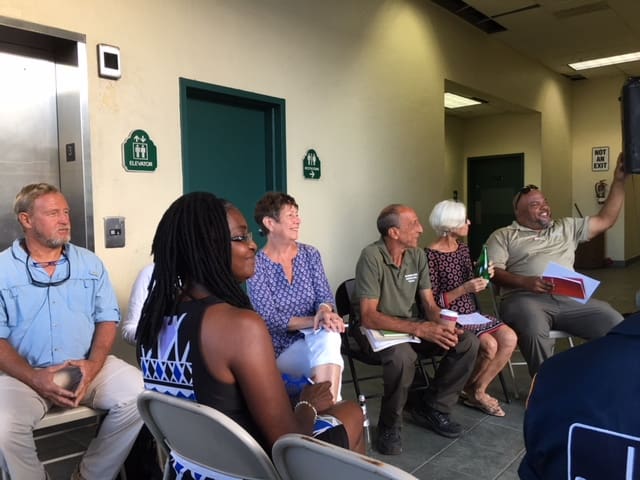 But the next hurricane season is only about five months away, and to make sure the island is better prepared, the St. John Community Foundation has a plan to address the concerns about the future while continuing to assist those who are still struggling from the effects of hurricanes Irma and Maria.
The St. John Community Long Term Recovery Team held its first island-wide meeting Thursday, the first since its inception in late November. Held at the third floor of the Marketplace, its purpose was to introduce the public to the new board members and to present updates on the progress made by the team's eight new working groups.
"There are people still so far back in the recovery process, one woman still can't get down her driveway," said Abigail Hendricks, one of the new board members who works with the Disaster Case Management Group. That group is focusing now on families and seniors who have been displaced and is working closely with the Housing Construction Group to assist with the permitting process for rebuilding, and the Health and Well Being Group to provide other forms of support.
Meaghan Enright, who co-chairs the Economic Workforce Group, said they were contacting the Virgin Islands Port Authority to get the word out that St. John was back in business even though the island's two major resorts – and employers – remained closed.
"As recovery programs go forward, there are many large and small issues" to address, she said.
Sharon Caldron, president of the Coral Bay Community Council, said members of the Infrastructure and Planning Group have set two priorities – establishing reliable emergency communications, and improving logistics for the delivery of supplies. Since the storm, St. John has had only two working barges to bring supplies from St. Thomas, and often one has been out of service.
The amount of waste generated by the storms has made the need for recycling even more apparent, according to Mary Vargo who is working with the Environmental and Cultural Sustainability Group. That committee is looking at recycling as part of a larger, more comprehensive waste management plan for St. John as well as trying to solve sewage problems like the flow of foul water near Guinea Ghut.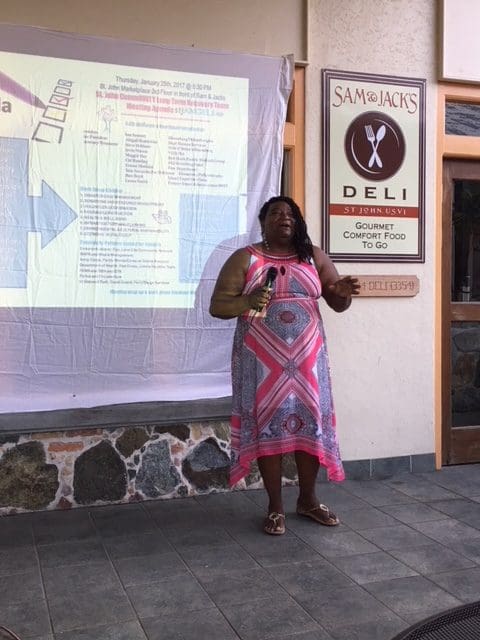 "Volunteer work plays a substantial role in the recovery process," said Corey Erickson of the Volunteer Coordination Group, which has been working to coordinate efforts made by All Hands and Hearts as well as other national and faith-based groups.
The Volunteer Coordination Group is working with local businesses to establish an awards program for volunteers – a free drink or discount at a restaurant, for example.
"It's up to the businesses to decide, there's nothing in writing. It should be flexible," she said.
The Donations and Resource Development Group is working with community agencies to coordinate in-kind donations, distribute supplies, and purchase a container to store donated materials for future disasters.
Each of these working groups is actively seeking new members from the community to tackle the many issues that remain, according to Celia Kalousek, executive director of the St. John Community Foundation.
She invited the public to stop by their offices at the upper level of the Marketplace in Cruz Bay or check the website for details on when the working groups meet.
The Long Term Recovery Team's new board members are president – Ian Samuel, of Bloomberg Philanthropies; vice president – Abigail Hendricks of the Department of Human Services; Steve DeBlasio of Witt/O'Brien's (in partnership with the Bloomberg Group); Irvin Mason of VITEMA; Maggie Day of Cruz Bay Family Practice; Cid Hamling of the St. John Revolving Fund; Ernest Matthias of the Fire Department; Dan Boyd of Island Expeditions; Leona Smith, former island administrator; and Tom Secunda and Joe Robinson of Bloomberg Philanthropies.
Shared content for St. John Tradewinds and Virgin Islands Source.