The 90 minutes scheduled for the monthly public meeting of the Long Term Recovery Team was barely enough to communicate all the good news from St. John Community Foundation/St. John Angels on Thursday night.
The good news began with the distribution of $55,000 to eight community groups, including the Dynamic Dancers, the Kids and the Sea, STJ Eagles Basketball, and a new summer youth arts project.
Funding was also given to the St. John Recovery Choir, the Christian Outreach Learning Center, the American Legion, and programs to feed the homeless.
In some cases, the grants were meant as seed money to begin community fundraising efforts. For example, the St. John Community Foundation is donating one-third of the $17,000 cost of fireworks for the July 4th Festival. Donors can contact the St. John Community Foundation (SJCF) to make additional contributions.
Not all of the money flowed out of the Community Foundation. Zia and Amalia Zucker presented a check for $700 for a group they founded "for kids by kids." The youngsters raised the money by holding bake sales and soliciting donations for projects that will benefit St. John youth. Celia Kalousek, SJCF executive director, said they plan to work with children to train them to identify needs, write proposals, and manage funding.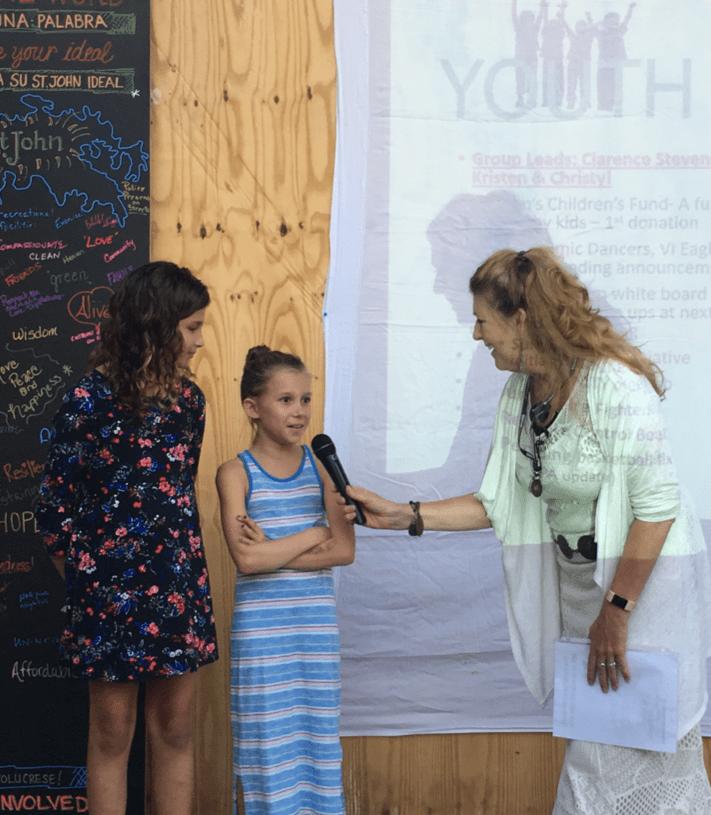 Additional programs for youth, including a Junior Fire Fighters Club and a Remote Control Boat Club, are being planned for the summer, according to Clarence Stephenson of the Youth Work Group.
A multigenerational project designed to engage the entire community in mask-making is also in the planning stage.
"Masquerading is a traditional part of Caribbean culture," said Priscilla Hintz Rivera Knight.
The project, designed as a community-wide art therapy project, is in keeping with the island's recovery effort, she said.
Additional funding for mental health services was announced by Aliah Lockhart, who said a grant was approved for Mental Health Crisis Counseling. Funding was also extended for the Medication Revolving Fund and a mold removal and sanitation program.
Members of the Long Term Recovery Team announced a two-day Hurricane Preparedness Fair to be held from 1 p.m. to 4 p.m. May 18 and 19 in Frank Powell Park in Cruz Bay.
Seniors citizens who lost their roofs during Hurricane Irma are now getting help. The Housing and Construction Work Group has collaborated with the Disaster Case Management Group to make permanent repairs for St. John seniors who lost their roofs using donated funds and materials. One home has been completed, another is underway, and two more have received permits. There are 31 more cases in the queue.
Representatives of the territory's Emergency Home Repair Program spoke at the meeting and were taking applications for as much as $25,000 in disaster repairs to owner-occupied homes. Domingo Camarano, program director at AECOM, said his company is now ramping up operations and expects to be completing work on between 400 and 500 homes per week throughout the islands.
Of the 7,600 applications received territory wide, only 338 have been from St. John, said Camarano. Work on 17 homes on St. John has been completed, and five more are under construction now.
"I want to get these blue tarps off these roofs," he said.
Applicants can call (844) 813-9191 or visit https://www.ehrvi.com/ for further information.
The Environmental Sustainability Work Group reported that almost 90 bags of aluminum cans collected and crushed by Island Green Living Association were finally transferred to Mendez Recycling in Bovoni on April 18.
Using a grant from the St. John Community Foundation/STJAngels, the non-profit Love City Community Network recently purchased the components for "solar pods," portable technology which could bring energy and telecommunication independence to St. John homes and businesses. Research is now underway to find ways to mass produce and market these pods.
To bolster communications during emergencies, St. John Rescue formed a group in January to train amateur radio (ham) operators. On May 6, 18 trainees from the USVI and the British Virgin Islands will take licensing exams, and those who pass will receive radios to use for disaster response.
Restoration of street lighting on St. John is now well underway, but the installation of bright, new LED streetlights is leading to concerns that they may disturb nesting patterns of endangered seas turtles. The Environmental Sustainability Work Group is collecting information from residents and mapping data points for areas of concern to present to the Water and Power Authority, the Department of Planning and Natural Resources (DPNR), and the Governor's Resiliency and Recovery Energy Task Force.
The organization, All Hands and Hearts – Smart Response, is a group of volunteers from around the globe who have been donating their labor to help homeowners with clearing, cleaning, and debris removal.
The group, which has been sleeping in tents and using the facilities at Caneel Bay Resort, has completed tasks at 71 homes and expects to be on island for at least another six weeks. Ryan Cuevas of All Hands and Hearts said they are still responding to requests for assistance. The organization, locally known as "the purple shirts," has put in 7,600 hours with an equivalent cost share to the STJ Community Foundation equaling $170,000. Their hotline is (508) 317-2733.
A representative from FEMA's Mitigation Team announced that its Stronger Home Guide is now being distributed through DPNR. A technical document for builders, architects and engineers, the guide includes new standards for design and construction which were last updated following Hurricane Marilyn in 1996.
Steve deBlasio, a member of the Long Term Recovery Team, gave updates about several infrastructure issues on St. John. The one of highest concern to Coral Bay residents is the build-up of storm-related debris along route 107 near the dumpsters.
DeBlasio said the Department of Public Works has now taken over storm debris removal from Ceres and is being reimbursed by FEMA at 100 percent of the cost through May 16. DPW is now hiring contractors who should be operating on St. John shortly.
The Waste Management Authority is working to shred the piles of vegetative storm debris in Coral Bay and at the Susannaberg Transfer Station, and the piles are now starting to decrease. The piles of metal will be taken by a metal recycling company.
BBC is now replacing the wooden utility poles the company installed immediately after the storms with composite poles that can withstand winds above 200 m.p.h.
Gov. Kenneth Mapp announced the plan to purchase two four-megawatt generators, one for Cruz Bay, and one for Coral Bay, to give St. John residents and businesses energy production that is not dependent on St. Thomas.
VITEMA director Mona Barnes spoke briefly at the meeting and thanked her two staff members, Linda Williams, and Irvin Mason, for their continuing hard work. She invited the public to contact her on her personal cell phone number, 340-244-3515, if they had concerns that were not being addressed on island.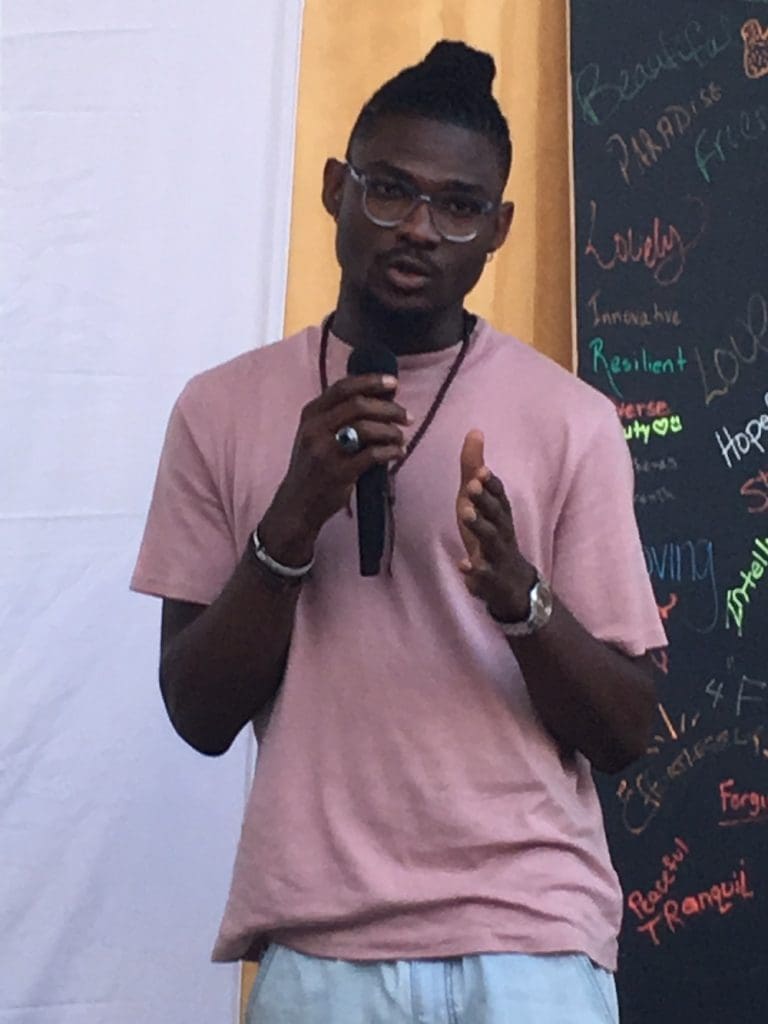 As the meeting was getting underway, Ian Samuel, president of the STJ Long Term Recovery Team Board, said he needed to address "the elephant in the room" – Tuesday's meeting of the Governor's Resiliency and Recovery Task Force.
That meeting, which was the first public meeting held by the executive branch on St. John since the hurricanes, became contentious when audience members objected to the lack of local representation as well as the meeting's agenda. By consensus, the community appointed Kurt Marsh to serve as a liaison to the Governor's Task Force.
At Thursday's meeting, Marsh said he didn't want his statements at Tuesday's meeting to lead to divisiveness.
"We appreciate what Tom Secunda and John McGuiness, who serve on the task force, have done. They were active long before there was a substantial government response, and their presence has been felt since."
At Tuesday's meeting, Marsh said he was giving voice to general frustration. "It's not a black-white, or a native versus transient thing."
"The positive side is that we now have the governor's attention," said Samuel, who urged community members to attend the meetings of the STJ Long Term Recovery Team. "We take your input to your input to the Governor's Task Force, then government agencies have to implement the plan," explained Kalousek.
Samuel also introduced the newest member of the Long Term Recovery Board, pastor David Obando, who works closely with the Spanish speaking community.
Shared content for St. John Tradewinds and Virgin Islands Source.