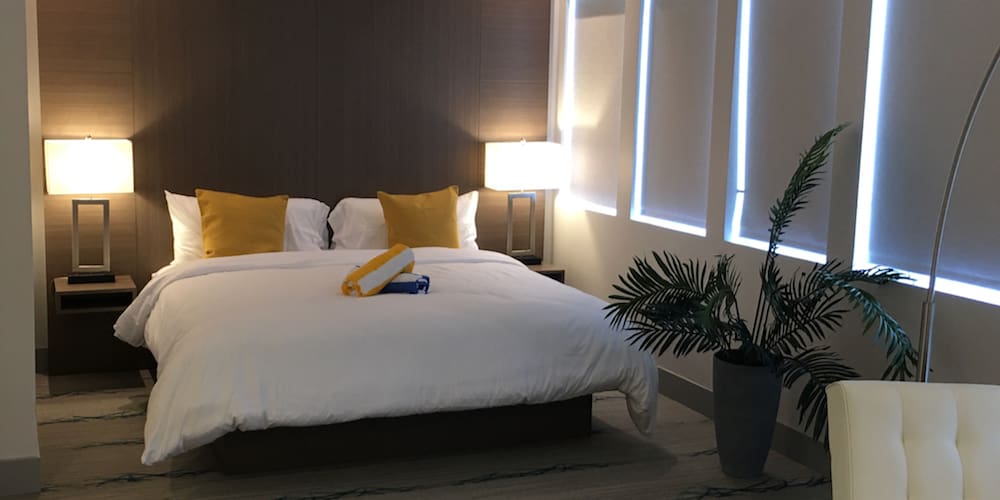 The Marketplace on St. John has been the central shopping destination for island residents for the last 20 years, offering the kinds of basic services that locals and visitors need, including a supermarket, hardware store, bank and drug store.
It's not a place to buy a souvenir T-shirt or a hook bracelet. Instead, The Marketplace provides office space for an insurance company, mail service, chiropractor, doctor, printer, surveyor, real estate agency, villa management company, WAPA, Viya, a book café, salon, art gallery, several food outlets and the list goes on.
Now The Marketplace is offering an entirely new product – The Marketplace Suites – overnight rental units for travelers seeking convenience, modern design and accessibility.
During the last five years, 8,000 square feet of office space on the third floor has been converted to 12 rental units, which became available during the first week of November.
[adrotate group="6"]
The rates currently range from a daily rate of $195 for a 400 square foot studio to a two-bedroom unit – measuring slightly over 1,000 square feet – that can accommodate up to six people, for $375 a day. The units are accessible by elevator, and one unit is designed to meet the standards of the Americans with Disabilities Act.
The idea of converting office space – which is always scarce in Cruz Bay – to short-term rental units – which are prevalent throughout the island – puzzled many islanders when the conversion was announced.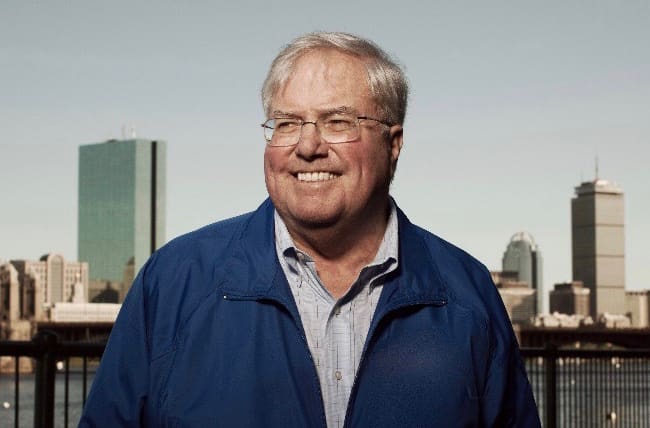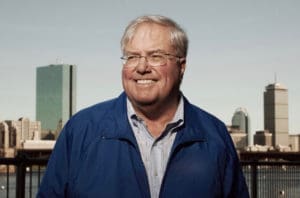 However, David Mugar, the owner of The Marketplace, The Marketplace Suites and Starfish Market, saw a changing landscape.
"The third floor originally had a separate office suites area, but as technology allowed more professionals to work from home and as EDC benefits changed, we did not have the same demand for office use," according to Jess Oliveri, communications project manager for Mugar Enterprises.
"We knew from our own experience that finding available, reasonably priced housing especially during high season for business contractors, was difficult. Our intent was to provide short-term stays for non-resort visitors and provide them with a clean, modern, comfortable location that was centrally located and convenient to The Marketplace tenants and Cruz Bay at large."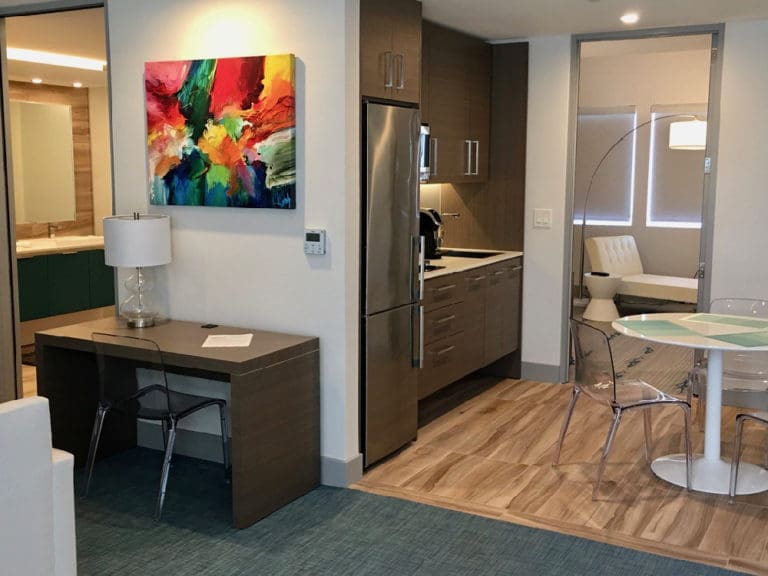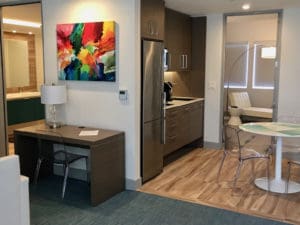 "Clean" and "modern" the units are, with none of the visual tropes of tropical design – fish and palm trees, watercolors of colorful water. Instead, the suites have a cool, urban feel to them. The windows, screened for privacy, don't open, but the air conditioning purrs reliably.
"We are mainly marketing to those in the business community coming down to the island for professional work. … There are a lot of contractors who come down, so we want to be able to provide short-term housing for them in close proximity," Oliveri said. "However, we also want to market to those who want a resort experience without paying the high resort fees. Our suites have all of the amenities one would need to enjoy a long stay on the island."
Mugar chose VacationVI, a company that typically specializes in high-end villas, to manage the suites.
"The choice for VacationVI stemmed from our relationship with Holiday Homes, which is a long-term tenant of The Marketplace and partner with Seaglass Properties," Oliveri said. "We have been very impressed with [owner] David Adams' grasp of the local market, data collection and overall marketing strategy."
The conversion began with the relocation of several tenants to other spots in The Marketplace, starting in 2016. The architectural and interior designs were done by Roberto Aybar-Imbert of AIR Architects in Puerto Rico. Serenity Builders Inc. from St. Thomas was the primary general contractor; its owner, Michael Johnson, served as project lead. Oliveri also wanted to give credit to "the existing Marketplace staff [who] have been instrumental throughout this build, including Debbie Marsh, Marketplace facility manager."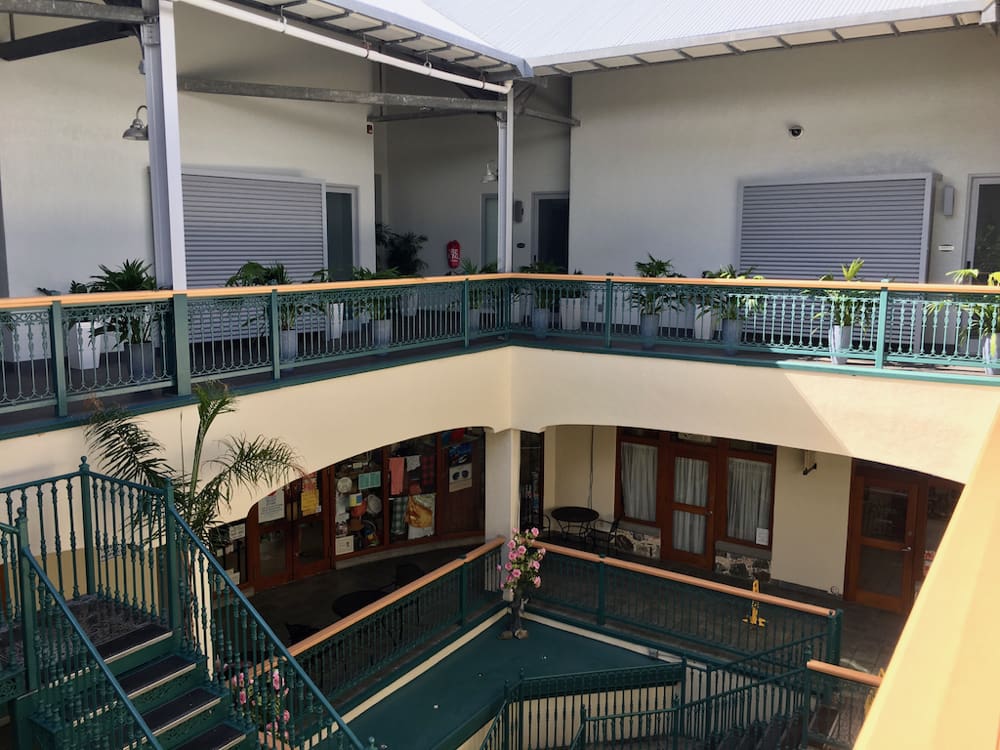 Demolition of interior walls and construction of The Marketplace Suites began in 2017, shortly before hurricanes Irma and Maria hit in September. At that point, The Marketplace took on an entirely new role in the community – that of a communications hub for much of the island.
Mugar shipped a large donation of computer equipment to St. John, and The Marketplace was able to offer free WIFI access to the public. The building's generator kept the electricity flowing, and during the first critical weeks and even months after the storms, people gathered to plug in their cellphones and laptops, sometimes settling in for hours along the walls next to outlets as they made contact with family members, contractors and insurance companies.
The third floor of The Marketplace became the place for town meetings led by the St. John Long Term Recovery Team. Dozens of people regularly gathered outside Sam and Jack's Deli until other venues became available.
Community members considered it fortunate that the building was originally designed by Glen Speer, who incorporates welcoming public spaces in his commercial designs. Speer also developed Mongoose Junction 1 and 2, upscale shopping centers in Cruz Bay.
As the storm recovery continued, The Marketplace restarted the hotel suites project and also replaced its damaged roof.
Mugar, whose father (Stephen) founded Star Markets, a chain of supermarkets in the Boston area, owned a home in Peter Bay on St. John for several years in the early 1990s. At that time St. John tourism was going through a growth spurt. The few, small grocery stores were not meeting the increased demand for fresh vegetables and meats, gourmet cheeses and good wines.
Drawing on family expertise, Mugar opened Starfish Market in the Boulon Center in 1995. He soon joined forces with Speer, as well as Jim Swan and Tom Bertolino (who with their families launched St. John Hardware), to construct The Marketplace.
"They were all partners with David Mugar at the start," Oliveri said.
In June 2000, Starfish moved into a much larger space in the newly constructed Marketplace
"We still have employees at Starfish Market who worked with us from the beginning," Oliveri said.
Mugar hasn't been to St. John in several years, Oliveri said. "However, he continues to maintain his local relationships and stays involved with The Marketplace and Starfish. He is proud of The Marketplace as it provides such necessary services to the local community and appreciates our tenants and customers."