This year, all of the candidates for senator-at-large, who are by law residents of St. John, are new to politics.  All have deep roots on St. John, and all are known to some segments of the community for their professional and volunteer work. But none of them, it's fair to say, has gained fame through a connection to a hot issue or sought media attention for themselves personally in the recent past.  This makes it difficult to win the confidence of voters, not just on St. John and St. Thomas, throughout the territory, as the senator-at-large must. Voters will chose among two declared candidates for the Democratic Party primary – Stacie B. January and Brian Smith, on August 6th.  A third candidate, Steven Payne, has recently mounted a vigorous write-in campaign.
[hr gap="1.0″]
St. John Tradewinds reached out to Mr. Smith multiple times for an interview prior to the upcoming election. His response each time was, "I will get in touch with you." Our staff has not heard from Mr. Smith and therefore does not have an interview to share prior to this Saturday's election.
Senator-at-Large Candidate Interview – Stacie January
By Amy Roberts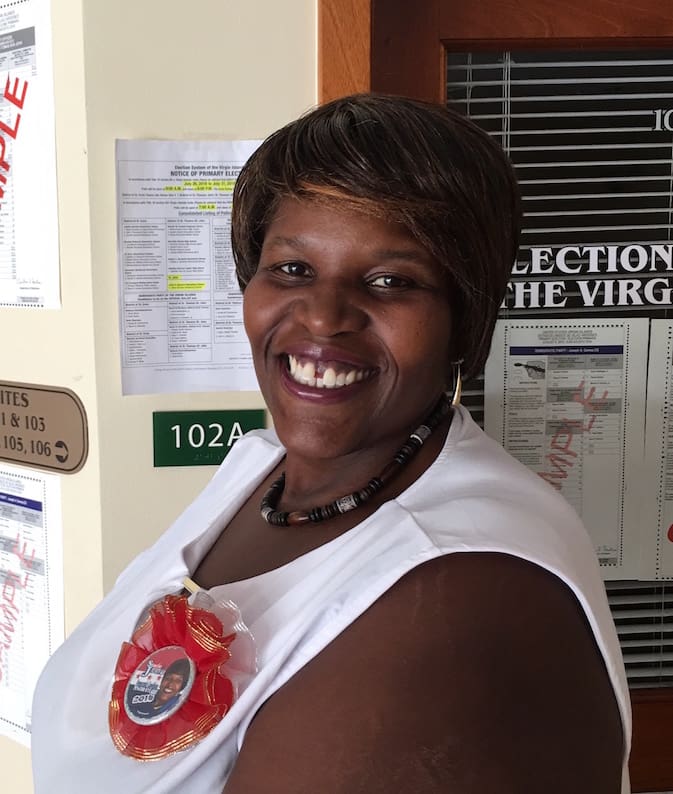 Stacie B. January, the only female candidate, had thought about running for senator-at-large for years. "I said way back when I came home to St. John in 2005 that someday I would want to run for the Senate.  I felt like St. John was crying out, like a stepchild," said January.
"In 2016, I had heard that Rocky [Liburd] wasn't running and the field was open. After a lot of praying and asking advice of friends, I decided now is the time.  Both I and my opponent are unknown."
Although January is a political novice, she is the goddaughter of Cleone Creque-Maynard, the senator-at-large who was elected first in 1977 and served in the 12th, 13th, 15th, and 16th Legislatures. (A ceremony was held in July to name the legislative chamber on St. John after Creque-Maynard.)
She has deep and extensive roots on St. John.  Her maternal grandfather was Frank Powell Sr., and her paternal grandfather is George H. January, still an outstanding member of the Coral Bay community at age 96.  Her parents are Ira "Big John" January Sr., (now deceased), and Ismay January, who resides in Rendezvous.
January has served since 2010 as the human resources manager for the Virgin Islands Housing Authority, overseeing 175 active employees and 155 retirees.  A regular commuter from St. John to St. Thomas, she became involved with the Unity Day Group in 2008 when the Public Service Commission was holding hearings on ferry rates.
At that time, ferry companies were proposing that the price of a book of commuter tickets double from $50 to $100.  "I was not against a fair return for the [ferry] owners, but I was going to have to spend $200 a month to commute to work from St. John.  I'm not one to stay quiet.  I put pen to paper," she said.
A graduate of Ivanna Eudora Kean High School in 1988, January moved to New York to attend Long Island University in Brooklyn and earned a first a bachelor's degree in business management and later an MBA. She returned home to St. John throughout her college years until she started working full time for Chase Bank in New York.  She worked her way up through the credit card collections department to become a business analyst and was selected to participate in the Leadership Development Program.  "It has always been my passion to do training programs," she said.
But after 9/11, a lot of things changed," she said.  Chase Manhattan Corp. merged with J.P. Morgan & Co., and January left to get a certificate in Human Resources from New York University.   She spent a year teaching "adults older than me, and youth who had lost their way" in a GED program at Tauro College, then taught job readiness skills at Medgar Evers College, both in New York.
In 2005 while she was visiting her family on St. John, she saw an ad in the Daily News for an opening at First Bank V.I. as a human resources recruiter, and decided to take the job and move back permanently.
January said her three major concerns right now are the economy, education, and property taxes.  In terms of the economy, she said, "We shouldn't be waiting until Cuba opens [fully to tourism].  We need to diversify what we offer here—agriculture, light manufacturing."
As someone who has worked in the field of job training for years, she said she is a "strong proponent of career and technical education.  Not everyone has a mindset for college, but everyone needs to learn a skill.  In New York, bridge builders were making more than people with MBA's because the market was flooded," she said.   "It takes skill and I respect that.  My father was a mechanic."
January wants to see the Department of Education get to work on repairing the schools. "It's time to get the Sprauve School out of Cruz Bay," she added.
The island's insufficient infrastructure is the main reason January is not in favor of either proposed marina development in Coral Bay at this time.  "I'm a Moravian, she said, and I know there are two sides of this issue," she said, referring to the proposed Sirius condominium and marina development on Moravian Church land.
"My concern is before you start building, the first step is infrastructure.  We need accessibility with good roads, a gas station, [facilities for] electricity, water production, sewage disposal.  If you don't have the infrastructure, you're setting yourself up for failure."
January said she's not trying to win the election on popularity.  "It's about commitment to the Virgin islands, to working as a team.  I am determined to take on this role as senator-at-large and do the best I can.  I'm willing to listen and learn."
Senator-at-Large Candidate Interview – Steven Payne
By Judi Shimel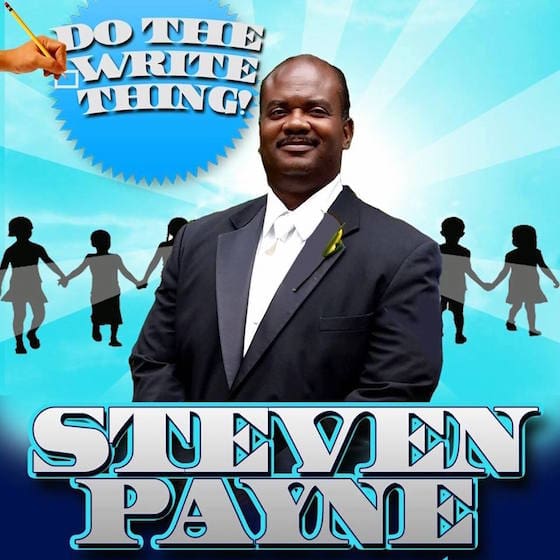 Facing first test of the political season in early August, write-in candidate Steven Payne  welcomed supporters with an old fashioned fish fry. Unlike some late comers in primary season, Payne enjoyed an advantage over two rivals for the seat of Senator-At-Large.
As a  musician, music educator, youth advocate and police officer, Payne is recognized on St. Thomas, St. Croix and his home island of St. John. He is also the manager for two popular youth bands, JDPP Jammers from the early 2000s and most recently, the Avengers.
The candidate said he found out how well known he was while on the campaign trail several weeks ago, traveling to St. Croix. The at-large lawmaker is the only elected official in the Legislature that represents all three islands.
On St. Croix, he said, Payne met students he taught many years ago, either at Joseph Gomez Elementary School or later at Addelita Cancryn Junior High School. Payne is currently the school safety officer at the Julius E. Sprauve School.
As a teacher at Gomez, he said he opened his classroom first thing in the morning to give students arriving early on campus a place to read and wait for classes to begin. Moving to Cancryn, Payne said he noticed students frequently fighting, sometimes getting arrested.
In an effort to provide a positive outlet, he organized a Cancryn School marching band, recruiting 250 students. But as they graduated and went to high school, Payne said some of the students reverted to negative behaviors.
That, he said, led to the ranks of the Virgin Islands Police Department. From there Payne formed the Juvenile Delinquency Prevention Program which, he said, allowed him to work with students from kindergarten through 12th grade.
2016 is his first attempt at winning an elected office. The office of Senator-at-large, in his view, provides an opportunity for working with lawmakers from both the St. Thomas-St. John district and the district of St. Croix. It also provides an opportunity to advocate on behalf of St. John.
Payne said he entered the race after the filing deadline at the Election System because of a misunderstanding.
"I didn't initially plan to run and I was initially told I would have to give up my job, take a leave and run without pay," Payne said. With a wife recovering from a major illness and mortgage payments, it looked like an impractical move.
Then, he said, he found out that the mandatory leave period began 15 days before the election. Along the way, wife Vera Payne said, "Go For It," he said. That decision was followed by weeks of posting campaign signs and reaching out to would-be constituents.
"I enjoy talking to people, hearing their concerns," he said.
When asked to articulate an issue most on the minds of St. John residents, the candidate spoke to the issue of property taxes.
Payne said he supports a measure supported by two members of the 31st Legislature.  "The way we are taxed is based on a mass appraisal system," he said.
Sens. Janette Millin-Young and Myron Jackson are promoting an idea where property owners would pay taxes based on the purchase price of their property. If elected to office, Payne said, he will be ready to vote when the measure comes to the Senate floor.
Steven Payne is the brother of former St. Thomas-St. John district Sen. Clarence Payne, who served one term in the Legislature from 2013 to 2014.