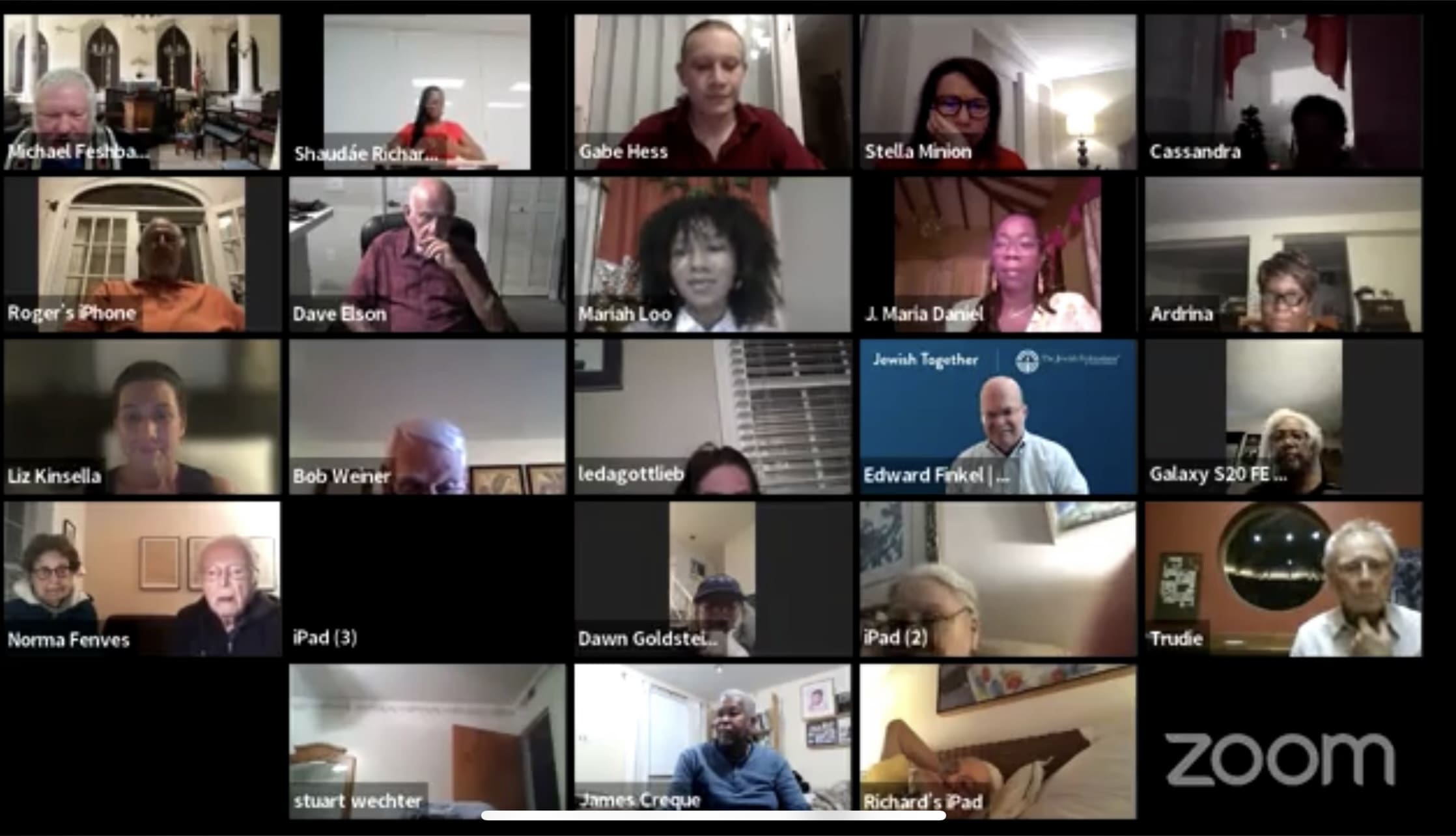 The universality of Dr. Martin Luther King, Jr.'s work was not lost on the eight students who spoke to the Hebrew Congregation of St. Thomas virtually on Friday night about their hopes for steering our community toward a path of tolerance, equitable communication, acceptance, and change.
The Hebrew Congregation's special Shabbat Service in honor of King is a favorite for many in the community, as it puts the spotlight directly on students within the community who embody the Civil Rights activist's philosophies and embrace his passion for service. Each year, the honorees leave the audience with a promise of hope – hope in the next generation and hope in their ability to leave the world a better place than they've found it.
Whether that includes being a voice for disenfranchised populations, creating accessible health care facilities, creating discussion groups for students on pressing world issues, or simply offering safe spaces for all identities within schools or community centers, this year's student honorees all agreed that the impetus for all of these plans begins and ends with love, and they appeared ready Friday to lead by example.
The featured speaker of the virtual program, Delegate Stacey Plaskett, tied the students' speeches together while recalling King's last Christmas Eve sermon in 1967, where he stressed the interconnectedness of all human beings on the planet.
"In order to achieve peace on earth, we must develop a world perspective," she quoted from King, adding later that his work extended beyond championing racial equality, but rather a range of causes that he believed all lead to the same goal. Plaskett juxtaposed the photos taken a year later in 1968 by the crew aboard Apollo 8, which she said gave the public its first views of the earth from space in its totality to King's call for a "nothing less than a restructuring of the very architecture of American society."
"His view was that the Civil Rights Movement was part of a broader revolution of values that was forcing the Americans to face all of its interrelated flaws," Plaskett said, adding that society's inability to do so, even now, stems from its failure to understand how everything is linked.
While written separately, the students' speeches seemed to embrace that interconnectedness. With inclusion as the ultimate goal, each stressed a component that they were passionate about bringing to the table – separate pieces that all came together to form a whole.
For Anadelle Brown of All Saints Cathedral School, that piece was stricter enforcement of gun violence laws and a public education campaigns that emphasizes the impact ready access to firearms has had within schools and the broader community.
"Shootings just don't happen on an impulse," she said. "They happen for a reason." Working with government leaders and law enforcement on peaceful resolutions and effective conflict management is the first step and putting in more deterrents.
Stressing the importance of inclusivity within schools and professional settings was the focus for Araba Penn of Antilles School. She said embracing the views and ideas of others is imperative to advancement and progression in society. Weaving together her realities – experiences living in the territory, as a person of color, as a woman – Penn said she wanted to become a voice and advocate for those whose voices have been "diminished, excluded or silenced."
Penn said she's seen first-hand how the restructuring of organizations and initiatives to embrace values of diversity, equity, and inclusion has changed perspectives and opened minds.
The value of selfless service was highlighted by Charlotte Amalie High School's Shaudae Richardson, who spoke about leading by example within her church and school activities and meeting King's anti-violence, anti-hate message by treating those around her with acceptance and respect.
Her words were echoed by honoree Jada Jn-Phillip, of Gifft Hill School, who took it a step further by advocating for the formation of a diversity activism group that would give students the chance to connect and work together to discuss pressing social issues and opportunities to become more involved in the community.
A weekly discussion series would also help students build their public speaking skills so that they, too, could become powerful advocates for change like Dr. King, Jn-Phillip said.
For Mariah Loo, a senior from Ivanna Eudora Kean High School, change also starts with creating a healthy community, which can be more productive and efficient. Many families in need of insurance only visit the hospital in times of emergency, but establishing a free clinic focused on preventative care and treatment would give all access to a primary care physician and early detection methods that can keep diseases from becoming worse.
"Early detection can keep families leading longer, healthier lives," she said.
Eden-Ahle Jania Baptiste, from Seventh Day Adventist School, was also a proponent for good mental health and zoned in on a perpetual community need: adequate care and treatment facilities for the mentally ill and homeless populations, which she said she hopes to remedy by pursuing a degree in public health and coming back home to help set up a program. Adding the need for a recycling center to cut down on trash and community centers that offer activities for children, Baptiste described, from her vantage point as a student, these three components as "urgent" and in need of an immediate fix.
Tolerance, equitable communication, and education were stressed by the final two speakers, Caleb Stadelman Martinez from Sts. Peter and Paul Catholic School and Gabriel Hess of the V.I. Montessori School, and Peter Gruber International Academy both said embracing differences and choosing love was the first step on King's path of peace.
Speaking about his travels around the world, Martinez said the power to thoughtfully communicate one's perspectives and ideas – a trait admired in King – has been lost in conflict and argument as topics such as race, religion, and gender become more and more "taboo." The need for peaceful communication is more important than ever if society is to resolve its differences, which Martinez said are only "skin deep."
"Variety is really the color that makes the world a beautiful place," he added.
An advocate for LGBTQIA+ rights, VIMSIA senior Gabriel Hess, spoke of hanging the Pride flag for the first time in 2021 and working to establish safe spaces for students that identify to interact. Being a member of the LGBTQIA+ community is illegal in 71 countries and punishable by death in 13 – a reality that no one should have to face, he said, adding that promoting inclusivity also includes bringing queer education into spaces so that everyone can understand the history of the LGBTQIA+ community, its struggles, and triumphs.
"Everyone should be able to live in a world where they don't have to fear being in love with someone or of expressing who they are," he said.
Prior to Friday's service, Rabbi Michael Feschbach was asked if past scholarship winners ever return to the Congregation to share how their ambitions as high school students had flourished. The rabbi said he had only been with the Hebrew Congregation of St. Thomas for a few years, but in living his daily life, the scholarship awards popped up in conversation.
"I can tell you that I've had multiple encounters with past award winners. One day, I was at Magens Bay Beach; I was talking to someone who was there at the beach, and the person said, 'I won that award.' And then, one year, we had a saxophone player at the ceremony, and while I was talking to him, he said, 'I won that award.' This has had an impact on people's lives. I believe we have had a very positive impact," Feshbach said.