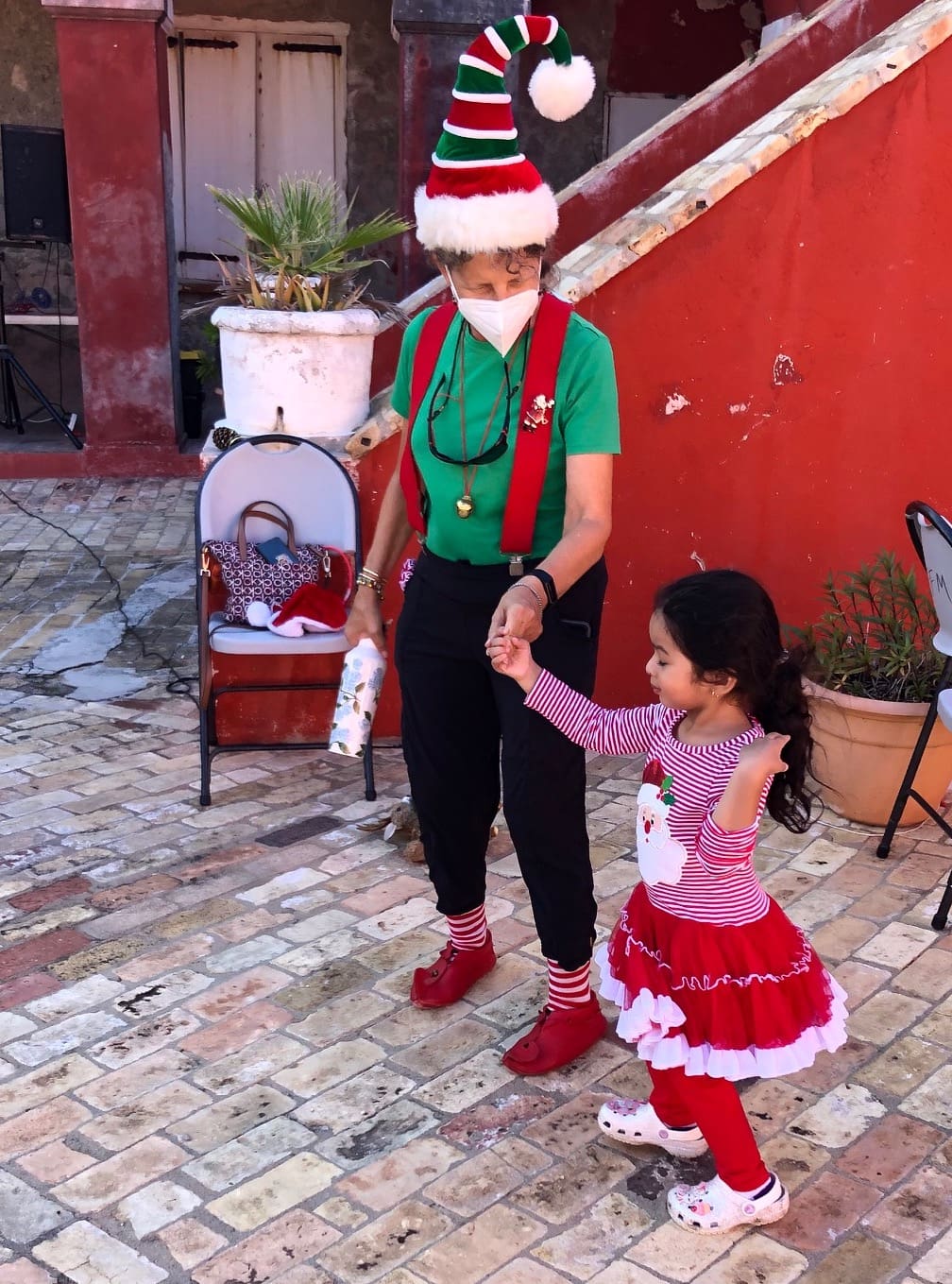 The Children's Museum of St. Croix delighted children with games and activities that educate while maintaining COVID recommendations outdoors at Fort Frederik Sunday afternoon.
All who entered the fort had their temperatures taken and were spritzed with hand sanitizer by welcoming board members before joining the fun.
Inside the courtyard, free books were being given away, and Ellie "Elf" Hirsh read stories, some that required group participation, with children and parents clapping along and slapping their sides.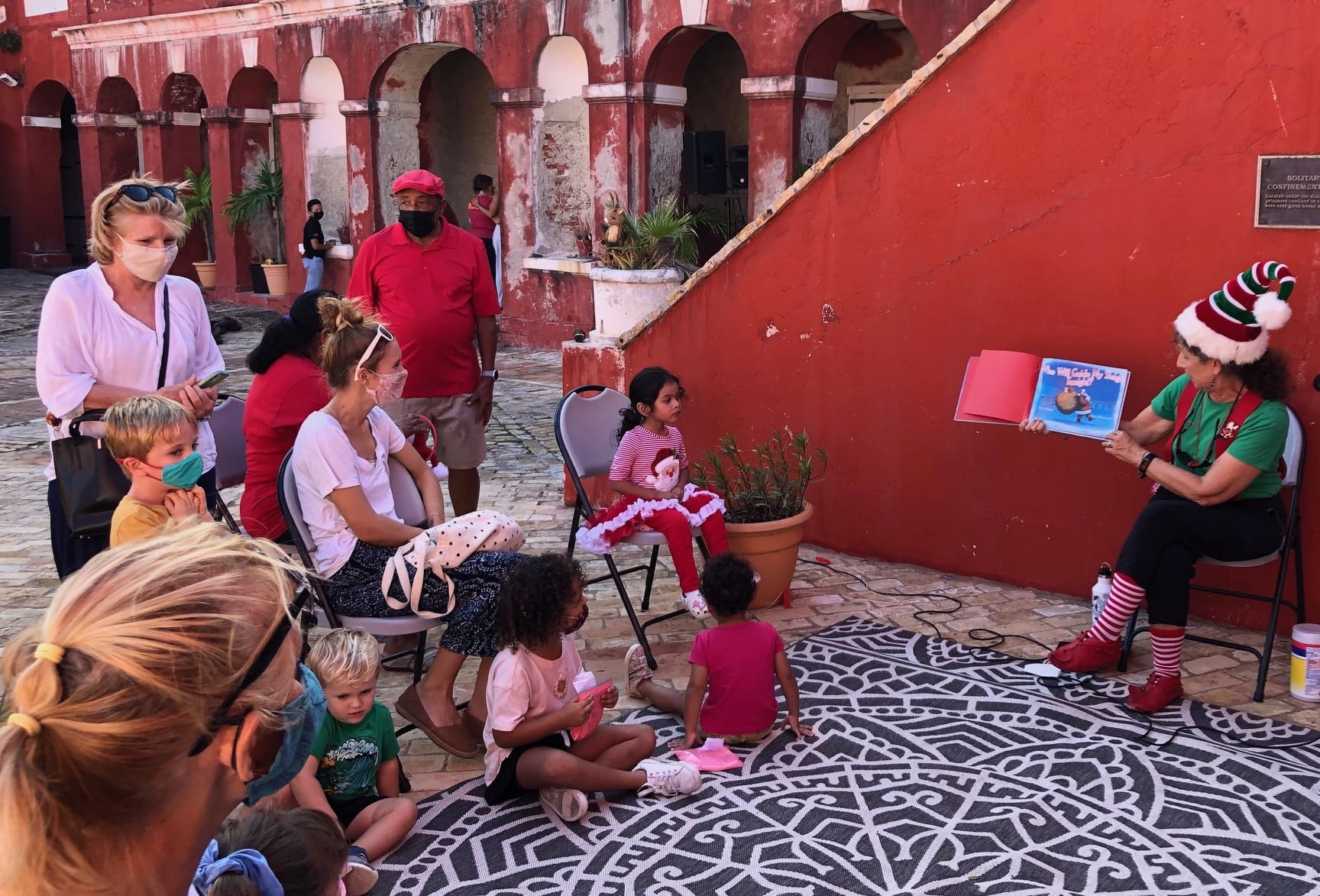 In one room, volunteers guided kids who sprinkled glitter on pinecones and added hangers to make Christmas decorations. Martin Fevrier Jr., a high school junior, seemed to enjoy watching the little ones as much as helping them.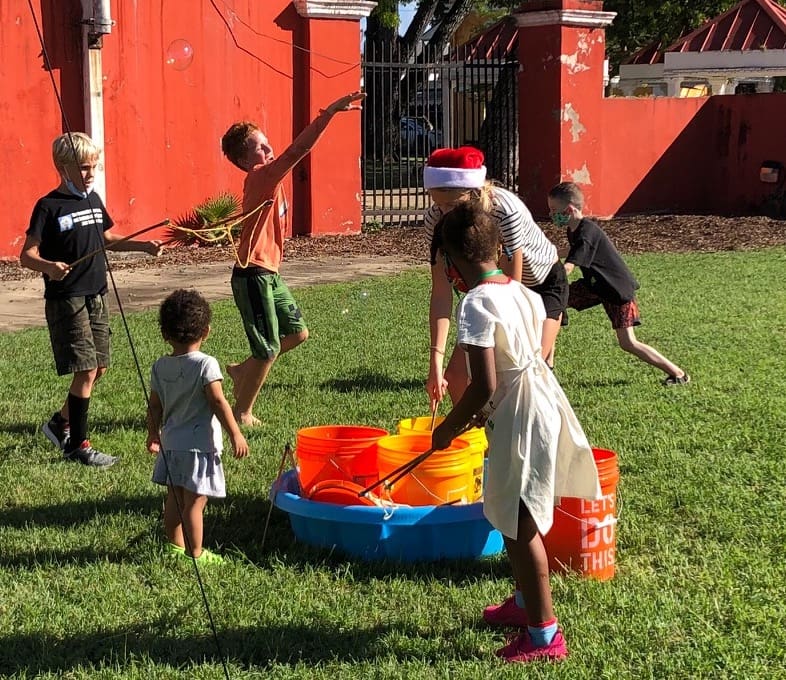 At another table, gold discs were covered with beads, buttons, paint, and bows to make ornaments. Torhera Durand of VI Crawl showed children how to make decorations and talked about the VI Crawl's goals to expand educational opportunities in the U.S. and the British Virgin Islands.
The seaside lawn was the scene of more active projects, such as making slime and children running in circles to create giant soap bubbles. One little boy didn't care about hearing stories – he wanted to play with bubbles the rest of the afternoon, and he loudly proclaimed his preference.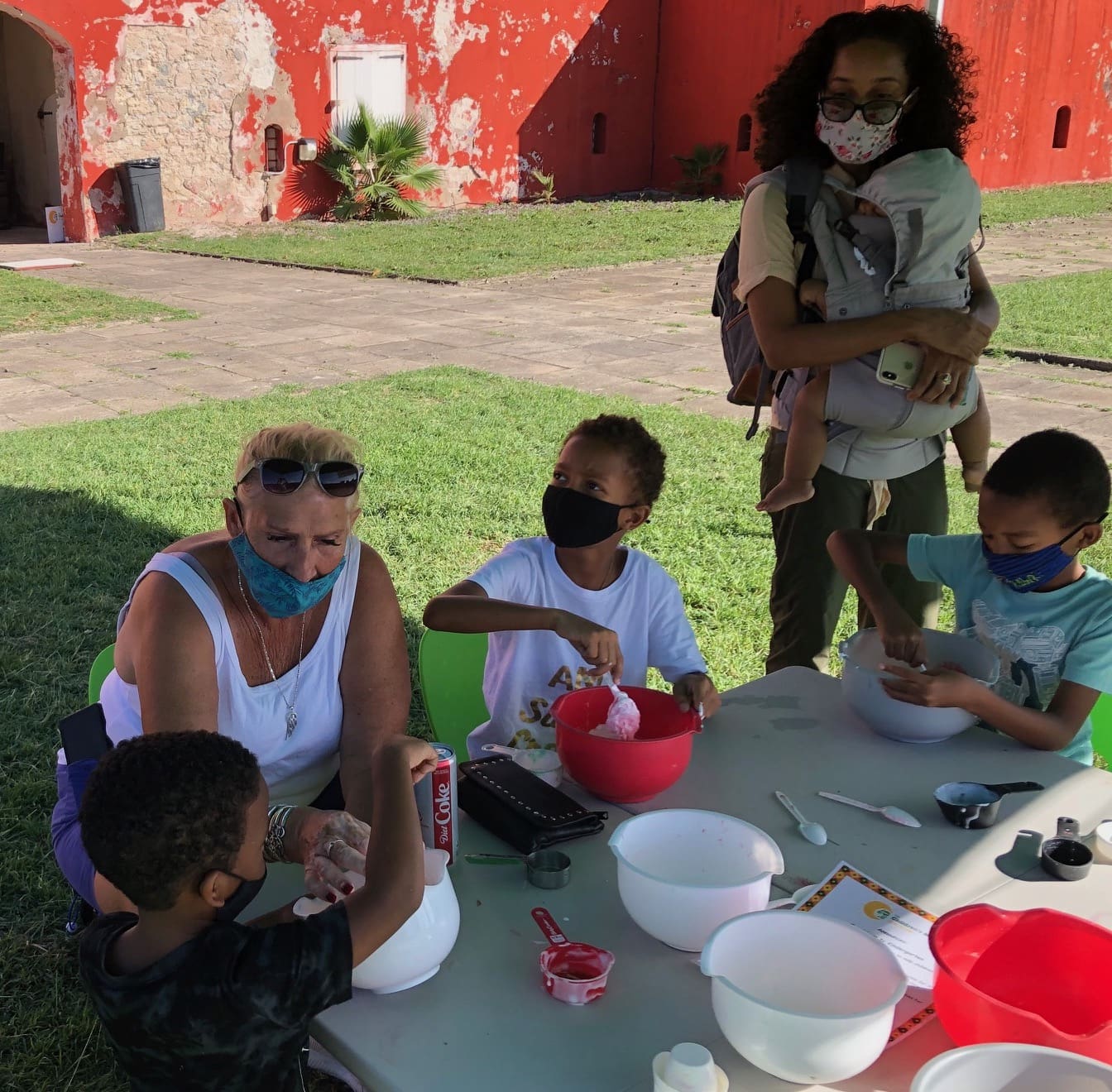 The Crucian Holiday was sponsored by the V.I. Department of Planning and Natural Resources. Amy Parker-de Sorbo, director of Libraries, Archives, and Museums, said they hope to partner with the Children's Museum for future activities – a welcome invitation since the museum does not have a permanent home.
The Children's Museum has equipment and supplies and some furniture but has been operating as a "pop-up" museum. They set up at outdoor functions such as the Agriculture Fair and Mango Melee. The 10-member board manages the events – teaching through entertaining activities. Most of the board are former or current educators.
President of the museum board, Winifred Loving, said they "jumped at" the invitation to hold the holiday event at the fort. They want to keep the museum in residents' minds.
"We don't want to disappear because of COVID. We are here to help children learn to play. We can't give up because of COVID," she said.
There was another event at the fort on Sunday in conjunction with the V.I. Education Department and DPNR. Monica Marin, the territorial chief curator for Libraries, Archives, and Museums, and DOE's Sayeeda Carter, directed junior and senior high students to learn more about civil rights activist David Hamilton Jackson from St. Croix during the 19th and 20th centuries. Students sketched, painted, and wrote about the iconic Crucian, and Rashawn Philip wrote and performed his rap song as the background of the resulting video. The video can be viewed at vide.vi.
To reach more Virgin Islanders, the Children's Museum will begin a program for four-year-olds to prepare for kindergarten with a grant from the Community Foundation of the Virgin Islands. Countdown to Kindergarten is for children who will be four years of age by Dec. 31, are eligible for SNAP, and are not enrolled in Head Start, pre-K, or child care. The program will be held one morning a week for 20 weeks with activities for families. Parents can choose Tuesdays or Thursdays from 9 a.m. to noon. For more information and to enroll, call Ellie Hirsh (340-643-7070) or Leslie Repp (340-513-1011).
The Children's Museum accepts donations at P.O. Box 26284, Christiansted, VI 00824.