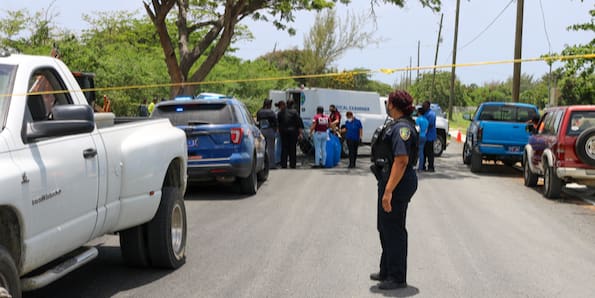 The V.I. Police Department is fed up by the lack of community involvement in helping to solve crimes, department officials said during a news conference Tuesday as they once again pleaded for information, this time on the murder of 42-year-old Victor Burgos who was shot and killed Tuesday morning on St. Croix.
Burgos's death was the 24th homicide on St. Croix since the year began, the 32nd in the territory, according to the Source homicide list.*
What hit home about this shooting is that Burgos was shot on his job site on Carlton Road, where anyone else also could have been harmed, according to Lt. Naomi Joseph, VIPD's chief of detectives on St. Croix. Burgos was part of a roadside crew when a silver SUV drove up, and someone in the vehicle fired shots, hitting Burgos, police said. The vehicle then fled the area, traveling south. Joseph said officers were dispatched at 10:44 a.m. and Burgos was later identified by his next of kin.
"This is a work site, so the police weren't there," she said. "And we don't know Mr. Burgos, we don't know his lifestyle or background. But the community knows, you know, who he is. You know what's going on and we're asking you to please help us so that we can bring some type of closure to the family. This is not just applicable to this gentleman, but all of the homicides, the shootings and the violent crime we've been encountering in the territory. We don't know it, but you do, you're holding the information to your chest while more people get harmed."
"If you see something, say something," isn't just a slogan, Joseph added. It's "something we actually need to do."
As an example, Joseph brought up a recent spate of robberies on St. Croix. It's easy for relatives to spot a family member coming in with extra money or jewelry, especially if they don't usually have any.
"There's always someone that knows, who can say something, but they're not saying it," Joseph said. "And for this to stop, all of us need to be involved. I'm sorry if I'm up here preaching like a pastor, but someone has to. Somebody has to tell the truth. This is your St. Croix. You should be able to walk all the beaches when you want, walk the streets when you want, go to a club when you want and enjoy yourself without fear of being shot in the club accidentally or on purpose. And, the only way we can stop all these things is if we work together."
Last week, St. Croix Police Chief Sydney Elskoe warned about a recent increase in armed robberies and carjackings and urged businesses to maintain working security cameras both inside and outside their buildings. He also called on citizens to remain aware of their surroundings and, should anyone become a victim, make note of the robber's appearance.
"The perpetrators have victimized businesses and individuals by demanding valuables, such as cash, cell phones and vehicles, while threatening their victims at gunpoint," Elskoe said in a statement released Aug. 17. "As a community, we cannot normalize this behavior."
In response to questions Tuesday about how VIPD is combatting the increase, St. Croix's acting Deputy Chief Sean Santos said officers are doing what they can, relying on data provided by the department's analysts on hot-spot or highly trafficked areas that see more of the action. VIPD's manpower shortage hasn't kept officers from doing their job and though it would be helpful to have more boots on the ground, Santos said what really needs to change is the perception that someone calling in with information will be outed by members of the force.
"No one wants their name or information out there, but for as long as I have been working for the Criminal Investigation Bureau, I have seen that information being kept close, without anyone being put in jeopardy," Santos said.
Joseph added that the saying "snitches get stiches" has become ingrained in the younger population, taking away criminals' fear of being caught.
"We have to take the power that we have given the criminals, we have to take it back," she said. "I have no other way to explain this but to speak as frankly as I am now. We are the ones who have placed ourselves in this prison and only we can take ourselves out."
Police urged anyone with information about the case, or any other incident, to call 911, the Crime TipLine at 340-778-4950, or the anonymous tip service, Crime Stoppers USVI, at 1-800-222-8477 (1-800-222-TIPS). Reports to Crime Stoppers that help resolve a crime can earn the caller an anonymous cash reward.
* The Source homicide list is based on reports from the V.I. Police Department, but unlike the police list or some other news outlets, the Source does not include vehicular homicides or suicides, which can lead to a difference in the totals reported.