The proponents of a controversial marina project have started a foundation to assist people who live on St. John.
Chaliese Summers, managing partner of Summer's End Group, LLC, which has been trying to develop a marina since 2014, said she was motivated to start a foundation after Hurricane Irma struck St. John in September 2017.
Summers said the overall mission of the St. John Culture and Heritage Foundation is to help St. Johnians with issues such as education, skill development, and cultural preservation, but priorities shifted after the hurricane.
"When the storm hit, [partner] Rick [Barksdale] and I were in the States. We were able to connect with other St. Johnians in the States, and we became a crossroads for people who wanted to help."
In October, Summers established the St. John Cultural and Heritage Foundation, a 501c3 non-profit organization registered in Louisiana, her home state.
"Since the access to our network of local St. Johnians was cut off during and after the storm, we were able to create a skeleton board made up of those of us who were not on island through the hurricanes and could communicate to effectively apply for and get approval for a non-profit 501c3 status," she wrote.
Summers said the organization has not yet established a permanent board, but members include community activist Alvis Christian, who serves as vice-president, and Lucia Roberts Francis, an elder of Emmaus Church who will serve on the C&H Vision Wisdom Action Leadership Team.
STJ Culture and Heritage Foundation has established a webpage to accept monetary donations; the page is linked to their website for their marina project. That page features the foundation's first initiative, Homes for St. Johnians.
"We knew that we had to move the foundation forward with the first initiative to aid in the recovery efforts and restore, rebuild, renew the homes of St. Johnians who need our help more than ever before," Summers said.
The webpage features photos of a couple from Coral Bay, Gabriel Nathaniel and Sharon Porter, whose home was destroyed by Hurricane Irma. Porter said they had been in contact with Summers since early January but had not received any assistance from the foundation as yet.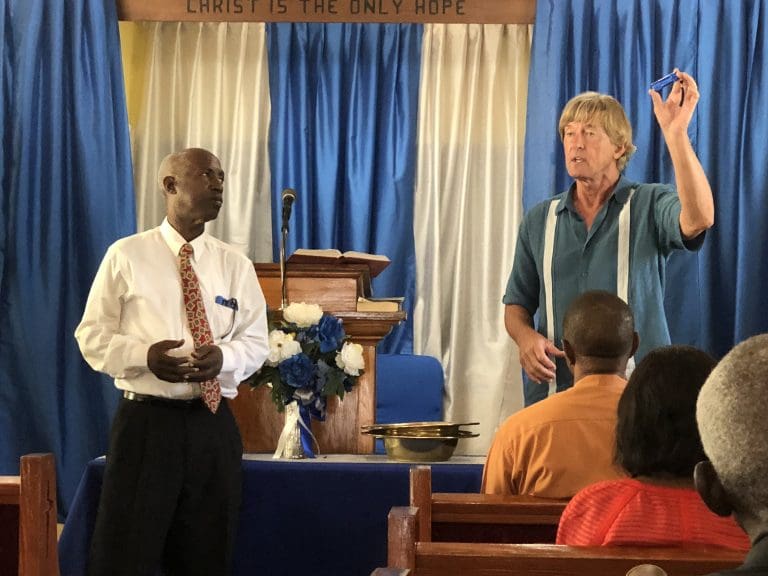 "If it's Rick and Chaliese's, I'm supportive of it," Porter said. "A lot of people on St. John are still suffering. I hope they are able to help."
Summers said the foundation was still in the fundraising and organizational phase and had not actually assisted with home reconstruction or made any monetary donations for that purpose.
"We're putting together our vetting process," she added.
Working through several churches on St. John, the foundation has sent boxes of donated supplies from the States, including gently used clothing, gas cans, tools, flashlights, household goods, and stuffed animals for children.
Simonia Dagou, administrative assistant of Our Lady of Mt. Carmel Catholic Church, said several boxes of clothing sent by the foundation were being distributed among parishioners and the homeless.
Lucia Francis, who lost her home in the hurricane, said she was grateful for the foundation's donations made to her and other members of the Emmaus and Bethany Moravian Churches. Summers and Barksdale are active members of that congregation.
Francis added she appreciated all of the NGO's that have stepped up to help St. Johnians who lost their homes, including All Hearts and Hands, the St. John Angel Network, and the St. John Community Foundation.
When Summers was asked why she formed her own foundation rather than joining one of the organizations providing immediate disaster relief, she said, "Our network in the maritime industry reaches globally to corporations and groups around that world who [want] to aid in the recovery of our beautiful islands."
Summers said if her marina project was built, they would stand by to assist in the event of another disaster.
Sharon Coldren, president of the Coral Bay Community Council, declined to comment on the foundation but did say, "They don't even realize how quickly the people of Coral Bay and St. John worked to clear the road to town, and how quickly boats came from St. Croix to assist us and transport people in and out. We thank the people and organizations who were really here and made all the difference in the first few days after Irma."
She added that she wished Summer's End Group, LLC, would do more to clear the properties they have leased as part of the proposed marina development.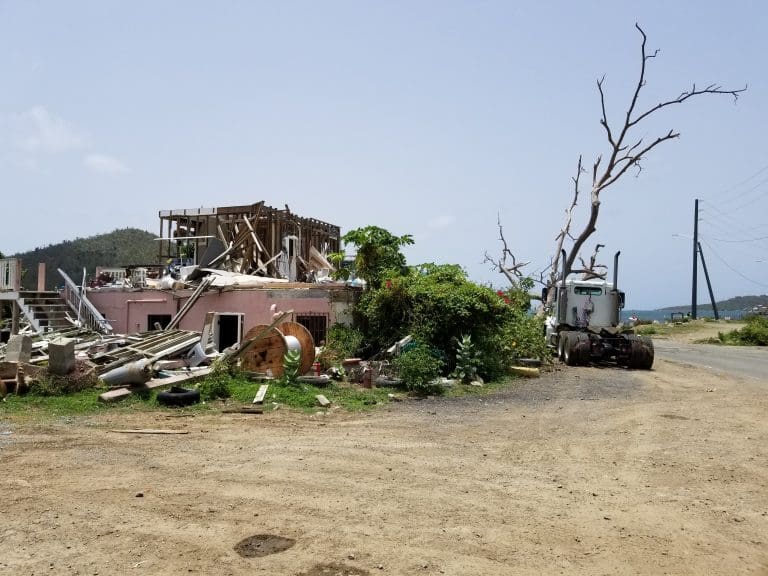 "[It's] interesting that [the foundation's] main picture is of the demolished building on the land they control for the marina – that is still not cleaned up – so the community and the homeowners in the area still have to be concerned about blowing debris this hurricane season. Whose responsibility is this? Everyone in Coral Bay is complaining."
Summers responded that some of the property owners had suffered major losses, and the Summer's End Group was working with them to deal with the debris.
Summers said on July 13, "We are working with St. John Community Foundation, who is doing a wonderful job at organizing the recovery efforts."
She clarified her comments three days later, emphasize that the St. John Culture and Heritage Foundation was not in a legal partnership with the STJ Community Foundation.
Several organizations, such as Kenny Chesney's Love for Love City Foundation, All Hands and Hearts, and Love City Strong have signed memorandums of understanding with the STJ Community Foundation as part of their housing program, said Celia Kalousek, SJCF's executive director.
"Although we have not partnered with St. John Culture and Heritage Foundation, and we have not received funding or supplies to date, they have shared a contact and mentioned connections that could potentially lead to the acquisition of supplies that would be helpful as we start rebuilding the homes of the vulnerable residents of St. John," Kalousek said.
"We had a conversation with Rick and Chaliese about their new St. John Culture and Heritage Foundation last week," said Kalousek. "Although their Homes for St. Johnians program was not on our radar, nor is it affiliated with our program, if they are able to raise funds and coordinate supplies or funding, we will welcome support that benefits our clients."
Shared content for Virgin Islands Source and St. John Tradewinds.