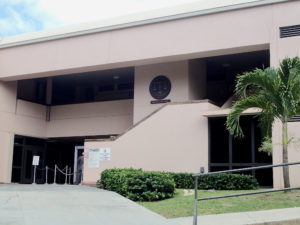 Honorable Harold W.L. Willocks, president judge of the Superior Court of the Virgin Islands, announces to the members of the VI Bar Association and the general public, the appointment of Joseph T. Gasper Esq. to the position of staff master within the Complex Litigation Division of the Superior Court, a position newly created by the Supreme Court in Administrative Order No. 2021-0012. Mr. Gasper was sworn in remotely at 10:30 a.m. recently by Judge Willocks.
Gasper ascends to the position of staff master after more than 10 years of service in the Virgin Islands Judiciary, first serving as a law clerk in the Superior Court for then-presiding Judge Darryl Dean Donohue Sr. and afterwards as appellate law clerk in the Supreme Court for Associate Justice Maria M. Cabret. He returned to the Superior Court in 2013 and has held the positions of appellate law clerk, law librarian and senior law clerk to the Complex Litigation Division.
Attorney Gasper also assisted with several court projects, including but not limited to, the Virgin Islands Judicial Branch Unification Task Force, the Virgin Islands Judicial Branch COVID-19 Task Force and the Task Force on Restarting Jury Trial, where he served as reporter.
He graduated from Howard University School of Law in 2006. He was admitted to the practice of law in the USVI as well as New York, Pennsylvania and the District of Columbia.
[adrotate group="6"]
Throughout his years of service, Gasper demonstrated a very high level of commitment and dedication to the VI  judiciary and is well regarded as a consummate professional who consistently strides to improve court services.
For more information, contact: Regina Petersen, Administrator of Courts, Judicial Branch of the Virgin Islands, P.O. Box 590, St. Thomas, U.S. Virgin Islands 00804
Fax: (340) 774‐2258; TTY: 774-2237
x: 774‐2258; TTY: 774-2237