Taliah, above, was crowned Waga Queen while Woody, below, took home the honor of Waga King, at the funky island dog show on Saturday, May 19.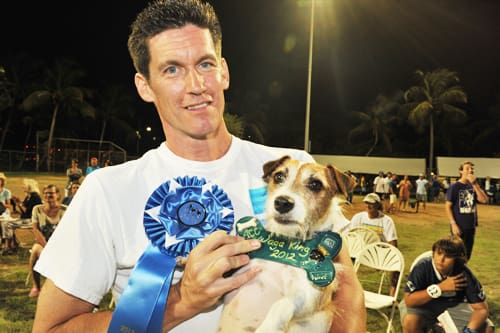 About 200 people gathered in the V.I. National Park ball field to watch dogs of all shapes and sizes strut their stuff and show off their talents while raising about $22,000 for the St. John Animal Care Center at Wagapalooza on Saturday evening, May 19.
The 12th annual island dog show drew a great crowd and raised more money than last year, according to ACC volunteer Sally Furlong, who was the lead organizer of the event for the first time this year.
"It was fantastic," said Furlong, who worked along with co-organizer Viky Becker. "There were probably well over 200 people and we had 30 entries in the competition. Things went really well and, although we don't have all the money in yet, I'm going to say that we raised about $22,000."
The funds will go to help the sole St. John animal welfare group continue to care for the island's abandoned and neglected dogs and cats and cover operations of its no kill shelter.
There were nine different category winners with two top winners, Waga King and Waga Queen. Taliah, owned by Crystal Allen, was named Best Costume and Waga Queen while Woody, owned by Furlong, but showed by Viky Becker, won Gambler's Choice and was named Waga King.
While not every dog could take home the top honors, everyone had a blast at the distinctly island dog show. Waga attendees enjoyed hotdogs, ribs and hamburgers by the crew from Driftwood David's and sipped on a signature cocktail created by High Tide just for the event called "Go Dog, Go."
"The food and drinks were great," said Furlong. "Everyone really enjoyed everything and High Tide's signature drink was definitely a hit."
Younger dog show guests had fun with face painting and balloons while the entire crowd cheered on dogs and owners who vied for titles from best costume to best old timer.
While this was her first time heading up Waga, Furlong — who grew up riding and showing horses and ran horse shows for years in the states — is no stranger to animal shows.
"It's the same four-legged deal, just with dogs instead of horses," she said.
And Furlong, who knew she wanted to have dogs show off more than their barks this year, unveiled new categories for the show.
"We had a few new categories this year with the intention of having dogs do more than just walk around in a circle to be named best barker," Furlong said. "We wanted the dogs and owners to be a little more active and show off a little skill."
New categories included Best Junior Handler and Best Adult Handler, with contestants being tasked with having their dogs sit, stay, come and shake hands.
"The handler category was definitely one of the fan favorites," said Furlong. "A lot of people enjoyed watching the handlers and the dogs show off their skills."
Gambler's Choice, which had dogs traverse an agility course with hoops, a teeter-totter and more, was another new category in the 12th annual Waga.
Judges, which included Cid Hamling, Dan Boyd, Dr. Laura Palminteri, Janet Simonsen and Akhil Deshwal, had no easy task in determining this year's slate of winners and Waga King and Queen.
Despite all of the hard work and long hours, Furlong enjoyed organizing the event and promised to be back in a leadership role next year.
"It was a lot of fun," she said. "It was a big learning curve, but in the end everyone had a great time and we raised a good deal of money for the ACC. I'll definitely be back next year."