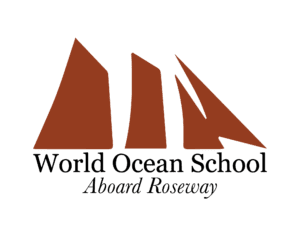 On Feb. 9, World Ocean School, aboard the schooner Roseway, was awarded the Sea Education Program Award at the 2022 Tall Ships America Conference.
According to Tall Ships America, this annual award is "awarded to a program offered by a current member of Tall Ships America that has significantly contributed to the educational credibility of programs under sail. The program is offered in conjunction with a school, school system, school group or other recognized educational institution; has a clear curriculum of educational goals compatible with curriculum goals of traditional schools; and has qualified instructors on a certified vessel."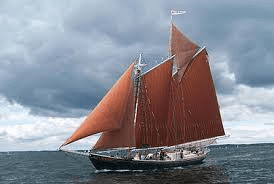 In presenting the award, Tall Ships Executive Director Kris Von Wald highlighted the educational opportunities World Ocean School aboard Roseway has provided to thousands of school children and young adults on St. Croix, in Boston and wherever they have worked. World Ocean School's model, with a full-time program manager "in the office" and a program coordinator on board Roseway, allows it to work closely with partner schools, universities and institutions to dovetail the curriculum with that of the partner, ensuring an enriching educational program each time they leave the dock.
In accepting the award, Tatiana Dalton, World Ocean School program manager, acknowledged the contributions and cooperation of the partner schools and faculty members. Tatiana accepted the award while aboard the schooner in St. Croix, where she was surrounded by Roseway's current stellar crew of deckhand educators.
Katharine Jennings, an educational consultant and member of the World Ocean School educational advisory committee, was a key player in World Ocean School's nomination for this award, advocating on its behalf based on the transformative experience her son had aboard Roseway during his time in the Summer Ambassador program.
She said, "In writing the nomination for this award, I reached out to primary, secondary and post-secondary educators coming from multiple locations and institutions. Everyone that I spoke with is passionate about the transformative educational experiences that students receive aboard Roseway. I believe World Ocean School's community values create a safe space for social, emotional and intellectual curiosity to blossom. I am so very pleased that Tall Ships America agreed with my nomination."
Zahra O'Reilly-Bates, a teacher at the Ricardo Richards Elementary School on St. Croix, recently met with the World Ocean School Board of Directors and explained that an educational program aboard Roseway allows her students to make connections in their STEAM (Science, Technology, Engineering, Arts and Mathematics) curriculum that simply cannot be made in the classroom. O'Reilly-Bates said, "What I do and teach in the classroom comes full circle in this program." Topics such as simple machines and buoyancy come alive for students during their time aboard the Roseway, whether they spend a day, week or a semester aboard the schooner.
In 2020, just prior to the onset of the pandemic, World Ocean School was awarded the Sail Training Program of the year at the last in-person Tall Ships America conference.