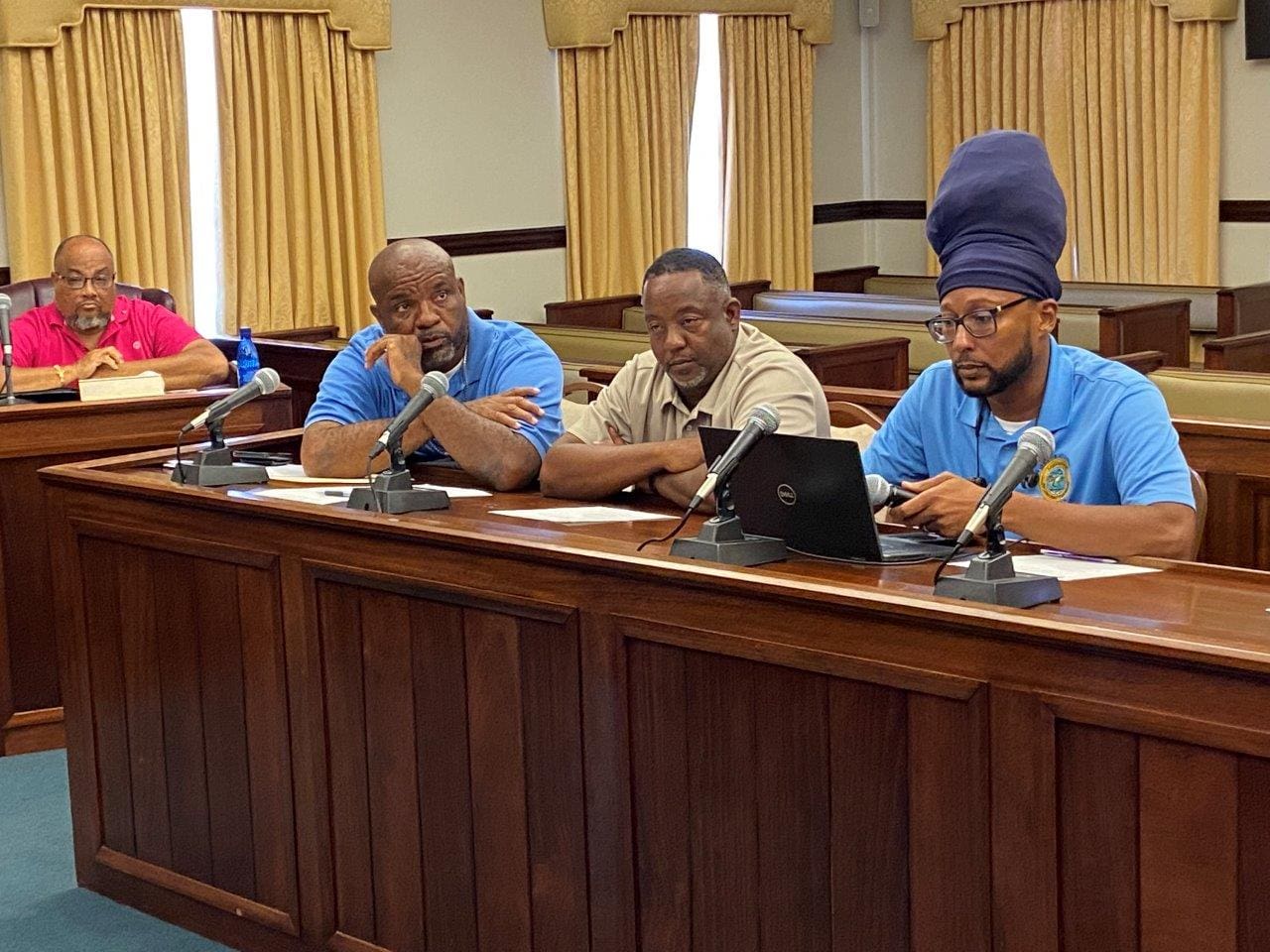 Frustrations over dysfunction at the Virgin Islands Taxicab Commission spilled over at a meeting held Monday with lawmakers and the commission's director. Simultaneous meetings were held on St. Thomas and St. John with several members of the 35th Legislature.
Complaints by taxi owners and drivers who spoke at Monday's meeting said poor management and confusing policies were putting them out of business. While business hours at commission headquarters in Sub Base were sporadic in the past, they disappeared by mid-March when the air quality in the office reportedly declined.
About a dozen industry operators sat down with meeting organizers Sen. Donna Frett-Gregory and Senator-At-Large Angel Bolques Jr. They were joined by Senators Milton Potter, Marvin Blyden, Dwayne DeGraff, and Carla Joseph as well as Bureau of Motor Vehicles Director Barbara Jackson McIntosh.
Speaking just above a whisper in a raspy voice, commission Director Vernice Gumbs said her allergies worsened while working in the office environment. Many at the meeting strained to hear what the director had to say, but she frequently scowled at drivers who criticized her.
Since the office closed on March 22, Gumbs and her staff have been working from home, she said. Drivers said the staff's absence kept them from processing paperwork they needed to either get new vehicles on the road or renew their licenses. The commission also relies on a paper filing system; since the office closed Gumbs said she can't access the records needed to complete registrations or renewals.  
Besides, she said, the keys to the office were turned over to the Property and Procurement Department. 
Taxi owners and operators said all of those problems plus a lack of communication left them feeling ignored and disrespected by Gumbs and the commission.
"We are not being helped. I have a business that's been operating since 2006 … When I go down to Ms. Gumbs' office to get my documents, I am being ignored. Over two-and-a-half months I took my plates from my minivan to put on another vehicle, and I cannot get my vehicle registered at all — two months," said taxi owner Eldondane Francis. Francis said he paid $40,000 for a new safari van that he cannot put on the road because he cannot get it certified.
Driver Withfield Hodge from East End Taxi asked what he should tell two of his group's drivers who are in similar situations; one of whom is now paying storage fees on a vehicle he cannot put on the road. "So, what am I supposed to say when I go to Red Hook?" Hodge said.
Others complained about fines they are paying for problems they cannot resolve because there's no one to speak to at the commission. Others said when they were able to visit the office in the past, documents they submitted in the past seemed to always be missing a page or two later on.
Frett-Gregory asked the commission to suspend penalties and fines until the agency can resume operations. Those who have already paid fines should be reimbursed, she said.
BMV Director McIntosh said she offered Gumbs temporary desk space inside of the BMV. The director told those who came to the meeting she needed more than desk space — she needed the paperwork sitting in the office under lock and key.
Bolques addressed the situation directly. "I heard Ms. McIntosh state she offered a space to the taxi commission. I want to know why you didn't take this offer and whether you are willing to take that offer now," he said.
The meeting organizers urged their fellow senators to join an effort to address the problem. "We senators have to have a discussion with Property and Procurement to find out how they can get access to the office and get their files," Frett-Gregory said. 
She then asked Gumbs, "If you can do that, will you take Ms. McIntosh's offer?" Frett-Gregory asked. Gumbs said yes.
But lawmakers also criticized Gumbs. They said some of the explanations offered for slow progress at the commission had been heard before at previous meetings, including the 2022 Senate Finance Committee's annual round of budget hearings. 
Some of the issues on the meeting agenda — like driver training — was deemed by Gumbs as the fault of outside agencies.
"All senators present voiced their concerns and remained unimpressed with the answers given by Director Gumbs when asked direct questions. The fact that the commission has no contingency plan and cannot tell us when they are going to commence services is counterproductive," Bolques said.
But one driver stood up on Gumb's behalf. St. John operator Sean Claxton said Gumbs had her shortcomings, but at least she showed up to Monday's meeting.
"The board needs to be dismantled. They're throwing Ms. Gumbs under the bus. She came from wherever they brought her from and she knows nothing about the taxi industry. (But) no one from the board is even at the meeting," Claxton said.
Frett-Gregory stressed the need for lawmakers to act decisively. "We have two major issues. We have a dysfunctional board and the staff has no access to the files in the office. And I don't understand the thought process of the executive director. We senators need to have a discussion about whether to dismantle the taxi commission," she said.