The Virgin Islands Taxicab Commission board of directors pushed back against its former executive director's accusations of unprofessionalism, saying the taxi director resigned to avoid an investigation into illegal taxi license plate distribution.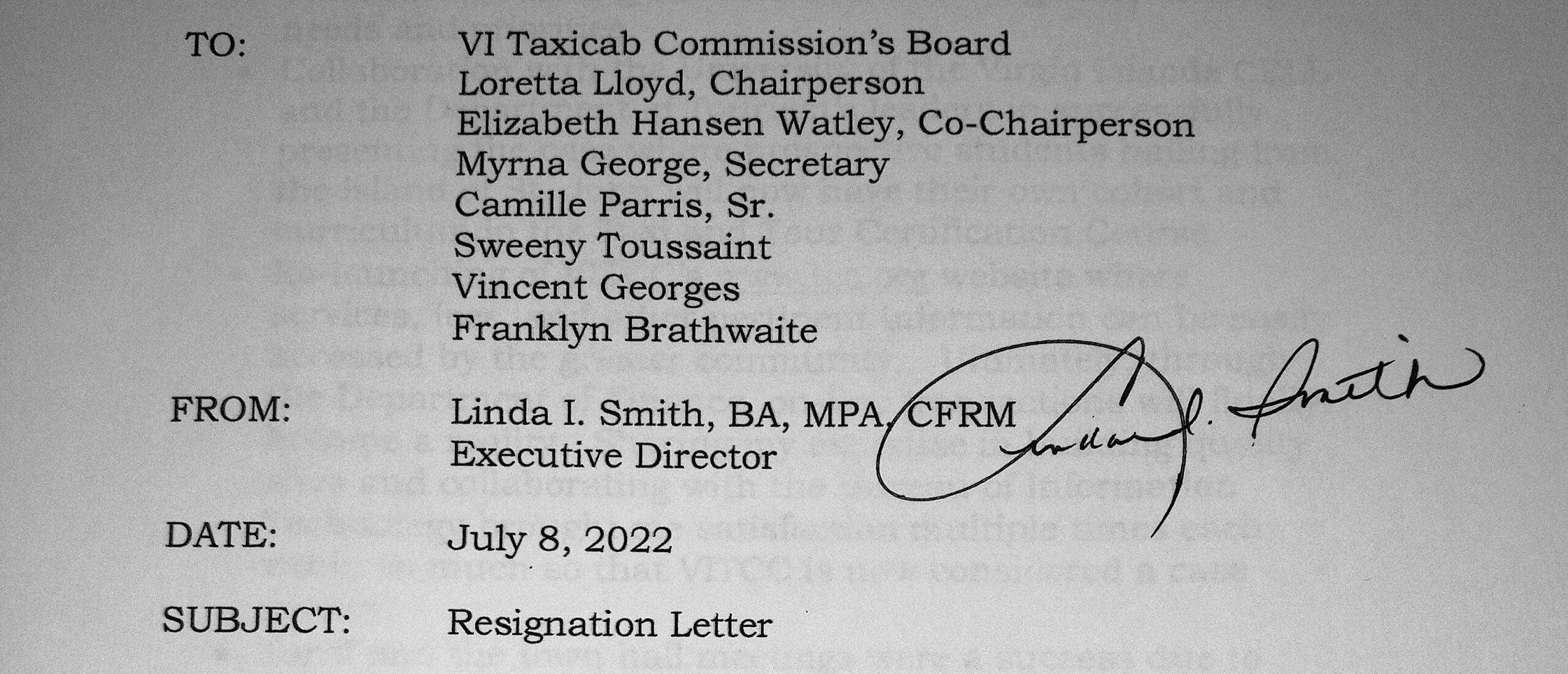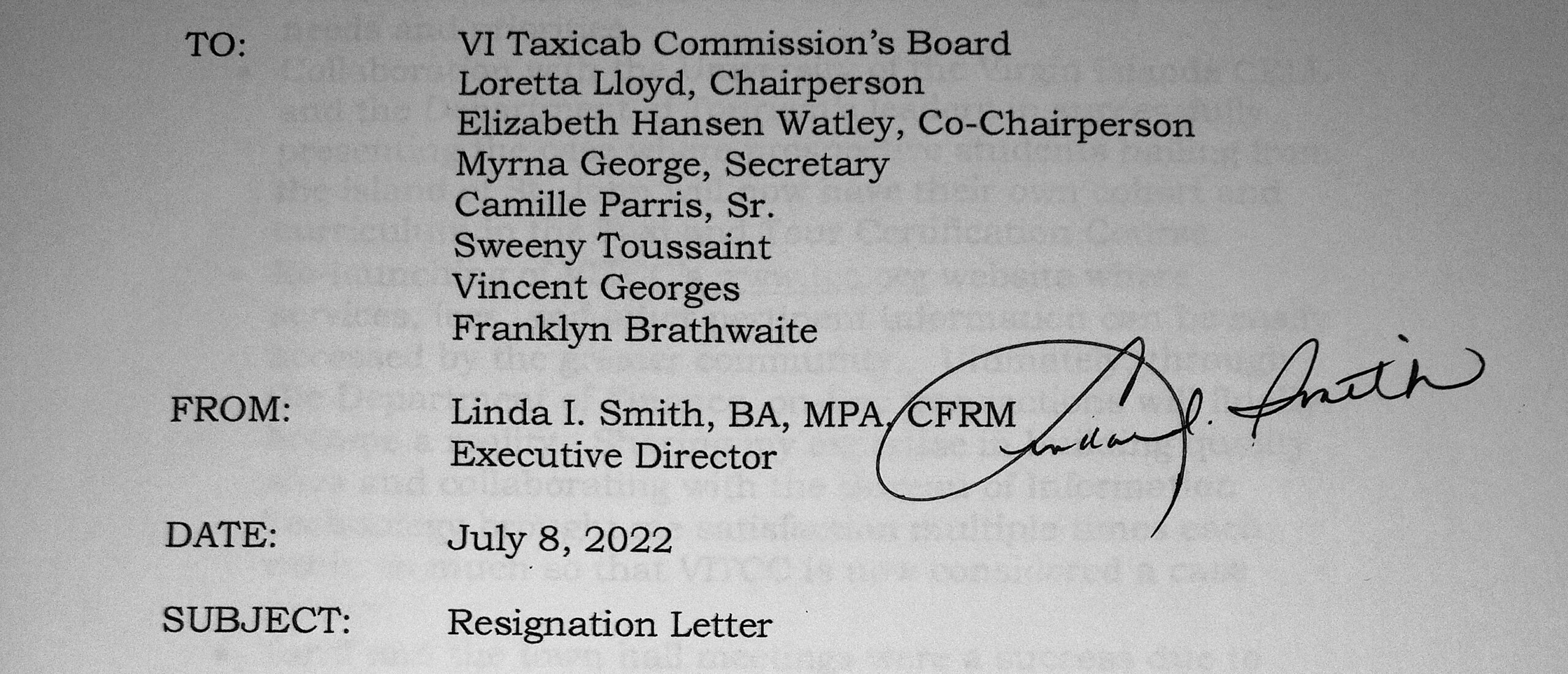 Linda Smith quit suddenly Friday — the commission's third executive director in three years — complaining the operation was functionally rudderless and the Board more interested in playing favorites than fixing myriad systemic problems. Smith said the commission lacked basic governing documents like bylaws and an employee handbook.
Board Chairperson Loretta Lloyd refuted some of those claims in a written statement late Monday, acknowledging the commission as a "troubled agency" but put the blame on a string of untethered executive directors.
On April 19, the commission launched an internal investigation into allegations that Smith illegally issued taxi license plates. Smith's sick leave and travel to Florida coincided with scheduled testimony on the matter, Lloyd said.
"In lieu of returning to work, Ms. Smith opted to resign. The investigation remains active and is ongoing," Lloyd wrote.
Smith asserted the Board was trying to squeeze work out of her from her hospital bed, where she was recovering from emergency heart surgery.
The Board wanted information related to the license plate investigation and for Smith to sign off on a notice of personnel action allowing for an assistant to be hired — cutting down on Smith's "excessive inter-island travel," Lloyd said.
Details of Smith's medical condition revealed two days after her resignation were inconsistent with documentation she provided to the Board on May 5, Lloyd said, as well as subsequent documentation submitted from her physician.
Lloyd said she has also requested information on questionable personal expenditures submitted for reimbursement with Smith's resignation letter.
"Strangely, in a separate email on the effective date of Ms. Smith's resignation, she submitted a spreadsheet laden with expenses from September 2021 to present, void of justification for each date identified, paid for by her personal credit/debit cards and personal checks," Lloyd wrote, saying the expenditures were more than $16,000. "Ms. Smith never sought approval from the Board and is now seeking reimbursement. As Chairperson of the Board, I had been requesting this information from Ms. Linda I. Smith since mid-April 2022 as she had not been forthcoming with the expenses she was incurring in a timely manner from the date she commenced employment."
Lloyd said Smith's accusations of unprofessionalism and politicking by the board are "disgraceful and unacceptable." She alleged that it was Smith who, shortly after being hired Aug. 31, 2021, sought out senators to assist in a power grab. Lloyd said Smith wanted the executive director to take duties assigned to the board.
Lloyd pointed to language in Smith's effusive resignation letter praising the Taxicab Commission as either disingenuous or at odds with her criticism of the Board.
Smith wrote: "I wish you and everyone at VITCC the best and look forward to staying in touch and assisting in any way that I can – during and after this smooth transition."
She added: "I would like to thank you for providing me with the opportunity to serve a constituency whose I have grown to love and who has made my brief tenure a worthwhile and wholesome experience. To those who took the time to help guide me along the way, I say a heartfelt thank you for not only believing in VITCC's vision and mission but envisioning an agency which has great potential in becoming one of the most respected agencies across the territory."
Later in the resignation letter, Smith outlined her accomplishments, saying the Commission "expanded my unwavering level of expertise."
Lloyd said Smith's motive for the language was questionable. "As time progresses, the culmination of the investigations currently underway shall reveal the truth," Lloyd wrote.
It's far from the first time the Commission has had difficulties in leadership, Lloyd said.
The trouble started in 2015 when then-Governor Kenneth Mapp hired an executive director without going through the necessary legal process, skipping needed Board approval, Lloyd said. That director failed to liaise with the Board as required.
"Currently, many of the actions taken by the illegally hired executive director are under investigation, which may result in criminal action," Lloyd said.
The next executive director was hired in 2020 but fared little better. "Unfortunately, after being hired, he decided to follow the direction of the previous executive director by ignoring the provisions of Title 3 VIC Section 274 with disregard for the current Board. As a result, his employment was terminated," Lloyd said.