Pictured above: Joe Mornini greets Gertrude Verdant as Team River Runner checked into Cinnamon Bay Campground for last summer's Chaotic Kayak Race. [hr gap="1″]
"My dream is to see wheelchairs lined up on the shoreline," says Joe Mornini as he gazes out over the tranquil waters of Cinnamon Bay on St. John's north shore.
Mornini, one of the founders of Team River Runner, is referring to the wheelchairs left behind by wounded veterans as they venture into kayaks and paddle away from shore towards new challenges.
For 12 years Team River Runner (TRR) has been working with veterans– including those who are paralyzed, blind, missing limbs, or suffering from traumatic brain injury– to develop a passion for paddling.
Mornini got the idea from his own mania for kayaking.  A special education teacher working with at-risk teenagers in Montgomery County, Maryland, he got into the habit of burning off the stress of his day by kayaking on rapids after school.  "You can't be paddling and not be in the present," he said.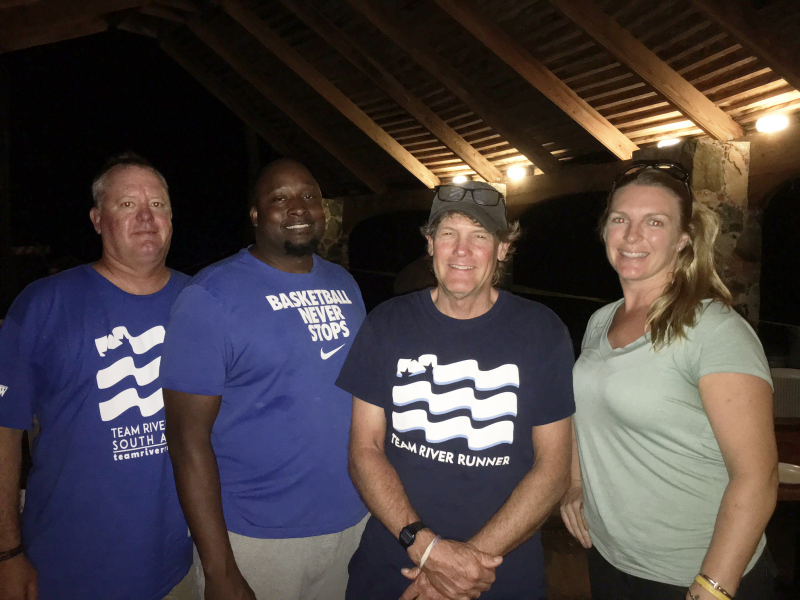 Like many Americans, Mornini felt a surge of patriotism following the 9/11 attacks but was too old to enlist in the military.  "In 2001, I was stunned.  I wanted to do something for veterans," he said.    He and Mike McCormick, another avid paddler, pitched the idea to officials at Walter Reed National Military Medical Center, and the program got underway in 2004.
Kayaking is a perfect sport for the disabled, they discovered.   Those who can walk can help lift those who can't into kayaks; those who can see can direct paddlers who are blind by using a set of vocal calls.  Using foam, Gorilla Tape, air bags and creativity, team members can make accommodations for just about any disability, Mornini said.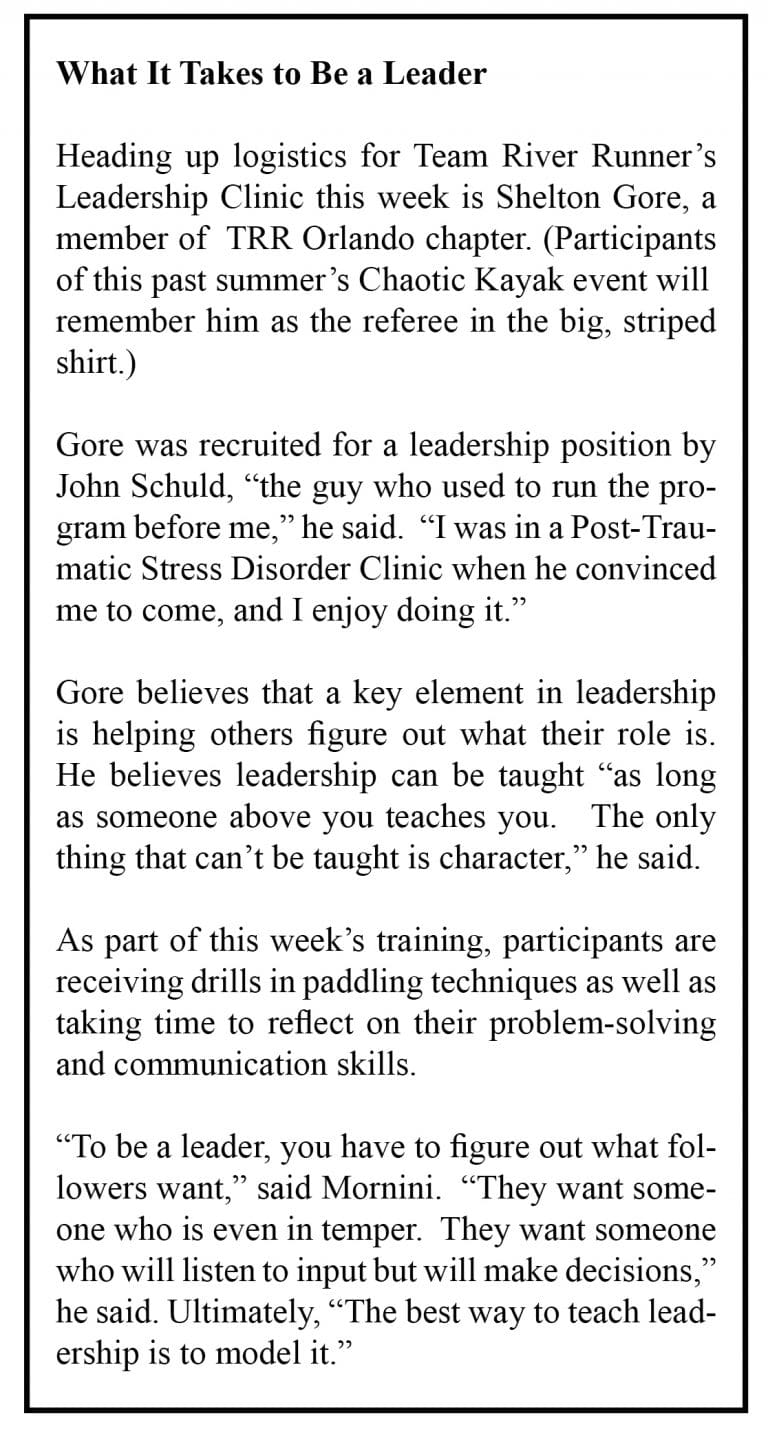 Mornini, Team River Runner co-founder Gary Clarke, and several others are on St. John this week to mentor 15 veterans with disabilities who have come to participate in an annual Leadership Clinic. Most of the participants have been nominated to attend by one of the 55 local chapters of Team River Runner that exist in 31 states.
"We also invite some newly disabled/wounded veterans from Walter Reed National Military Medical Center," said Mornini.  "They are accompanied by a Walter Reed clinician (also a veteran.)  We paddle, swim, and meet each day for Leadership Instruction."
St. John has a unique place in the organization's development.  TRR started sponsoring small groups of veterans and their spouses to the island nine years ago.  Once the St. John community got wind of their presence, the island took their cause to heart.
"I got to St. John eight years ago and saw a blurb in Tradewinds about them, so I went down and introduced myself," said Tom Larsen, captain of M/V Sadie Sea.    Assisted by former crew member Kate Farrington, Larsen helps coordinate donations and organize events during TRR's four annual visits.
TRR sponsors several wounded veterans to participate in the 8 Tuff Miles race in February and the Beach to Beach Power Swim in May, in addition to the Leadership Clinic held at Cinnamon Bay Campground this week.
However, for the past six years the organization's biggest event on St. John is the Chaotic Kayak race held in July. Teams of three race kayaks around the M/V Sadie Sea anchored off Oppenheimer Beach.   As each team tries to wipe out the competition with giant squirt guns, the crew aboard Sadie Sea tries to douse them all with pails of water.
This past summer, more than 38 businesses sponsored teams vying for "The Golden Paddle," raising the bulk of funds that sustain TRR's programs on St. John.
But individuals in the community have created their own fundraising events for TRR.  Angela Ebner holds yard sales in Coral Bay twice a year and donates a portion of the proceeds to Team River Runner.  Jeff Miller, who swam solo non-stop around St. John in September, raised more than $4,500 for the group.
So far this year, more than $52,000 has been raised locally to make the TRR programs on the island completely self-sustaining.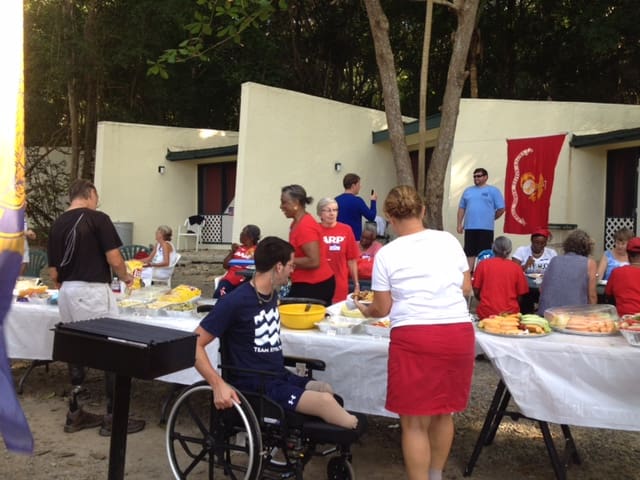 The money is only part of the donations made by community members. St. John restauranteurs make sure the Team River Runner participants don't go hungry.  This week, dinner is provided by the Barefoot Cowboy on Sunday; Ocean Grille and the Tap Room on Tuesday; Joe's Rum Hut on Wednesday; the Beach Bar on Thursday; and Skinny Legs on Friday. The Landing is serving them breakfast on Sunday before they leave.
Many others donate food, drink, transportation, accommodations, and equipment.
This Saturday, November 5, the entire St. John community is invited to a picnic to honor Team River Runner sponsored by the American Legion Post 131, the Legion Auxiliary, and the local chapter of the AARP.  The event, which begins at 1:00 pm, will be held at the Ag Center in Coral Bay (just down the side road near Love City Mini Mart).
"If you haven't come in the past, you are missing a really special day, including a chance to meet some of the men and women who fought for our country and are recovering from service-related injuries or illnesses," said "Crabby Doug" Benton, one of the organizers.