The butterflies in my stomach on Saturday morning, November 4, were a result of two things — the rough ferry ride I was enduring as I headed to St. Croix, and knowing that I would soon be meeting with some of the Caribbean's hottest artists at the first birthday party and concert for Tempo, MTV Networks' Caribbean music channel.
I, along with my fiancé Ted Chouiniere, St. John Tradewinds advertising manager Jani Hamil-ton Mooney and her daughter China Hamilton departed St. John at 11 a.m. on Saturday on the Caribe Cay for what would be a long, but exciting, day.
When we arrived at Cramer's Park on the east end of St. Croix, we discovered that even Tem-po's New York City public relations firm, the Nancy Hirsch Group, was operating on island time, and had not yet arrived. We sat down, relaxed and took advantage of the several food vendors at the park while waiting to meet with Jen Abbott and Nancy Hirsch from the PR firm.
When Jen finally arrived, we were excited to receive our press passes, which allowed us backstage access.
We situated ourselves under the press tent, which afforded us a front-row seat at the stage, along with all the comforts of a press tent, including chairs, room to spread out and a cooler full of sodas and beer.
St. Croix Favorites
Several St. Croix favorites kicked off the concert, including Kenya and The Xzecutives. As the sun began to set, The Stroka Band took the stage and really got the crowd moving.
The immense pride of the Virgin Islanders and the sea of V.I. flags being waved enthusiastically by the concert-goers was unlike anything I had ever seen here. It was a moment that caused me to pause and realize just how grateful I am to be living in the Virgin Islands.
The enthusiasm and hundreds of V.I. flags displayed by those at the concert were undoubtedly captured by Tempo's cameras, and will be broadcast to several other Caribbean islands when Tempo airs its birthday celebration at a later date, which has not yet been announced.
Stroka Band "on Point"
Stroka Band members were proud to be representing the V.I. on Tempo, they said.
"We feel real good," singer Anne Nelson said backstage, after the group's performance. "Our performance was on point."
St. Croix favorite D'Apostle performed, followed by Haitian singer Sweet Mickey.
That brought us up to about 10:30 p.m., and it was at that time I realized that the line of cars still waiting to get into the concert snaked further than I could see. People parked miles away from the concert and walked to Cramer's Park, to avoid waiting hours to get in as traffic slowly crawled into the venue.
Unfortunately, several of the evening's top performers were also stuck in the traffic, so there was a significant delay in the concert.
Not to worry. Tempo founder and St. Croix native Frederick Morton hopped on stage along with Tempo VJs Jeanille Bonterre, Hector Lincoln and Anuschawere to keep the crowd hyped up during the delay.
No Time for Head Count
Jani took advantage of this break in the show to meander over to the front entrance and try to get a head count, but the people manning the entrance barely had time to breathe as they managed the steady stream of traffic coming into the concert, let alone speak to the press.
I started to feel tired during the delay — it was already way past my bed time — but when Trinidadians King David and Jah Bami of the Reggae All Stars took the stage, my energy picked right back up.
They were the first big international stars I interviewed that night, and boy, was I nervous. When I finally got my chance to talk to them, however, I felt like I was talking to old friends, and I realized that interviewing the concert performers wasn't going to be as nerve-wracking as I expected.
"It's an honor to be here, because we share the same vision as Tempo — to unite the Caribbean through music," said King David, who in true Trini fashion, couldn't help but give props to the country he calls home.
Tranquil Days, Crazy Nights
"There is a lot of good reggae music coming out of Trinidad right now," he said — and he's right. Two of the night's top performers, Machel Montano and Denise Belfon, hail from Trinidad.
Jamaican reggae star Wayne Marshall performed next, along with fellow Jamaican performer Ding Dong.
Once again, I was nervous as I was ushered backstage to interview Wayne Marshall, but I soon found that I had nothing to worry about.
Marshall, who said he had been to St. Thomas before, likes the Virgin Islands because they are "tranquil in the days and crazy in the nights," he said.
Marshall was excited to be in St. Croix helping Tempo ring in its first birthday, he said.
"It's wicked, because from when Tempo was an idea, I was behind it," said Marshall. "Tempo is not just about music. It's about bridging the gap between the islands."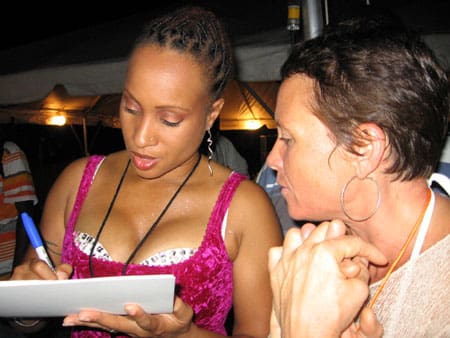 My next interview was with Bajan soca queen Alison Hinds, who is stunningly beautiful in person, and who has definitely lost weight since she filmed the video for "Roll it Gal." And she's incredibly nice to boot.
"I'm very happy that Tempo has been around for one full year," said Hinds. "We want five, 10, 15, 20 more. It's such a good thing for Caribbean people to see our culture and our music on display."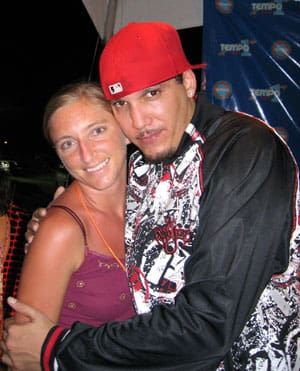 Surprise Guest Rupee
Hinds then personally hunted down her manager to get a poster to sign for Virgin Islands Soccer Association coach Ted Luke, a friend of Jani's who absolutely loves Alison Hinds and was devastated that he couldn't come to the concert to see her.
While waiting for Hinds to come back with the poster, I turned to my left, and I was shocked to see Barbados soca star Rupee being interviewed by a TV crew. He wasn't on the list of scheduled acts that evening, and he is one of my all-time favorite performers.
I was able to interview him after the TV crew, which was like a dream for me. I've seen him in concert five times, I've jumped up to his songs on the road during carnivals in Trinidad and Barbados, and to finally meet him was something I never expected.
Rupee was supposed to be in Africa that night, but his show there got pushed back, so at Tempo founder Frederick Morton's request, he appeared as a surprise guest, he said.
"It's a tremendous blessing to be here," said Rupee. "The Virgin Islands has supported Rupee from the beginning. Caribbean artists have been praying for something like Tempo for a long time."
VIP Tent
I asked Rupee if he had ever been to St. John, and he asked, "Is that the one with the Baths?"
I explained to him that he was thinking of Virgin Gorda, and asked him to please consider St. John on his next tour.
It was at this point that Ted, Jani, China and I, along with most of the rest of the press, migrated to the VIP tent, near the back of the stage.
Being in the VIP tent afforded us a view that I have never had before at a concert. We were on the side of the stage, toward the back, and were able to watch the performers enter and exit the stage.
That was a surreal moment for me. As we sat under the VIP tent, Denise Belfon was off in the corner, toweling herself off after her performance; Rupee was at the bar to our left getting a bottle of water; King David and Jah Bami from the Reggae All Stars were mingling with the crowd; Alison Hinds was sitting right in front of us, fixing her makeup and adjusting her microphone, getting ready to go on stage; Bajan performer David Kirton was standing at the edge of the tent watching the concert, and Tempo VJ Jeanille was at the table in front of us filming a segment.
Montano's High-Energy Performance
The combination of how late it was — nearly 3 a.m. at that point — and the bevy of stars surrounding us made everything feel like a dream.
I suddenly snapped back to reality when I realized Machel Montano had arrived, and I jumped up to wait in line to interview the Trini soca star.
"Turning one is a significant anniversary," said Montano. "I feel like one of the fortunate few to be here. Tempo is like a window to the other islands."
"It has helped my career," Montano continued. "Since Tempo came on the air, the phone has been ringing."
Montano said he had been to St. John many years ago, but has not been back since because he hasn't been invited.
I made sure to let him know he was more than welcome to come perform on St. John.
We stuck around for Montano's performance, which was full of energy and really had the crowd going. Unfortunately, we had to leave before the final act, Morgan Heritage, arrived.
Calm, Quiet Ride Home
We were informed that the band would likely not do any press, and we had a boat to St. John to catch.
The ferry ride back was surprisingly calm, and quiet. We arrived back on St. John at around 8 in the morning on Sunday, bleary-eyed and feeling like we'd been run over by a truck.
We all decided that the long day was well worth the fun that we had mingling with the stars, and we can't wait until Tempo turns two.