The unmarked beige trailer stationed on the bulkhead along "The Creek" in Cruz Bay may not look like anything special, but its presence is making a huge difference to the charter boat community based on St. John and the eastern end of St. Thomas.
The trailer is the new, temporary office of U.S. Customs and Border Protection which opened its doors in early June to process paperwork for travelers on pleasure boats and charter vessels coming from the British Virgin Islands and beyond.
Ferry passengers from the BVI heading to St. John or Red Hook, St. Thomas must continue to put up with a lot of inconvenience. Construction of a new, temporary CBP facility in Red Hook for passenger ferries has been delayed. Originally scheduled to open in May, its completion is now expected by the end of summer, according to Monifa Marrero Brathwaite, public information officer for the V.I. Port Authority.
Hurricane Irma did irreparable damage to the CBP facility in Cruz Bay, which was the closest port of entry for all boat traffic from the BVI. For six months following the storm, all vessels which needed to "clear in" upon entry to U.S. Virgin Islands waters were diverted to the CBP facility at the Edward Wilmot Blyden Marine Terminal in Charlotte Amalie.
[adrotate group="6"]
For charter boats based on St. John, this meant altering itineraries to popular spots in the BVI. Captains of power boats had to plan for the 20-mile round-trip from St. John to St. Thomas to clear U.S. Customs, a trip which could take up to two hours. Additional fuel costs and time constraints posed further challenges to charter boat companies reeling from the impact of the hurricanes. Many boats in the charter fleet were damaged or destroyed, and boat companies had to scramble to get ready for a tourism season that was slow to materialize.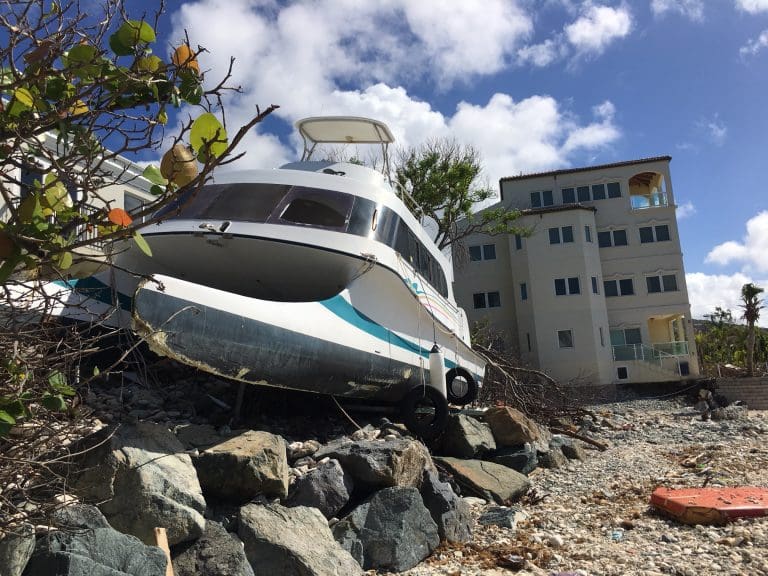 Bad Kitty, a company that operated four boats prior to September's storms, was able to get one of its boats up and running for its first group of charter guests to the BVI on Dec. 26. The return trip downtown to clear Customs "was a big pain, but we're a big company. All eyes were on us, so we wanted to do it right," said Captain Jeremy King. A few charter companies chose to stay within U.S. Virgin Islands waters to avoid the hassles, he said.
In late March, the situation improved when CBP began clearing in pleasure and charter boats by special arrangement at a satellite office based at American Yacht Harbor in Red Hook.
"Jug" Courlas, who has captained his boat Jugger Knot for five years, said it was "a delight" to check in at the new CBP facility in Cruz Bay last week.
"It was easy to do," he said. "The bulkhead was open. It was a normal, fast, efficient process. I was glad because of the difficulties in getting to Red Hook or all the way downtown."
When Courlas saw the familiar faces of CBP officers in Cruz Bay again, he greeted them with a big smile and the words, "Welcome back!"
"Officers Francis and Christopher are both wonderful," said Jeremy King. "I'd see them downtown and in Red Hook. We're all so glad to get back to our island family."
King said Bad Kitty is now making five trips a week, but business is still slow in the BVI.
"There are not a lot of cruise ships in the BVI. There are not a lot of hotels. They haven't done as good a job removing debris. On Virgin Gorda you still see a lot of houses leveled," he said.
When King was out on a charter Tuesday afternoon, he counted eight boats anchored at Jost Van Dyke. "Normally, you'd have between 30 and 60 boats," he said.
Like the USVI, the BVI has had to limit its Customs and Immigration facilities since the hurricanes. Private pleasure vessels and charter boats entering BVI waters can clear in at West End, Tortola, but ferries are still only operating in and out of Road Town.
For Inter-Island Boat Services, the only ferry company which offered direct service from Cruz Bay and Red Hook to the BVI, the absence of CBP facilities for ferries in Cruz Bay or Red Hook has been "disastrous" for business, according to Captain Cliff Boynes.. Prior to the storms, passengers could board the ferry in West End, Tortola for a 20-minute ride to Cruz Bay.  Now they must board the ferry in Roadtown and make the much longer journey to Charlotte Amalie.  (Passengers traveling to Roadtown with Inter-Island Boat Services can still board the ferry at Red Hook.)
Passengers traveling with Inter-Island Boat Services from Road Town are usually allowed to remain onboard after clearing in at Charlotte Amalie for the ride to Red Hook, saving them the extra expense of a taxi ride from downtown to the eastern end of St. Thomas.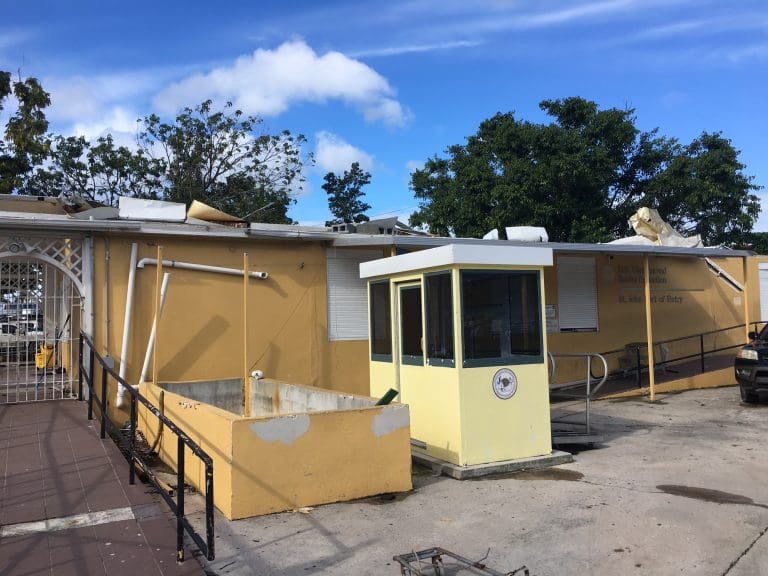 But ferry passengers traveling from Tortola to St. John with the other three ferry companies are lucky if they can make the trip in under four hours. On a Sunday in early June, Janet and Richard Parsons, who live on Tortola, missed the 8:30 a.m. Inter-Island Boat Services ferry because of inaccurate signage. They boarded another ferry to downtown Charlotte Amalie at 9:30 a.m. That ferry arrived at Blyden Terminal at 10:40, but to the Parsons' dismay, a ferry from a competing company had arrived shortly before theirs. The Parsons and their fellow passengers were not permitted to disembark for 40 minutes while the passengers from the competing ferry company cleared Customs.
It took the Parsons, as foreign nationals, another half-hour to get through U.S. Customs at the Blyden Terminal. They jumped in a taxi to Red Hook and caught the hourly St. John ferry, arriving in Cruz Bay at 1:20 p.m.
Prior to the hurricanes, that trip would typically take less than an hour; this time, it took them five hours to complete, and the Parsons vowed not to try again until CBP opens a facility closer to St. John.
That should happen by August. A contractor has been selected to construct a temporary facility for CBP within the Urman Victor Fredericks Marine Terminal in Red Hook, according to Brathwaite. Construction should take four weeks once it begins, she said.
Plans to build a permanent CBP facility in a separate structure in Red Hook have been in the works for years. They are currently being reviewed by the U.S. Army Corps of Engineers.
Plans to rebuild the destroyed CBP facility in Cruz Bay are also underway.  Brathwaite said that facility should open by late 2018 or early 2019.
Shared content for Virgin Islands Source and St. John Tradewinds.