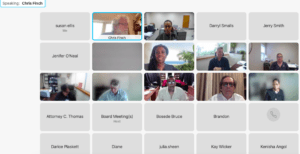 Most of the V.I. Government Hospital and Health Facilities Corporation Territorial Board meeting Wednesday took place during an executive session with a quorum of board members.
The treasurer's reports were held for discussion in the executive session by Finance Commissioner Jenifer O'Neil. Dr. Jerry Smith also postponed a report on human resources until the executive session. And Daryl Smalls, executive director of the hospital redevelopment team, said he would also talk about construction updates during the executive session.
Chairman Christopher Finch said because the last meeting was barely three weeks ago and the reports presented at that time were still relevant, the main meeting was scheduled to be shorter. He added that although the board believes in accountability and transparency, executive session discussions in public about personnel and finances can cause "more damage than good."
Finch updated the board on the hospitals' efforts to secure $11.5 million in combined funding to upgrade both hospitals' technology through Meditech over the next five years. Improvements in patient care and possible cost savings are two reasons to improve the technology.
The newly formed Office of Health Information Exchange within the Governor's Office has become involved and is interested in finding the financing, he said. They have held several meetings already and more are planned. Finch said he was asked to save Feb. 7 for discussions and then to set up a meeting with both hospitals staff.
"We have a good chance at success," he said.
Finch asked the hospitals' CEO's to give comments about the Medicaid cost report training this week. Tina Comissiong, acting CEO at Schneider Regional Medical Center, said the Medicaid consultants and the Department of Human Services trainers explained the cost reports line by line to maximize reimbursements and made it clear why documentation is so important to insure they capture all the costs.
Doug Koch, CEO at Juan Luis, agreed with Comissiong's comments – it was a very throughout training attended by the entire finance department and some members of the operations department.
"I learned actually quite a bit about the documents needed to be reviewed and completed. Therefore, we look forward to tomorrow's training as well to insure we have everything appropriately in place to maximize reimbursement opportunities within our organization," he said.
Medicaid is about one-third of the hospitals' revenues and reimbursements and works differently than Medicare or other insurance, Finch told the participants.
"We obviously want to make sure we are doing everything we can to be able to justify the revenue that we receive and to maximize that revenue because Medicaid pays less than the others. (It) certainly pays much less than private insurance. What it does pay, it pays on the justifications," Finch said.
Before closing the meeting, the board approved Dr. Alison Killelea for a one-year appointment in the JFL Emergency Department and Trisha Harris, a certified physician's assistant, was reappointed for two years in orthopedic surgery at Juan Luis.
The board is planning a retreat for sometime in March to improve board operations, have more specific goals and be more deliberate about approving policies and budgets.
Members attending the virtual meeting were Finch, O'Neil, Smith, Health Commissioner Justa Encarnacion, Dr. Anne Treasure, Greta Hart-Hyndman, Faye John-Baptiste, Marise James, Bosede Bruce and Dr. Frank Odlum.