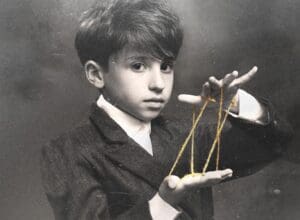 The Forum will present a screening of the London National Theatre's performance of "Leopoldstadt" by playwright Tom Stoppard on Thursday, Nov. 10, at Prior Jollek-Hall, Antilles Campus, St. Thomas. The play is directed by Patrick Marber.
"Leopoldstadt" is epic in size and scope with a cast of nearly 40. Rather than setting it in Czechoslovakia, the country of Stoppard's birth, the action takes place almost entirely in a single Viennese apartment and spans 55 years.
Storyline:
At the beginning of the 20th century, Leopoldstadt was the old, crowded Jewish quarter of Vienna, Austria. But Hermann Merz — a factory owner and baptized Jew now married to Catholic Gretl — has moved up in the world.
The playwright follows the characters of "Leopoldstadt" through successive generations, starting in 1899 in the household of an affluent Jewish family so comfortably assimilated into Austrian life that it celebrates Christmas. The narrative leaps to the 1920s and the aftershocks of World War I — embodied most potently by Seth Numrich as Jacob, a horribly injured young veteran — and then to the late 1930s.
After Hitler annexes Austria and the floor drops out of the family's hopes. The final movement occurs in 1955 when the handful of family survivors gathers in the looted ancestral home in Vienna; one of them, Leo (played by Arty Froushan), who had escaped as a child to a life of privileged bliss in England, is compelled to face the harsh inquiries of two other survivors, Rosa and Nathan (played by Jenna Augen and Brandon Uranowitz).
Filmed live on stage in London's West End, Stoppard's play is a production from Sonia Friedman Productions.
Run time: 140 minutes (no intermission)
Starting time of the screening is 7 p.m.
At 6 p.m. the Courtyard opens where people can enjoy small meals and desserts by Amalia Café.
The Prior-Jollek Hall, Antilles Campus, St. Thomas
Tickets: Adults $20, Teachers $10, Students and Children under 10 years old are for free but need a ticket to secure a seat.
Ticket Sale Online
Visit the website: www.theforumusvi.org
Or Google: The Forum – Promotix
https://app.promotix.com/events/details/Nat.-Theater-Screening—LEOPOLDSTEDT-tickets